We're nuts here, seriously crazy nuts. We are also nuts about nuts. If I put out a bowl of pistachio, before you know it it have a big pile of shells and pistachio skin all over the place. I used to buy shelled peanuts, but lately McGyver had shown a sensitivity to them. He seems okay if he eats a handful of peanuts or just peanut butter but once he's cracked and ate about a pound of shelled peanuts he starts to get a little itchy. When I see other people scratch, I get a little itchy too. But I'm weird that way.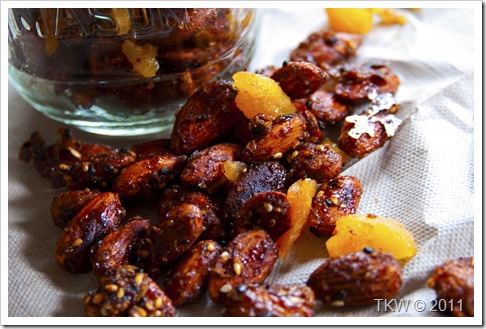 I enjoy different nut mixes. there is this one brand, found in the organic section, that I really enjoy. It has exotic flavor combinations and different textures. It seemed to be more satisfying which meant I ate a smaller portion and was just as, if not more satisfied. But at $4 or more dollars for 4 oz. it was ridiculously priced.
You know what they say, "cheapness is the mother of invention", wait, that's what I say. cheapness, necessity it's all the same. When you can buy a gigormous bag at Sam's Club or Costco's of Almonds, it's definitely worth a little effort making your own gourmet nut mix.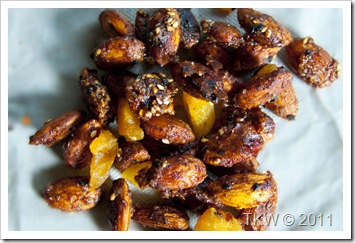 This recipe makes a huge batch so be prepared to gorge or share with your friends, the recipe can be cut in half if you are clever with fractions. I am not, fractions hurt my brain so I only make a whole big batch each time. Please note that I found if you are planning on storing the nuts for awhile omit the dried apricots. Unfortunately there was just enough moisture in them to make my almonds go soft and sticky after a day. The apricots are a perfect match to the spicy almonds, you can some diced dried apricots just before serving for stored nuts.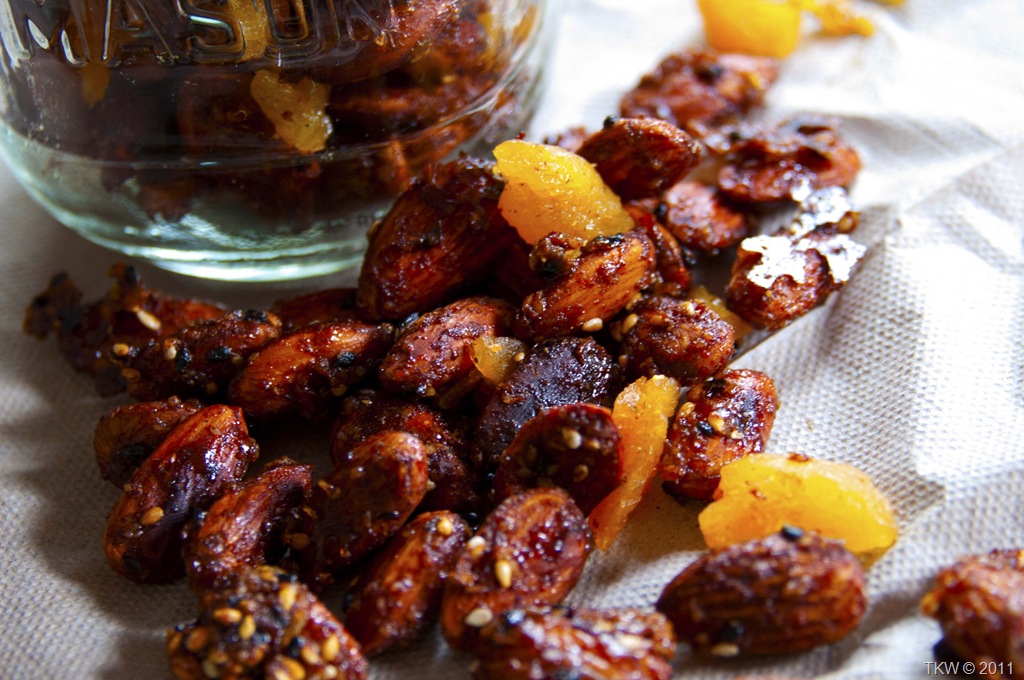 Spiced Almonds with Dried Apricots
2016-06-13 14:10:39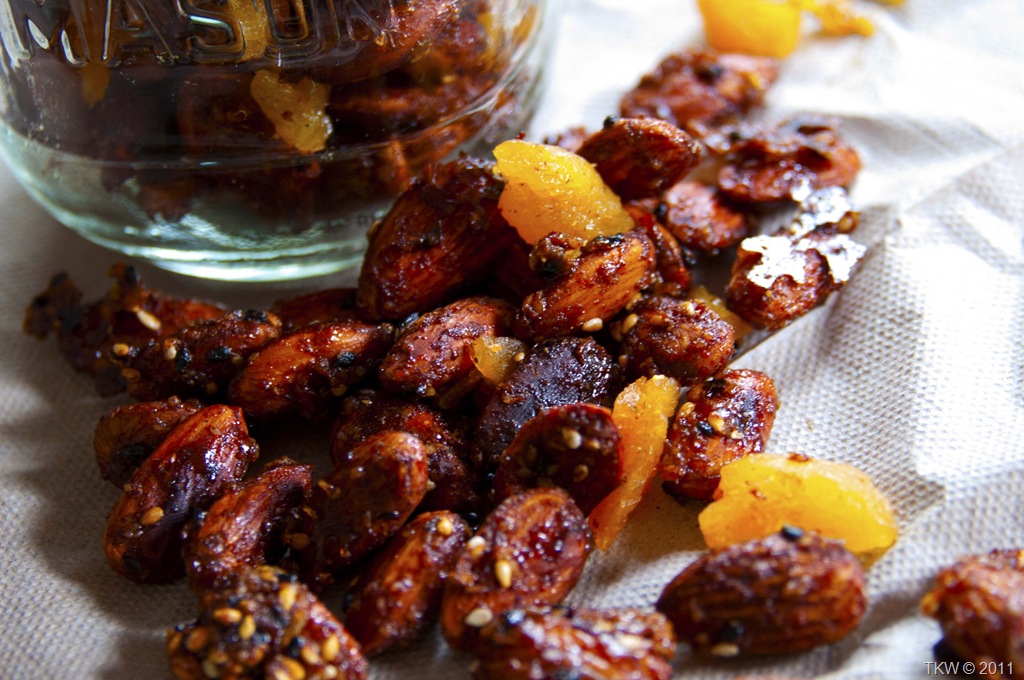 Ingredients
2 tbsp. fat (olive oil, vegetable oil, bacon fat, etc.)
6 cups whole almonds
1/3 cup honey
2 tsp. smoked paprika
2 tsp. cinnamon
2 tsp. cumin
1 tsp. cayenne
2 tbsp. salt
1 tbsp. sesame seed
1 tbsp. toasted sesame seed
1 tbsp. black sesame seed
1 1/2 cups diced dried apricots
Instructions
Preheat oven to 300F.  Mix smoked paprika, cinnamon, cumin cayenne, salt and sesame seeds.  Set aside.  In a large non-stick pan heat olive oil over high heat.  Add almonds and toast for 1 to 2 minutes stirring frequently until almonds smell toasted.  turn heat to low and continue to stir for another 5 to 6 minutes.  Add honey and spice mixture to the almonds.  Stir to coat evenly.
Spread nuts out evenly on a large lined baking sheet.  Place in the oven and bake until honey is dry, about 12 to 15 minutes.
Allow nuts to cool completely.  Sprinkle chopped apricots over nuts, using hands mix the diced apricots with the almonds breaking up any large chunks of the almonds.  Store in an airtight container.
Note: omit the apricots if storing for more then a day as they have a tendency to soften the almonds and make them sticky.  The apricots can be added as needed.
The Kitchen Witch http://www.thekitchenwitchblog.com/

Click to Print a Recipe Card