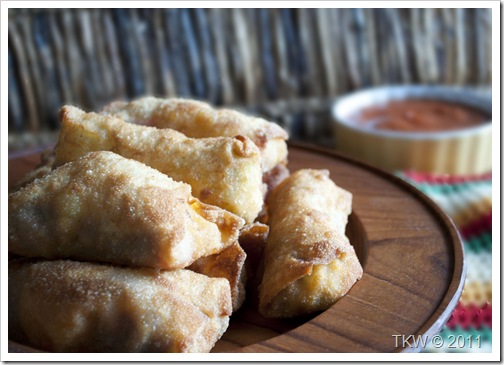 I have been excited about the Secret Recipe Club ever since I read about it on Feast on the Cheap (one of my all time favorite blogs). After reading about it, I knew I wanted to participate. I've been looking for a club of some sort like Daring Cooks, only I'm not to daring. However I love a good secret.
What is the Secret Recipe Club? It's a lot like a Secret Santa. Each month the participating bloggers (another cool thing…you don't have to participate every month) get assigned another blog…secretly. You select a recipe from that bloggers repertoire and make it and post it on reveal day. Reveal day is so exciting, everyone blog hops and checks out what everyone has done, plus you find out who your Secret Recipe maker was.
This is my first month participating and I got assigned The Freshman Cook. The Freshman Cook is a blog designed for the beginner cook. You'll find menu plans, grocery lists and basic cooking terminology and instructions. I immediately perused the recipes and picked out Tiramisu Mousse. Tiramisu is my favorite all time dessert and I was eager to try an easy mousse version.
But then I got to thinking, I said to myself "Giggles, you really aren't a Freshman Cook, how can you review the site as an experienced cook?" Then my eyes rested on my Baby boy, I wasn't exactly a Freshman cook but he was. Plus he's a senior this year and needs to be ready for being out on his own (boohoo, sad mama).
The only thing is that my baby doesn't care for tiramisu, tragic I know. So I plug him into the computer and let him choose his own recipe, it only seemed right. There were quite a few recipes that caught his eye but he finally settled on the Southwestern Spring Rolls. He also doesn't care for avocados, so we substituted the avocado sauce for a homemade taco sauce and have included both recipes so you can choose or make both.
My poor baby had reconstructive foot surgery to correct his Flintstone (flat) feet, which meant he was in crutches. I had to set up everything for him and I did the frying. Crutches + deep frying = accident waiting to happen.
The recipe ended up being absolutely delicious and the rolling instructions were great. The kiddo did have a few comments though: When he made the grocery list, there wasn't an amount listed so that meant guessing..not to comfortable for the freshman. He was also not sure how to slice the green onions, use the green part, slice thinly, etc. And the same went for what size dice for the tomatoes. He also would have liked to known how many spring rolls the recipe makes. We ended up with 10 but I think if he was a little more frugal with the stuffing we would have got 12.
Warning photo overload alert! I took pictures of my baby at every step…Mise en place for crutch boy.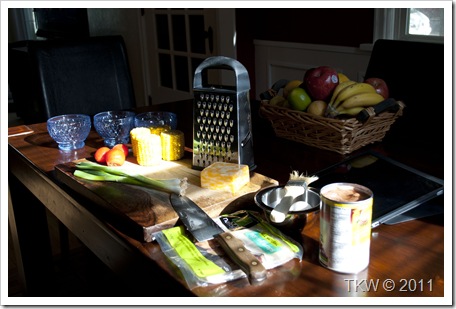 Although the recipe called for corn niblets, we had leftover corn on the cob, it seemed appropriate to cut the corn off and use it.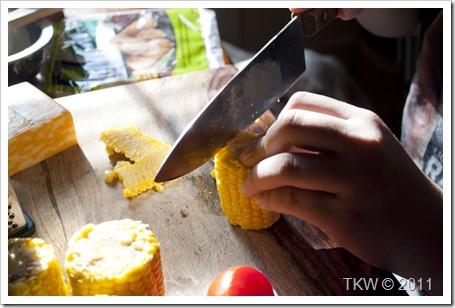 We always grate our own cheese, for simplicity it is easier to purchase already shredded cheese like the original recipe called for.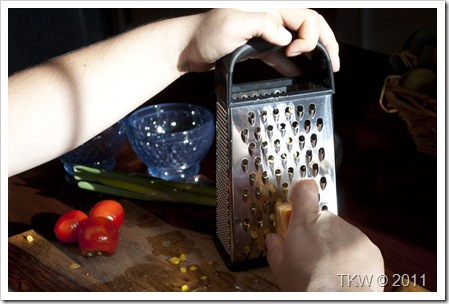 After minor deliberation, the baby boy sliced the green onions as thinly as his skills allowed.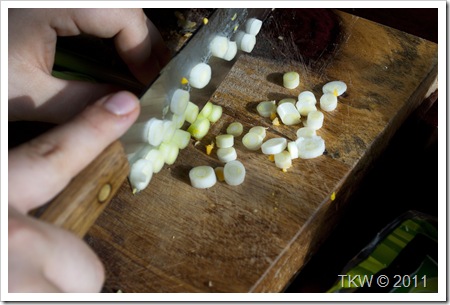 The assembly (not pictured the tomatoes).
An added step. My baby boy felt that he needed to pack/gather all stray ingredients together before rolling.l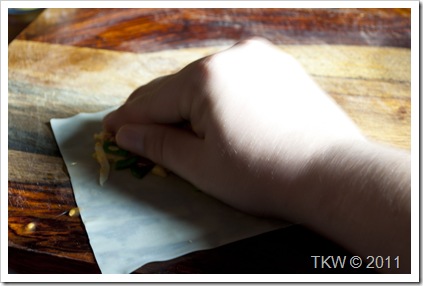 The fold over.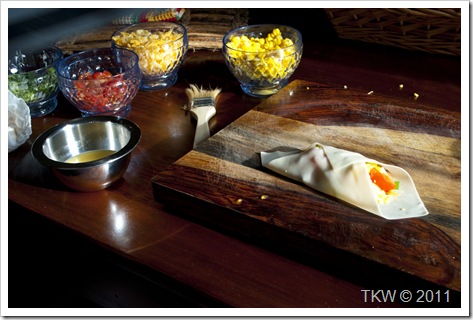 Something doesn't seem right so he referenced The Freshman Cook blog to see what is up.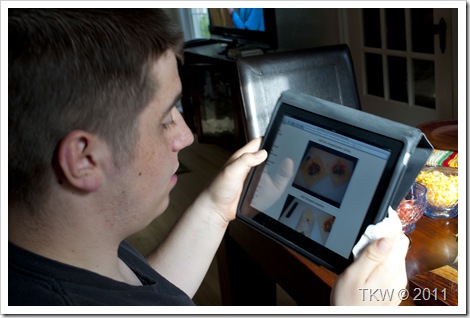 Now we have it right.
The egg wash and continuing on. At first my poor baby was thinking that this wasn't any fun, but once he got the hang of it, he was proud of his work.
His first few rolls, a bit fat and oddly shaped.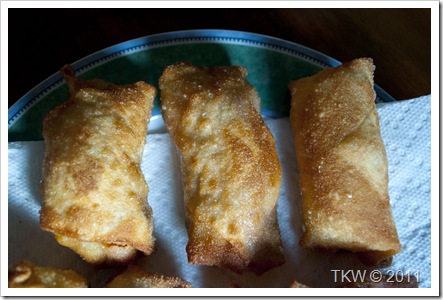 He got a little lazy and I showed him how the next two turned out.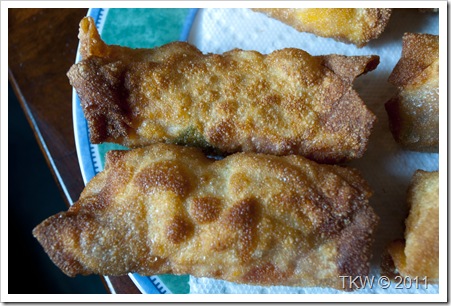 Finally, he got the size and shape right. Once it was all done, he was very proud of himself and decided that rolling the spring rolls was kind of fun. He suggested that next time he invite his friends over for a little competition. Isn't that just like teenaged boys…men…to turn everything into a competition.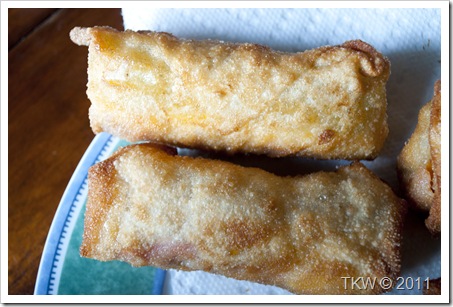 Our recipe includes the amounts that we used to make 10, I believe if you double the ingredient list you would use the entire package of egg roll wrappers, which just might feed a couple of hungry freshman like boys.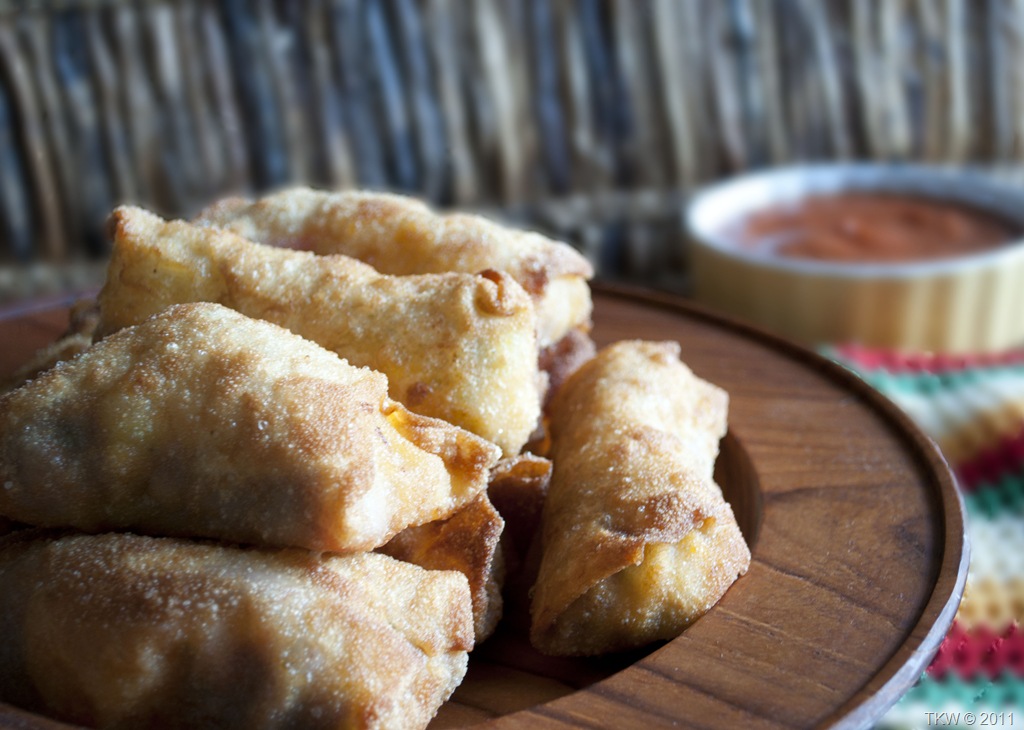 Southwestern Spring Rolls by The Freshman Cook
2016-06-13 14:03:20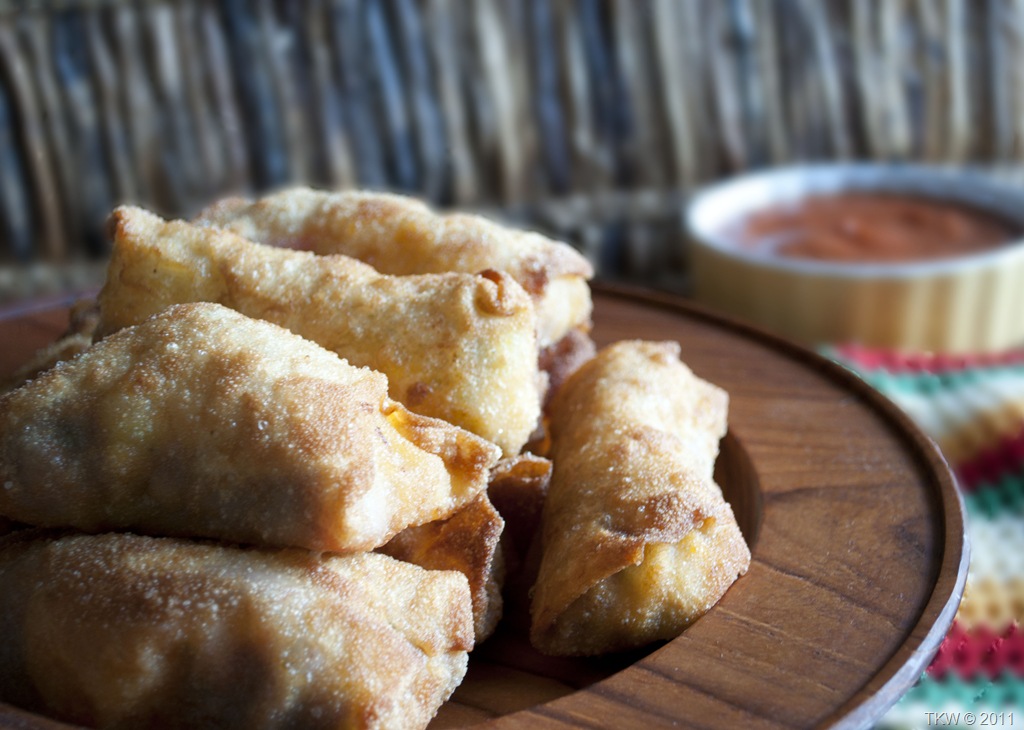 Spring Rolls
10 to 12 egg roll wrappers
1 16 oz. can refried beans
1 cup thinly sliced green onion (tops included)
1 cup corn niblets
1 cup small diced tomatoes
4 oz. cheese, grated
Canola oil for deep frying
1 egg beaten with 1 tbsp. water (egg wash)
Avocado Sauce
1 smashed Avocado
1/4 cup Mayo
1/4 cup Sour Cream
1 tablespoon Buttermilk
1 1/2 teaspoons White Vinegar
Dash Salt
1/8 teaspoon Dried parsley
1/8 teaspoon Onion Powder
Dash Dried Dill Weed
Hot Sauce to Taste
Garlic Powder
Taco Sauce (the best you'll ever have…)
1 8 oz. can tomato sauce (look for a sugar free brand)
1/3 cup water
1 tbsp. white vinegar
1/4 tsp. chili powder
1 1/2 tsp. cumin
1 tsp. onion powder
1 tsp. garlic powder
1/4 tsp. salt
1/4 tsp. paprika
1/4 tsp. sugar
1/4tsp. cayenne
Instructions
Spring Rolls:Preheat frying oil to 350F.  For the spring rolls, lay out one egg roll wrapper, place some grated cheese in the bottom top with approximately two tablespoons of refried beans, sprinkle on about 1 tbsp., each of corn, tomatoes and green onions.Fold in the sides of the egg roll wrapper, then fold up the bottom.  Brush the top of the wrapper with a little of the egg wash then fold over to seal the spring roll.  Brush entire roll with the egg wash.  Deep fry the spring rolls two at a time for 3 to 5 minutes until golden brown.  Serve with avocado or taco sauce.
Avocado Sauce: Put every ingredient in a bowl and mix well.Smash the avocado.
Taco Sauce: Mix all ingredients in a small saucepan, simmer on low for 15 to 20 minutes, stirring occasionally.  Cool before serving.
The Kitchen Witch http://www.thekitchenwitchblog.com/

Click to Print a Recipe Card