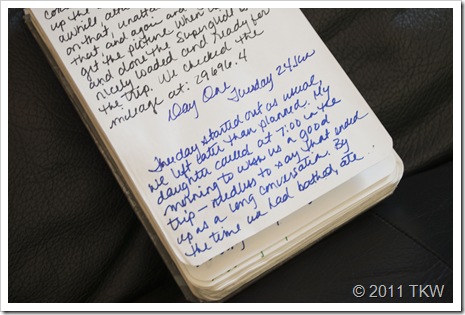 If you have been following my journey, so far McGyver and I have spent two days prepping to take our dream honeymoon, if you are just now joining you can find the first day here and second prep day here.
You'll note that a lot of our photos, we are wearing full gear and holding HOG Tales magazine.  We were doing the ABC's of Touring sponsored by the Harley Davidson's Owner's Group.  The idea is to visit a town, city, or country and try to hit every letter of the English alphabet.  One of the rules is to have your picture, or your bikes picture taken next to a sign with the name with a current dated paper, magazine, etc.  We brought our HOG Tales along in a zipper lock back to prevent damage from weather.  Most of the time we quickly hopped off the bike and took the mandatory shot, hence the full gear.  Although we looked like dorks, it got the job done in no time.
Here we start out, day 1 of our 10 days and 11 countries tour…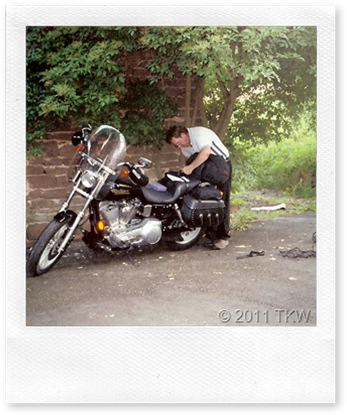 Day 1 Tuesday, June 24, 2003

    '"The day started out as usual, we left later than planned.  My daughter [Leah] called at 7:00 in the morning to wish us a good trip – needless to say that ended up a long conversation.  By the time we had bathed, ate and packed yet more items on the bike, we didn't leave till 9:45 am.  The original plan was for 8:00…

    The weather was clear and slightly cool – perfect weather. The travels went well with some construction and detours.  We went through 4 countries.  Started in Germany,

then Luxembourg,

Belgium, back through Lux

and into France.

We stopped at each border to take pictures for the ABC's of Touring.

     As we cruised through France where the bulk of today's ride was, we were so glad we took the road less traveled.  It was beautiful seeing the rolling hills, the farms, the sweet pea growing along side the road.  We even saw a new born calf.  It was great until we were stuck behind a 100+ foot yacht being towed.  This thing encompassed both lanes of the road.  They had escorts to make sure that oncoming traffic  pulled over and no one from behind passed.  After a torturous hour and no more than 20-25 km down the road, we decided to exit and take the freeway a bit.

By now we were hot, tired a little road sore.  Lots of folks were riding by on their way to the same destination.

We looked for a camp ground to rest, but with none in sight decided to stay at a chateau in the Burgundy region.  After all, it is our honeymoon.

We found this cool hotel on a vineyard with off road parking.  Got a nice (very hot room – no A/C here in Europe) with a view of the vineyards.

After bringing our stuff up, we decided it was time to eat and get a cold beer – not necessarily in that order.  We drank a few beers and had a 7 course meal, met this "lovely" couple from Scotland, then decided to put a fork in us – we were done.

Up to the room for a cool bath, review of the next day's plan and then sleep.  Till tomorrow…"
It's funny reading old stuff you've written.  For some reason I thought seeing a new born calf was really something, I even underlined it.  That was obviously before I lived in Montana and now I see that kind of stuff all the time.  The "lovely" was used to describe the Scottish couple because the lady used the term so frequently…"really, how lovely, isn't that lovely, how lovely for you, lovely indeed"!  You get the picture.  Indeed they were a lovely couple.
Next weeks post involves nudity…