Health Alert Warning! Before proceeding please check your cholesterol, blood pressure, lipids, blood sugar levels or anything else that may be affected by a totally decadent sandwich.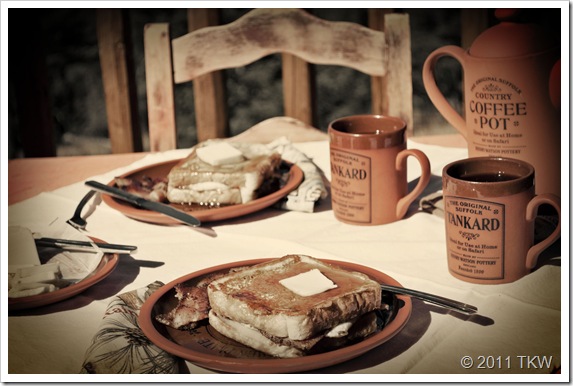 Oh, it looks innocent enough, no more then a couple of pieces of French Toast, you're probably thinking. But it is so much more. I thought about calling it "Stuffed French Toast Breakfast Sandwich" or perhaps "The Monte Cristo – Breakfast Style" because it is both a stuffed French Toast, part Monte Cristo Sandwich and part Croque-madame(a.k.a. grilled ham and cheese with egg). With all those elements, well, it's The Ultimate Breakfast Sandwich!
I'm not a proponent of names like 'best ever', 'the ultimate', 'perfect', etc. in recipe titles because there is always someone who also has the 'best ever' and 'the most perfect' recipe also, and it all is really a matter of taste. However, in this case I broke my own rule to call this The Ultimate Breakfast Sandwich, sometimes things just seemed to be the right thing to do, even when it's breaking the rules and ruining your HDL count!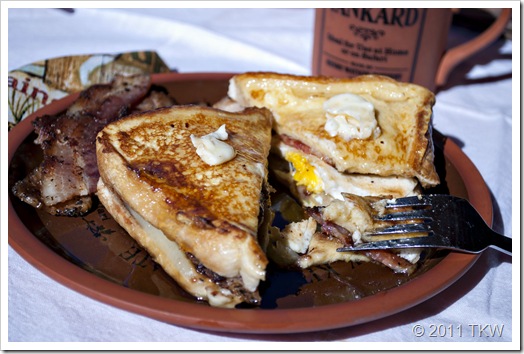 Here's the breakdown:
French Toast: Texas Toast, dipped in egg batter and griddled, maple syrup and butter
Monte Cristo: Bacon (replaces the ham), cheese, strawberry jam, dipped in egg batter and griddled
Croque-Madame: Bacon (replaces the ham), cheese, fried egg and griddled
All that equals The Ultimate Breakfast Sandwich:
Crisp peppered bacon, sliced cheddar cheese, fried egg and Texas toast that is spread with strawberry jam then dipped in an egg batter and griddled. Top it off with butter and maple syrup and die…
It's hard to believe with the list of ingredients that this works, oh it works baby! It is so incredibly good, it's positively sinful and should only be eaten on Sunday's with a prayer for forgiveness! All kidding aside, the sandwich is a perfect Sunday brunch meal, don't worry about whether you want a traditional eggs and bacon brunch or a French toast brunch…have them all together. Brilliant!
Then promise yourself on Monday that you'll run 5 miles do a hundred sit-up and push-ups and detox for the day. In my case that would be a fantasy!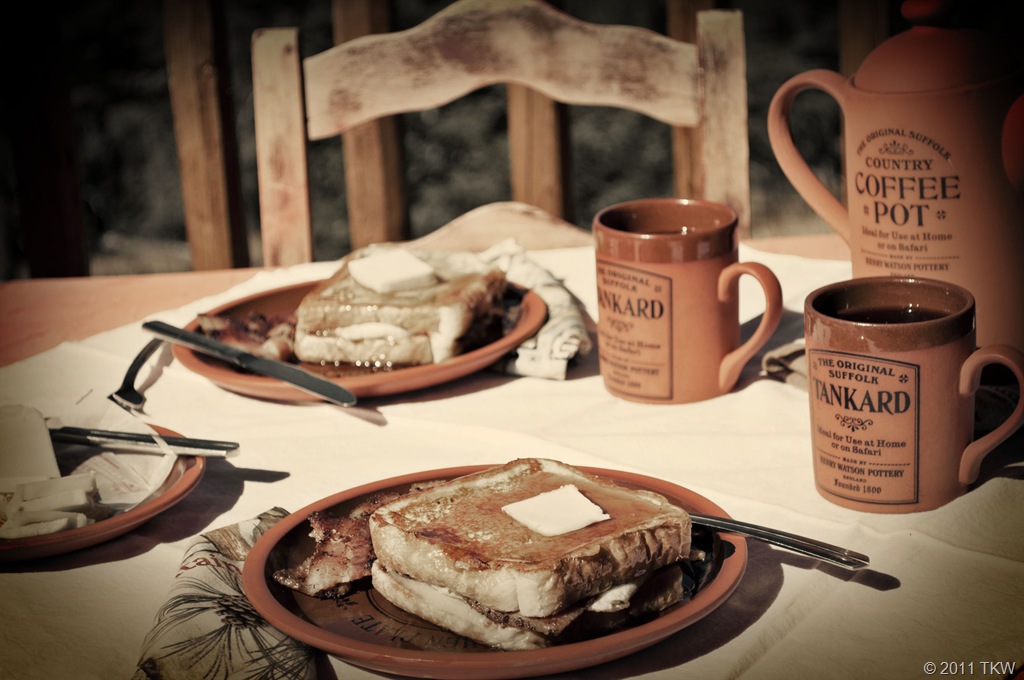 The Ultimate Breakfast Sandwich
2016-06-13 13:48:48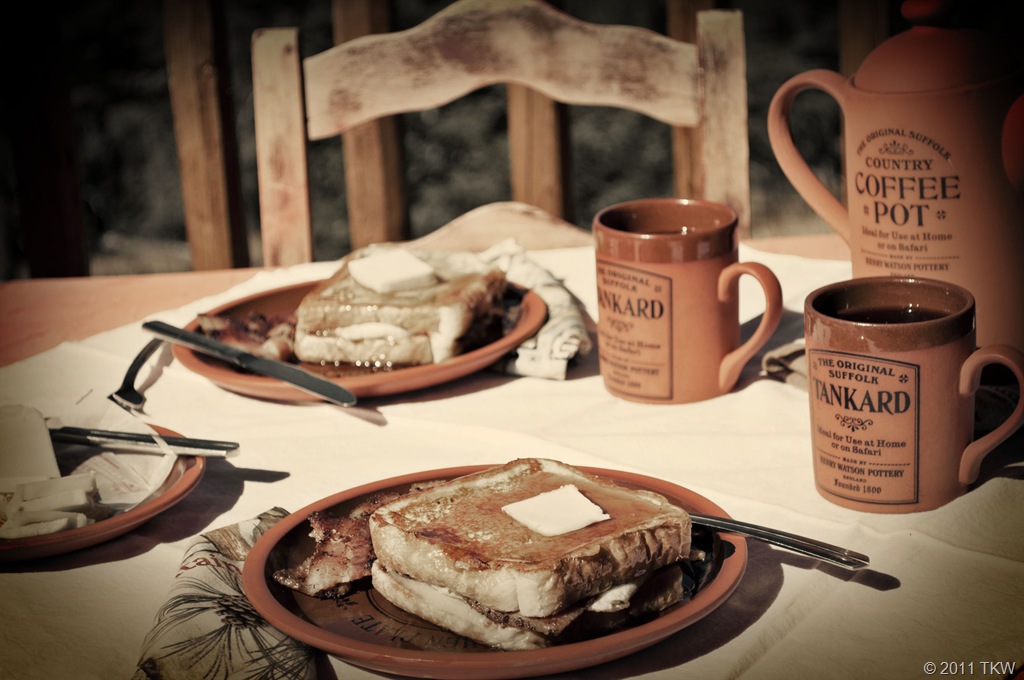 Ingredients
8 slices Texas Toast
8 slices peppered bacon, cooked crisp
4 fried eggs
4 slices of sharp cheddar cheese
4 teaspoons of strawberry jam
2 eggs, lightly beaten
1/4 cup milk
butter and maple syrup
Instructions
Heat a large griddle over medium heat.  In a shallow bowl whisk together milk and eggs.  Assemble sandwiches, lay the slices of Texas Toast bread out on the counter, spread 4 slices with strawberry jam top with two slices of bacon.  On the other half layer the cheese then the egg, put the two halves together and dip in the egg batter, about 30 seconds on each side.  Lightly butter griddle and griddle sandwiches until they are light golden brown, 1 to 2 minutes on each side.  Serve with maple syrup and butter.
Notes
Cooks note:  I made these two at a time.  While two were cooking, I was cooking the other two eggs this ensured everyone's eggs were hot.  Also, please assemble the sandwich per the directions, assembling the sandwiches with cheese and bacon on the outside prevents the eggs from overcooking and makes the cheese melty and wonderful.
The Kitchen Witch http://www.thekitchenwitchblog.com/

Click to Print a Recipe Card