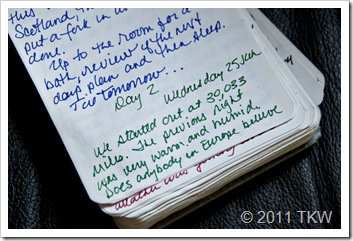 The second day of the 'official' honeymoon starts in Burgundy France, at a little chateau nestled in some vineyards.  By now we have traveled from Germany through Luxembourg, Belgium and ending in France.  In one day we covered 4 countries (of course traveling through Luxembourg is like traveling through Rhode Island). If you missed Day 1 you can catch up here and the prep for the honeymoon can be read here and here.
Day 2 Wednesday June 25, 2003
    We started out at 30,033 miles.  The previous night was very warm and humid.  Does anybody in Europe believe in A/C?   I woke up in the middle of the night – sensing a change in the weather.  McGyver woke up and reassured me – reminded me that the gear on the bike was weather proof.  It still took awhile to go back to sleep. 

    As usual McGyver was up early, getting things packed up.  Eventually I got up and started getting ready.  We had left the rolladens (shades) up and the window open to try to cool down the room.  Unfortunately I did not realize that workers would be out and about in the vineyard.  Once I realized this I also realized that they had been getting a free show since it was hot and I was staying naked as long as possible.

    We had breakfast and McGyver paid the bill.  It was €177 , the room only cost €70, we had dinner but I couldn't figure out why it was so much.  Then McGyver told me the beers were €6 each – aha!  That explained it.  Guess we could have bought a bottle of fancy French wine instead!

    Another gorgeous day for a ride.  We motored along fine until we realized we were almost to Paris.  We had missed our exit.  No problem we gas up and reroute ourselves.  Unfortunately it takes up more of our precious time.

   On one of our gas stops we met up with the Fenlander Suffolk Chapter from England, headed to Barcelona also.  Back on the road we enjoyed the sights, chalets, sunflowers and more sunflowers.  we made a quick stop to pick up a piece of Limoges porcelain –no time to do more shopping, then off again.

    The plan was to stay at a 4 star campsite North of Sarlat-la-Canéda.  After much frustration at the end of a long ride, we finally found the campsite.  Although beautiful, it was not quite what we were looking for.

    By now it was 7:30 pm and we had been on the road for 11 hours.  We quickly set-up camp and headed back in town for a bite of local fare and of course some beer.  After the Foie de Gras and the truffles we went back to camp to relax and discuss the next days ride.

   Since we are so far behind schedule and the S-glide is spitting oil we decide to cut out some touring and head straight to Barcelona – another long day of riding ahead.
Some side notes:  If you are wondering why I was complaining about not having A/C and why I was displaying myself publically (although unintentional), France at the time was going through a major heat wave.  The heat wave lasted from June through August.  Over 14,000 people died  that Summer.  We're talking the hottest summer in Europe since 1540 (source).  It was a grueling time to be out riding with no shade or air conditioning.
On the plus side, I just visited the place I most want to go back to: Sarlat-la-Canéda.  It's hard to explain when a place just sings to your soul.  We also had our first taste of foie de gras and truffles.  We finally understood what all the hype was about and didn't disagree one bit!
Next week we finally make it to Barcelona.  Hope you come back to read about the longest riding day of my life.