You know, sometimes you just don't feel like cooking and sometimes you don't feel like going out either.  Like after a long and very hot day of looking at Hay and snapping pictures.  It happens to some more than others, even me.  I adore cooking and I adore grilling but I adore an easy night off more than anything.
Here's where I got lucky.  I received a free sample of baby back ribs and BBQ sauce from the Pig of the Month club.  Oh yes I did, and how timely it was!  Never heard of Pig of the Month, you say?  Well there are wine clubs, and cheese clubs and pig clubs.  Seriously you can some tasty oinker delivered to your house every month and sauce too!
Yes, that's a bee.
I have to confess, I was a bit skeptical.  I've lived in the south and in the St. Louis area, I know a good rack when I taste them.  I can also cook 'em up good but who has a whole day to babysit smoking pork ribs?  I have *once* purchased pre-packaged already cooked ribs from the grocery store.  Let's just say they were a huge disappointment.  I should have just ordered a McRib, it would have been cheaper and tasted about the same.
So, with excitement and some trepidation I opened my package.  Included: 1 rack of ribs, 1 jar of sauce, 1 bib, instructions and a whole mess of moist towelettes.  Does 1 bib = 1 eater

?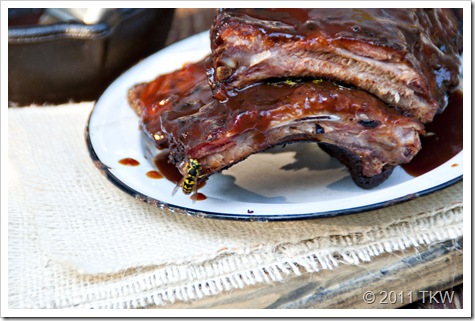 So good, even the bees can't stay away.  Shoo bee, get out of here, it's mine!
The reheating instructions are for the oven and for the microwave, but if you want to impress your neighbors you can do like I did, reheat them on the grill.  Trust me, my neighbor's noses were poking over the fence and they were drooling (their mouths not their noses).  It was like 92F, too hot for the oven!  I reheated them over indirect heat on the frill and the last couple of minutes put them on direct heat and sauced them for that "I just grilled" these ribs taste and look.  Ooh I'm so devious.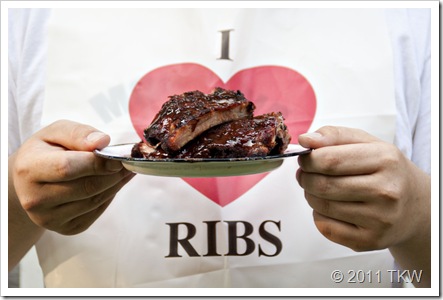 My poor Baby boy, he is a rib lover of great proportion.  Why, he would do anything to get his hands on some ribs.  Even indulge his mom by wearing a bib and let me photo graph him 'getting messy'.  While he was devouring the ribs, he says:
"I'm not gonna lie, these are good ribs"
There you have it, you need no other comment.  Ha! but when do I ever stop rambling?  For my part I liked the dry rub on the ribs, heavy on the paprika, giving them a nice Memphis flavor.  The ribs were firm enough that you could sink your teeth into the meat with out it falling apart and tender enough that a quick gnaw and the meat was right off the bone.  They were smoked just the way I like, not too heavy, good subtle undertones of smoky goodness.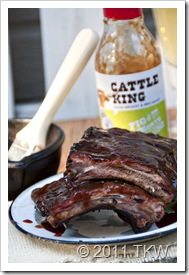 We got the Cattle King Brisket and BBQ Sauce but they also have other sauces like: Get Lei'd Hawaiian BBQ Sauce, Love Me Tender King of the BBQ Sauce, Key West in a Bottle BBQ Sauce, Miss Scarlet Carolina's Red BBQ Sauce and their Colonel Mustard Carolina Mustard BBQ Sauce which happened to have won the 2011 World Mustard Competition in mustard based sauces.  I love their names and the labels are entertaining!
The Cattle Kind Brisket and BBQ Sauce is a zippy red sauce, it's like steak sauce and good old red BBQ sauce collided into a sexy and tasty marriage.  I warn you, the stuff is addicting, some people may find themselves hitting the sauce straight from the bottle.  Some people, but not me, I would neeeveer eeeeveer do anything like thaaat.
Please drop by their site, not only do they have some great ribs and great sauce but they have a food blog where you can BBQ tips and drink and food recipes.
At last I have found you, my love…kissy, kissy.
Don't tell him I posted that, he'd kill me if he knew…Never mind, please tease and embarrass him, I'm his mom and I can do what I want, so there.  Besides it's my job to embarrass him, isn't it?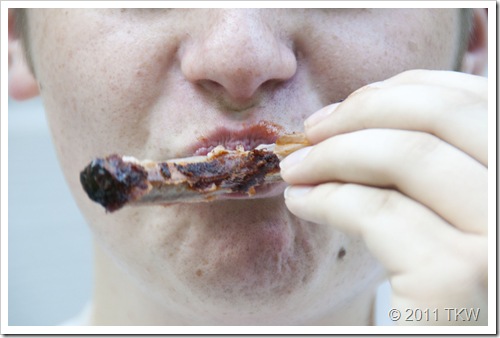 Disclaimer:  I received the samples for free from Pig of the Month, I was not paid or compensated to review the product other than receiving the product itself.  I am a paid guest blogger at Pig of the Month…stop on by.