Here we find McGyver and myself on our way to Barcelona Spain, ready to see the Harley Davidson's 100th Anniversary shindig in Europe.  Not only is it our honeymoon but it's a chance to experience history, and for us Americans, it's even more special to celebrate an iconic American tradition in Spain.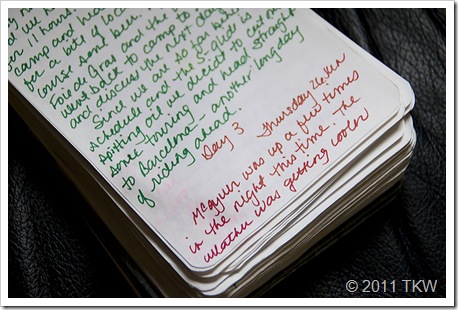 This is also the first time in my life where I've been disciplined enough to maintain a journal from start to end.  If you missed prep days 1 and 2, you find them here and here.  Our actual journey begins with day 1 and day 2, and you can read about them here and here.
Now let's enjoy the ride…
Day 3 Thursday, June 26, 2003
    McGyver was up a few times in the night this time.  The weather was getting cooler and we kept adding layers.  It was a welcome change from the previous night.  By the time I got back from the showers, McGyver pretty much had the camp packed up – could I have timed it any better?

    Our starting mileage is 30,497.1.  It's 8:10 am and time to hit the road.  It is overcast but warm enough, a nice change from the heat.  As we rode through Sarlat-le-Canéda and the area we discovered what a beautiful and historic area this is.  We will definitely return someday and stay longer.

    While in the area we decided to buy some of the local specialties.  We bough some Foie Gras at Yvette's, an "artisan" of Foie Gras and we bough some more when we stopped in Gourdan.  We also picked up a couple of jars of truffles.  We spent nearly a hundred dollars on potted meat and mushrooms – C'est la Vie – when in France?

    At the Café Divan we stopped for a café au lait, Grande and wanted a bite to eat.  However, the café was not serving food, perhaps too early?  McGyver had his stomach set on some food, so I pointed out a patisserie across the street.  He promptly went there and bought a nut pastry and an apple pastry and brought them to the café.  Some other bikers had stopped there and thought it  a great idea and followed suit.

We were off again, with Barcelona on our minds.  Our next stop was in Andorra.  We had hoped to get a picture but no signs.  No worries, we planned on stopping at the dealership in Andorra for t-shirts.

    Up, up, up through the Pyrenees and we make it to the Harley dealer.  While we were there at least another 20 bikes had stopped.  But no t-shirts.  They were sold out.  "Maybe next week" they said. Unfortunately our travel plans would not take us back through Andorra.

So we pressed on.  We were running about 4 hours behind schedule and wanted to find our hotel before dark.  The ride from Andorra to Barcelona was a tough ride.  The mountains and construction made for a rough ride with already road weary bones. 

    Off and on we continued to meet up with riders on the same mission.  This is what it is about.  All of us from different areas, speaking a different language, yet the same.  Knowing that we had a common interest/goal.  The whole ride was worth seeing others as we traveled.

    It continued to get hotter, then we went through the coldest tunnel, must have bee in the low 40's.  Soon we warmed up again but not for long.  the rain spit on us a bit and we though we would miss it.  No chance, it really started to come down and we felt the needles piercing our skin.  McGyver saw a rest area but too late to stop and put rain gear on – no worries a tunnel was coming up and we would be dry in there.

After pulling up to the wrong ticket booth, we backed out and got started on the right track.  this tunnel was indeed dry and also cool.  We were wet and freezing for over 5,000 meters.  On the other side it was blissfully warm again.  We dried out in no time.

As we traveled through mountainous roads and more construction our eagerness grew and our butts were ready to rest.  Before we knew it we were in Barcelona – downtown, Barcelona, in all the traffic.  This is not where we wanted to be!

    Fortunately we were on a bike and McGyver knew enough Spanish to ask directions.  We split lanes, rode in bus and taxi lanes and finally found our way out.  (It only took an hour – after a 10 hour ride).  A couple more wrong exits and we were finally in Castelldefels.  Now to find our hotel.  Again more construction and 45 minutes later we found it.

    It has all the necessities, A/C and beer.

    After unpacking, we walked around the block to a local restaurant, we ate and drank.  We were served Warsteiner, good beer from Germany and relaxed.  By the time ti was all done we were back to the hotel at 12?30, showered and ready for bed.

   Tomorrow all the festivities begin!
Side Notes:  this day was the only day in my life that I wasn't sure I wanted to get back on a bike.  It was long, hot, cold, and frustrating (downtown Barcelona at rush hour is NO fun).  It was also exciting and beautiful and in the end, totally worth it.
If you've never heard of Grottes de Cougnac, you should take the time and see what it is.  We really wanted to visit but time was a factor, so we just settled for the sign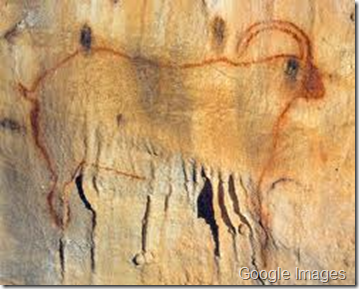 One day, we'll go back…
Did you know that Microsoft word does not recognize foie?  One of the correction option is 'foodie'.  Important stuff to know!