We interrupt the regularly scheduled program to bring you this: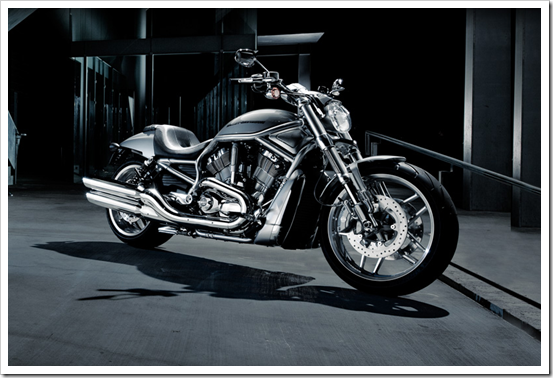 Picture Source (Harley Davidson)
Nearly every Monday for the last two months I've been sharing my honeymoon journal.  The only exception has been on Secret Recipe Club days because our reveal dates are predetermined and always on a Monday. Until now.
I just got an email from McGyver that simply said "Ten Years!???!!!".  Life goes by in such a blur that you don't even realize how much time has passed until something significant happens; your 30th birthday, your kids first day of school, your kid is graduating school, etc. Or when the 10th Anniversary of the V-Rod is announced.
Why the big deal?  Once upon a time, well 10 years ago to be exact, McGyver bought himself a V-rod, first addition.  Not only that, he was the first one ever to buy one in our area!  Let me tell you, Hans from the local dealership Tough Stuff Harley Davidson was beside himself.
Myself and the not kids drove McGyver over to dealership so he could pick up his brand new bike.  Hans was so happy that he let McGyver choose any leather jacket that he wanted.  McGyver was so happy that he bought Thing One and Thing Two some ball caps.
While my not daughter and I were hanging out at the front of the shop waiting for McGyver to come out with his super cool ride, Thing Two comes out of the front doors, throws on his brand new Harley Davidson hat and starts chiming, "I'm cool, I'm cool" and then 'bonk' he promptly ran into a pillar.  I laughed so hard I cried (after I knew he didn't have a concussion first…not, I laughed right away, who wouldn't?).  It is now a running joke in our family that never stops being funny. I'm cool, I'm cool 'bonk' hehehaha, can't stop laughing!
Speaking of cool, here's McGyver almost looking cool (it's the white socks that ruin it for me…not my fault we weren't even married yet).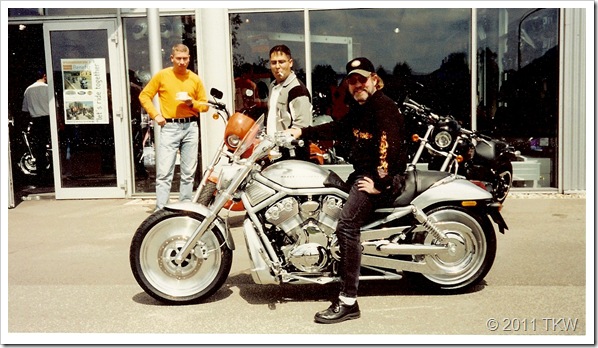 Front view (much cooler..no white socks).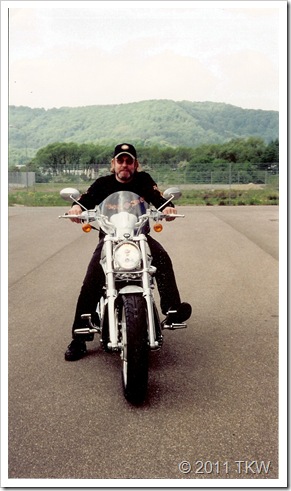 If you don't know why a V-Rod is so cool, it's not just it's sleek design and the fact that it is built for speed (a nice crossbreed of the cruiser and crotch rocket, Harley calls it Drag inspired), it also has a sweet water cooled engine.  That tank, it's not for gas baby!  Plus they use this super cool technology called hydroforming which allows them to make frames with curves you've never seen before!
McGyver loved his bike and wanted me to go with him on rides.  This is when I discovered what was not so cool about V-Rods.  The passenger pegs are mounted directly onto the swing arm.  That means that the passenger feels every vibration, every bump, seriously every bump.  I swear I constantly felt like I had to pee.  Plus I felt like I was running the whole time;  45 minutes on the back of that bike and I could hardly walk afterwards (although McGyver would try to attribute that to something else…)!
That didn't stop McGyver from taking it out or going anywhere with it, when given the chance (as in "Giggles isn't riding with me").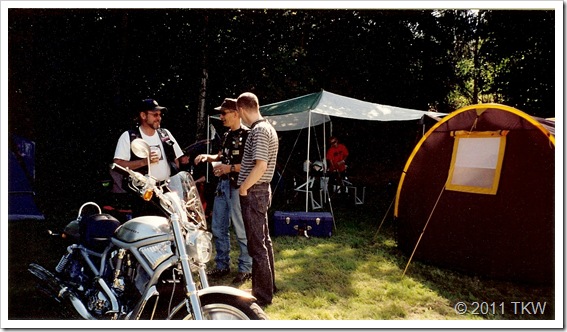 Sadly when we moved back to the states we couldn't bring it with us so he had to sell it.  I hope this 10th Anniversary thing isn't giving him some ideas?!