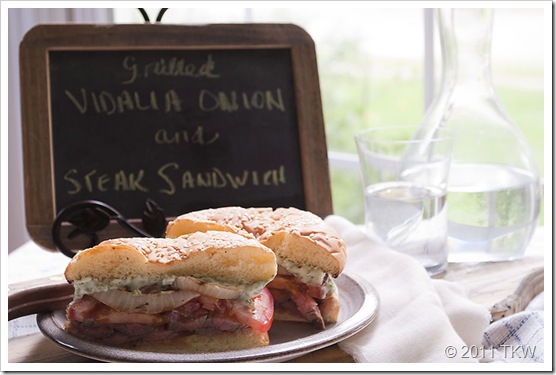 I can't believe what an amazing fall/late summer we're having. I still have some flowers on my plants. It's been so nice that I haven't even decorated for fall, I just can't seem to let summer go. The nice thing about extended nice weather, it means that my grilling season is also extended..
If you've followed me at all, you already know that I'm a grill queen (I even host blog for a BBQ site). Poor McGyver has been ousted from the manly position at the grill. He is perfectly capable and doesn't mind it, but I love it. Instead of asking him to grill for me, I just get started and before he knows it, dinner's done and he's stuck with the dishes. Needless to say, I'm ecstatic to have more grilling time.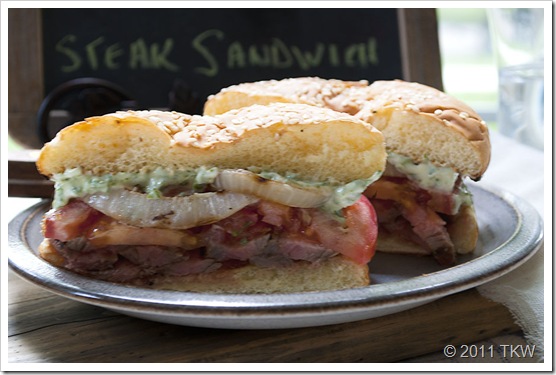 Despite my extensive grilling experience, I haven't grilled flank steak much. My economic side leans me towards cheaper cuts and turning them into something fabulous by slow cooking/smoking on the grill. Occasionally, my grocery store has meat for quick sale. It's on it's expiration date and it needs to be frozen or prepared right away. Since I have a large freezer, I capitalize on those opportunities. This is how I ended up with a nice flank steak.
I flagged a flank steak recipe in a Best of Cooking Light 7 publication from 2006 and decided that 5 years was a ridiculous amount of time to get around to doing anything. Finally, after 5 years I made it and I was not disappointed. It sounded good then and tasted good now. Don't wait 5 years to try this, if nothing else make the arugula mayonnaise and put it on all your sandwiches or thin it out for a great salad dressing.
The only change I made to the recipe was adding a pinch of salt to the dressing.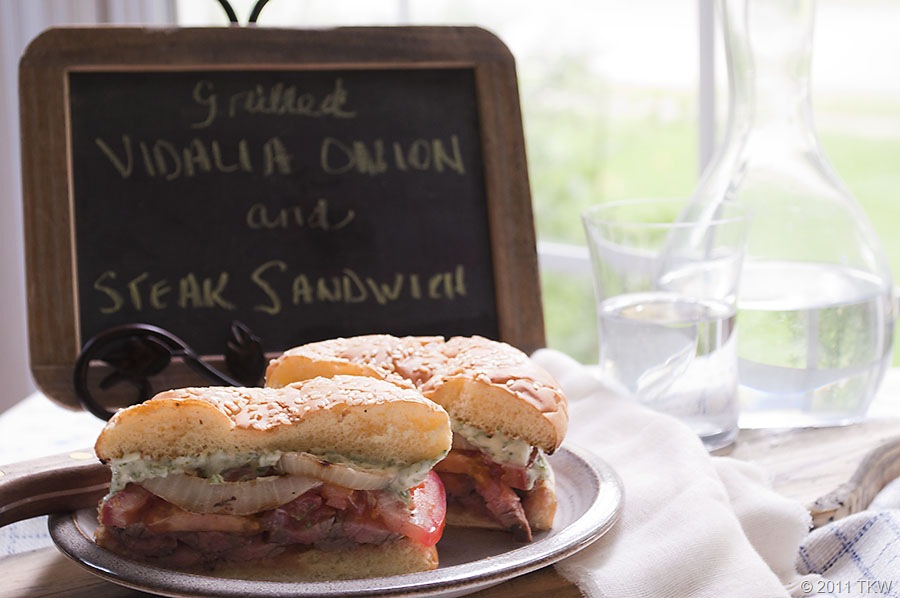 Grilled Vidalia Onion and Steak Sandwiches
2016-06-13 10:42:06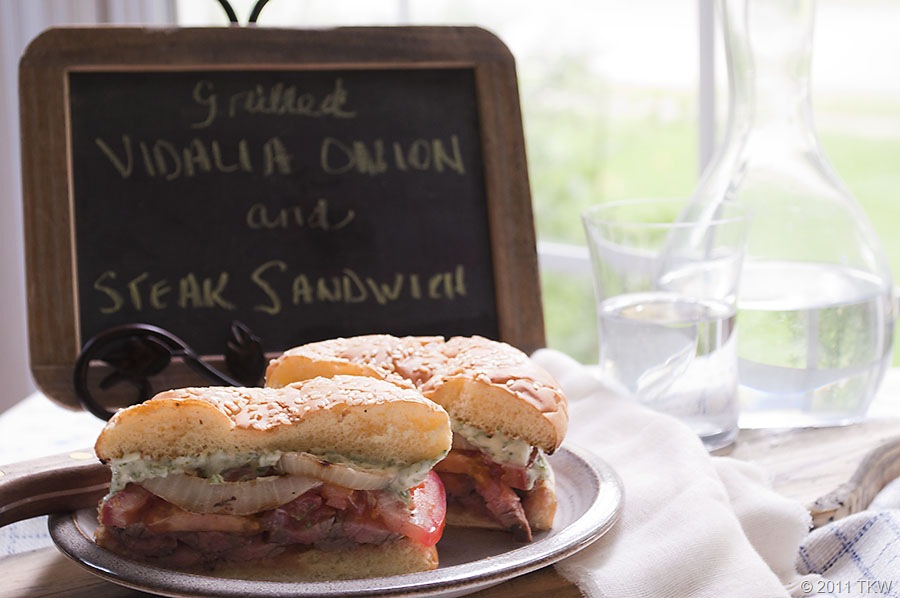 Steak
1/4 cup cola
2 tablespoons red wine vinegar
1 teaspoon coarsely ground black pepper
1/2 teaspoon salt
1/2 teaspoon ground chipotle chile pepper
4 garlic cloves, crushed
1 bay leaf, crushed
1 (1 1/2 pound) flank steak
Dressing
1/4 cup minced arugula
1/2 cup low fat mayonnaise
Pinch of salt
Remaining Ingredients
Cooking Spray
6 (1/2 inch thick) slices Vidalia onion
6 (2 ounce) Kaiser rolls
12 (1/4 inch thick) slices tomato
Instructions
To prepare steak, combine first 7 ingredients in a large zip-top plastic bag.  Add steak, seal and marinate in refrigerator for 2 hours, turning bag occasionally.  remove steak from bag, reserving marinade.  Pour marinade into a microwave safe bowl, microwave at High 2 minutes or until mixture comes to a boil.  Set aside.
Prepare grill or broiler.
To prepare dressing, combine arugula, mayonnaise and salt (if desired).
Place steak on a grill or broiler pan coated with cooking spray.  Grill or broil 8 minutes each side or until steak is medium rare or desired degree of doneness.  remove steak from grill or broiler, cover and let stand 5 minutes.  Place onion slices on grill rack, grill 4 minutes on each side basting occasionally.  Alternatively you can broil the onions of pan fry them.  Place rolls on grill rack, cut side down, grill 2 minutes minutes or broil  until lightly browned.
Cut steak diagonally across grain into thin slices.  Spread 2 tablespoons dressing on bottom half of each roll.  Divide steak, tomato and onion evenly among bottom halves of rolls.  Top with top halves or rolls.
Adapted from The Best of Cooking Light 7
Adapted from The Best of Cooking Light 7
The Kitchen Witch http://www.thekitchenwitchblog.com/

Click to Print a Recipe Card