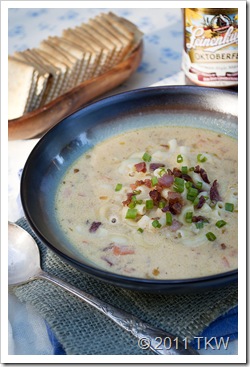 When I lived in England my family and I took a holiday up in the Yorkshire Dales. The Yorkshire Dales is a gorgeous area of England, full of green rolling hills spotted with dark craggy rocks.
You can see sheep and cows wandering the fenced off green fields. The moist weather creates the most intense and beautiful greenery. We rented a cottage there, it was the first time I ever had to put a 1 pound coin in a shower for hot water. That's one way of ensuring quick showers. I'm thinking of installing one at home for the Baby boy.
The Dales is also home to one of my all time favorite breweries, Theakston's which is located in Masham (had to go visit). While visiting the area, we also stopped off at a local creamery ( a must for a cheese fanatic like me). I couldn't believe my eyes when I saw a cheese soaked in Theakston's Old Peculiar Ale. Did all the planets align? What miracle is this?
A quick sample confirmed that it indeed was a miracle. Immediately I could taste the ale, then the taste finished with a nice sharp cheese flavor. Both the ale and sharp cheese lingered on my taste buds, oddly making me want a glass of red wine to go with my beer-cheese. It totally blew my mind, my mouth was masticating on cheese but my brain was saying beer. A wonderful paradox.
I haven't had Theakston's or the the Swaledale cheese since I left England, such as life goes. In writing this post I did find out that Swaledale cheese won 4 medals at the 2011British cheese awards. The Old Peculiar Ale cheese taking a bronze. Who would have thought that by happen-chance I would taste an award winning cheese?
Yorkshire Dales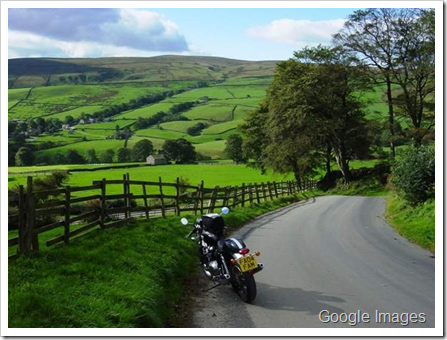 So much of the Yorkshire Dales reminds me of our very own Wisconsin here in the U.S. The rolling green hills spotted with dairy farms and cows wandering in fenced off fields, almost the same. Naturally great cheese also comes from Wisconsin, although I haven't had a beer cheese from there. Superb cheese isn't the only great thing from Wisconsin, oddly enough one of my favorite American breweries is also located in Wisconsin. McGyver and I are big fans of Leinenkugel beer. So much so, that coming back from a motorcycle trip (Harley Davidson's 105th Anniversary in Milwaukee) we made a special diversion to Chippewa to visit the Leinie Brewery and lodge (I love their tag line "It's like a museum but you get to drink the exhibits").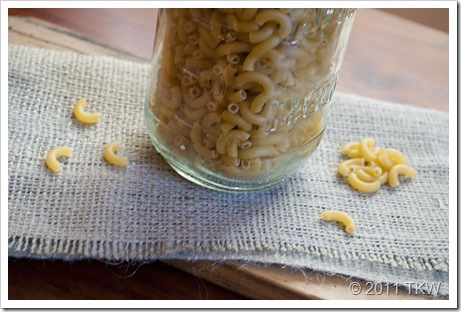 I have never been able to get that beer/cheese thing out of my mind. Since I'm not likely to visit the Dales anytime soon, I would have to substitute with the next best thing. Wisconsin cheese and beer in the form of a soup. I used a nice sharp cheddar and since it is the month of October, naturally I had to use the Leinenkugel's Oktoberfest beer, a German style Märzen beer. German Märzen beer is a full bodied ale that has a nice malty flavor with some hop-iness and a little bitterness to balance it out. Historically it was kept through the summer with the last bottles being served at none other than Oktoberfest time. To make the soup a little more substantial for a main meal, I added macaroni. Who doesn't like to wash mac-n-cheese down with a beer?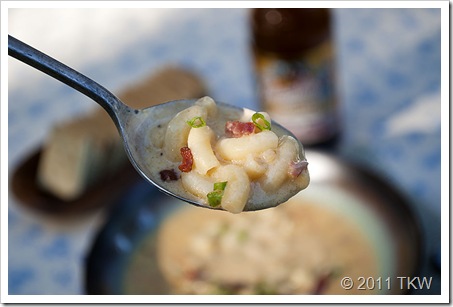 I wasn't disappointed. The Oktoberfest beer was the perfect pairing with the sharp cheddar. Again my taste buds and mind were in a paradox, am I eating beer? It wasn't quite as momentous or as good as The Old Peculiar Ale Swaledale cheese, so few things match a vivid memory. It is probably for the best, I'd hate for another beer/cheese combo to trump my fond memories of one of the most significant cheese moments I've ever had.
If you are not a fan of dark/strong beers, any beer can be substituted to suit your tastes.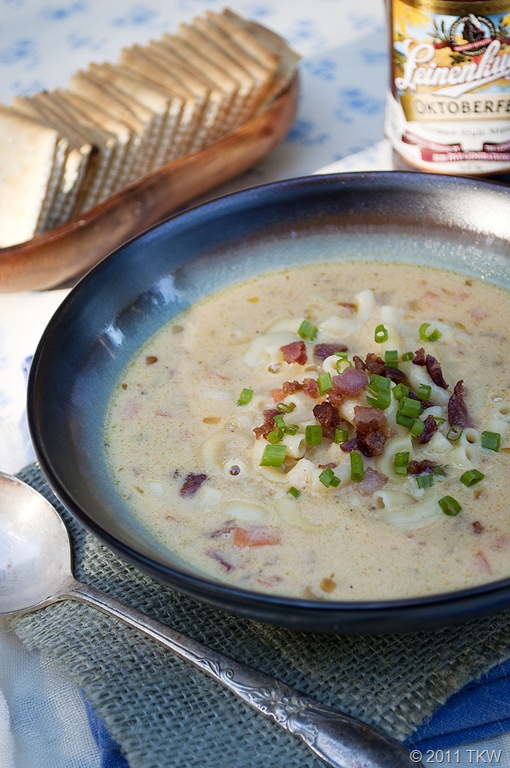 Cheese Head Beer Soup with Macaroni
2016-06-13 10:38:19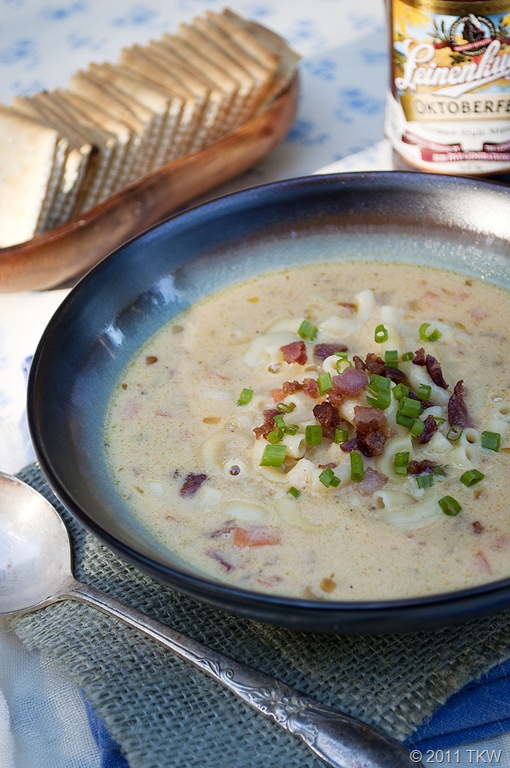 Ingredients
1 1/2 cups dry elbow macaroni, cooked according to package directions
6 slices bacon, diced
1 1/2 cups minced onion
1 cup minced celery
1 cup minced carrots
2 cloves garlic, minced
1/3 cup flour
2 cups chicken broth
12 ounces beer
1 cup half and half, milk or cream
4 cups shredded sharp cheddar cheese
1 1/2 teaspoons dry mustard
1 teaspoon Worcestershire sauce
Chopped chives for garnish (optional)
Instructions
Heat a large Dutch oven or other heavy bottom pot on medium-high.  Cook diced bacon until crisp.  With a slotted spoon remove bacon to a paper towel lined plate to drain.  Pour out excess fat (if necessary), leaving 2 tablespoons of fat.  Add butter, onion, celery,, carrots and garlic to the bacon grease.  Cook until tender, about 5 minutes.
Mix in flour, stirring until flour is hot and bubbly.  Slowly add broth, scrapping up any brown bits, deglazing the pan.  Add beer, mustard and Worcestershire sauce.  Turn down the heat and let simmer until thickened, about 5 minutes.  Add half and half, then add the cheese one cup at a time, ensuring the first cup melts prior to adding the next.
Just prior to serving add cooked macaroni and bacon (reserve some for garnish if desired).  Garnish with chives.
The Kitchen Witch http://www.thekitchenwitchblog.com/

Click to Print a Recipe Card