Guess what? Bonus post from me. Motorcycles and recipes in the same day, wow. Why? Sadly one of our Group D Secret Recipe Club members was orphaned. Is that not the saddest word? Images of poor Oliver Twist come to my mind "more please". It breaks my heart. No one should be orphaned!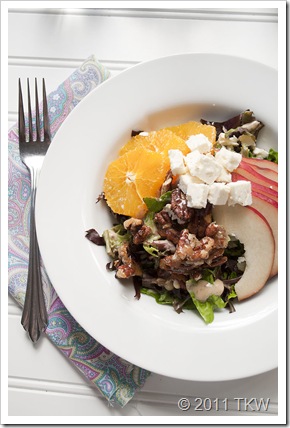 I was almost orphaned myself last week but CookLisaCook came to my rescue, now it's my turn to be the heroine. When Amanda's call came out, it was right at lunch time…perfect! I quickly scanned Dishing the Divine to see what Paula had to offer for a great lunch time recipe and one that I would have the ingredients for (I am completely out of eggs…).
I spied the Pear Salad with Mustard Vinaigrette Dressing and remembered that I had one lonely pear in my fridge. It's a little worse for the wear but it would do. I didn't have any of the recommended cheeses but I had some feta, bingo!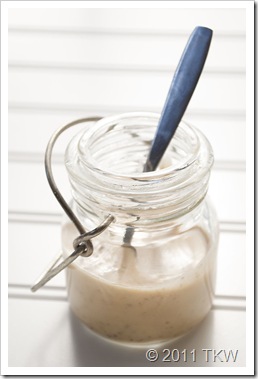 Paula has a lovely site with some amazing photos…I'm envious. In her 'About Me' section she mentioned that she would have to ask her mom, are we having real or plastic noodles (read: homemade versus purchased). How cute is that? Paula was lucky to have an excellent cook for her mom, influencing her cooking now.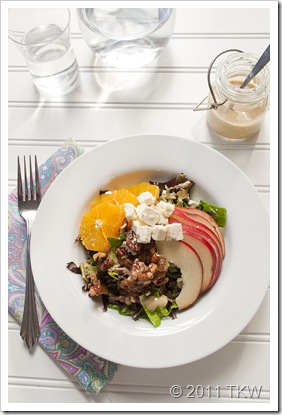 Paula originally got this recipe from allrecipes.com (such a great source for recipes). Paula, you are no longer orphaned and I'm happy to be a part of your family now. I'm so glad you threw your hat into the food blogging world!
And yes, the salad is wonderful, a perfect lunch!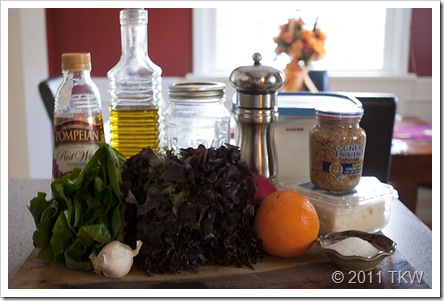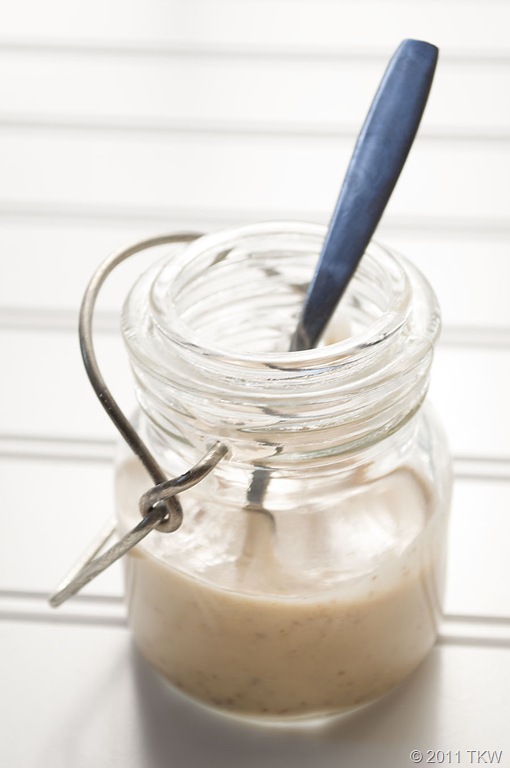 Pear Salad with Mustard Vinaigrette Dressing
2016-06-13 10:15:28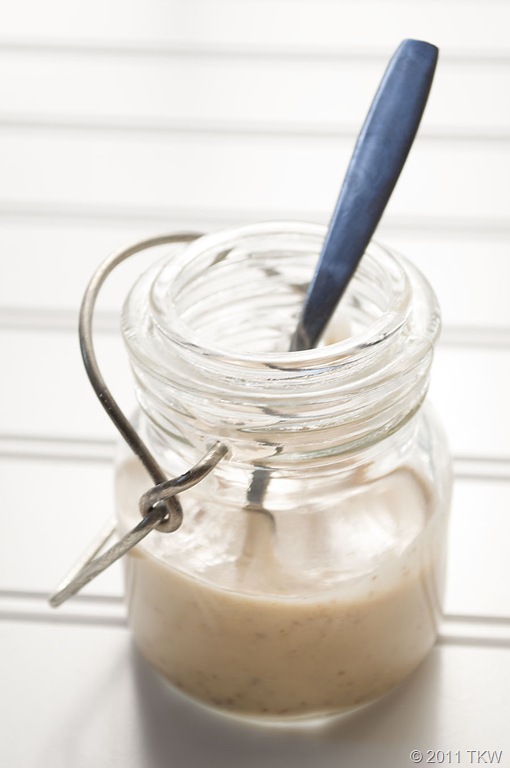 Ingredients
several cups of mixed salad greens
1 pear, thinly sliced
1 orange, peeled and thinly sliced (or use candied oranges)
2 ounces crumbly cheese (gorgonzola, blue cheese, white cheddar, etc….FETA in my case)
1/2 cup pecans
1/4 cup white sugar
1/3 cup olive oil
3 tbsp red wine vinegar
1 1/2 tsp sugar
1 1/2 tsp Dijon mustard
1 clove garlic, minced
1/2 tsp salt
fresh ground pepper to taste
Instructions
Place the baby greens in a large, flat bowl. Top with pear slices, oranges, and cheese.
In a skillet over medium heat, stir 1/4 cup of sugar together with the pecans. Continue stirring gently until sugar has melted and caramelized the pecans. Carefully transfer nuts onto waxed paper. Allow to cool and break into pieces. Sprinkle over the salad.
For the dressing, blend oil, vinegar, 1 1/2 teaspoons sugar, mustard, chopped garlic, salt, and pepper.
Drizzle the dressing over the salad and pass additional dressing at the table.
Adapted from Allrecipes and Dishing the Divine.

Adapted from Allrecipes and Dishing the Divine.

The Kitchen Witch http://www.thekitchenwitchblog.com/

Make sure and check out all the other divine recipes:




Click to Print a Recipe Card