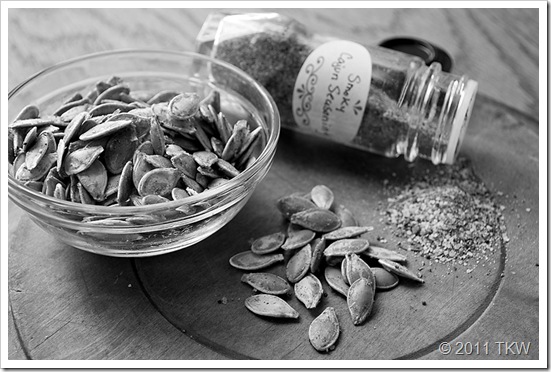 For those of you who have to wait last minute to carve their pumpkins, (like us because the squirrels would absolutely devour them before Halloween) or for you pumpkin painters who now need to clean out the seeds (they are to good to waste); I've got a fabulous pumpkin seed recipe. Here's how it started.

Angie from Big Bear's Wife (and also my hostess for SRC Group C) was quick to reply:

I was already thinking along the spicy line, Cajun was perfect. Naturally since food bloggers are the way we are, I had to mix up my own and I couldn't just make an ordinary Cajun seasoning mix.
In addition, last week I started participating in Black and White Wednesdays organized by The Well-Seasoned Cook, you can read more about it here.
I also experimented in the Sepia range, ooooh, ahhhh. But I think I like the more dramatic black and white.
The pumpkin seeds are totally addictive, I'm warning you now! The seasoning mix has just the right amount of spiciness and with the addition of smoked paprika it has a wonderful smoky undertone! The mix is obviously good for many things other than pumpkin seeds…I'm thinking about oven roasted sweet potatoes….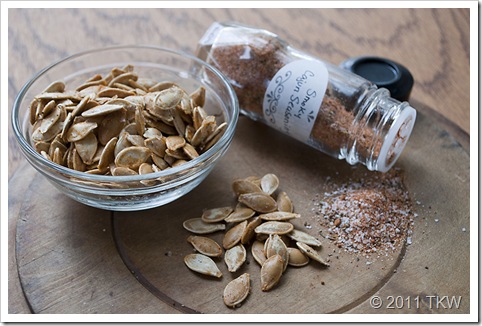 I like to save my empty spice container for putting homemade mixes in! If you didn't know this, Ball makes a canning label that is dissolvable! which means, when I'm done with this guy, if I want to use it for something different I put it in the dishwasher and it washes away, love it!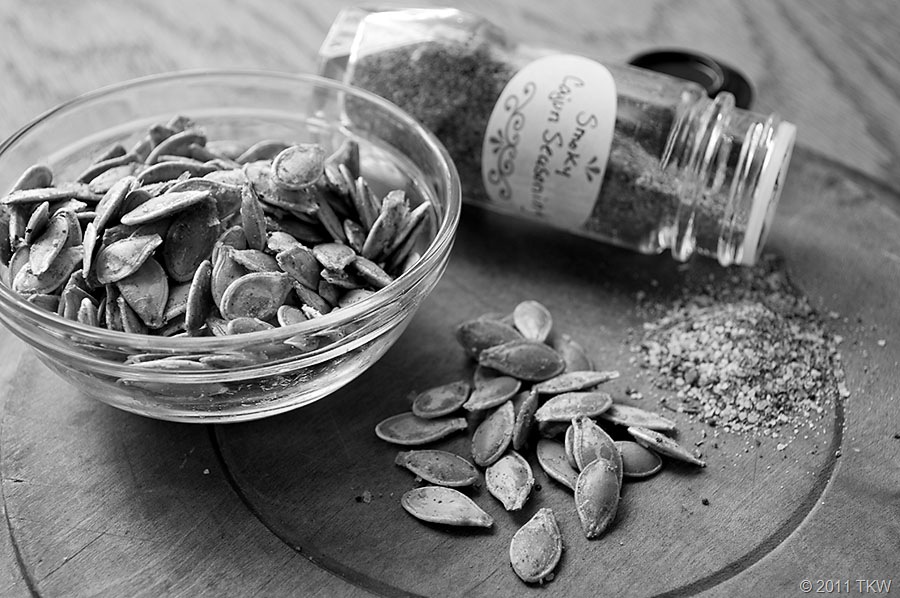 Smoky Cajun Spiced Pumpkin Seeds
2016-06-13 10:08:30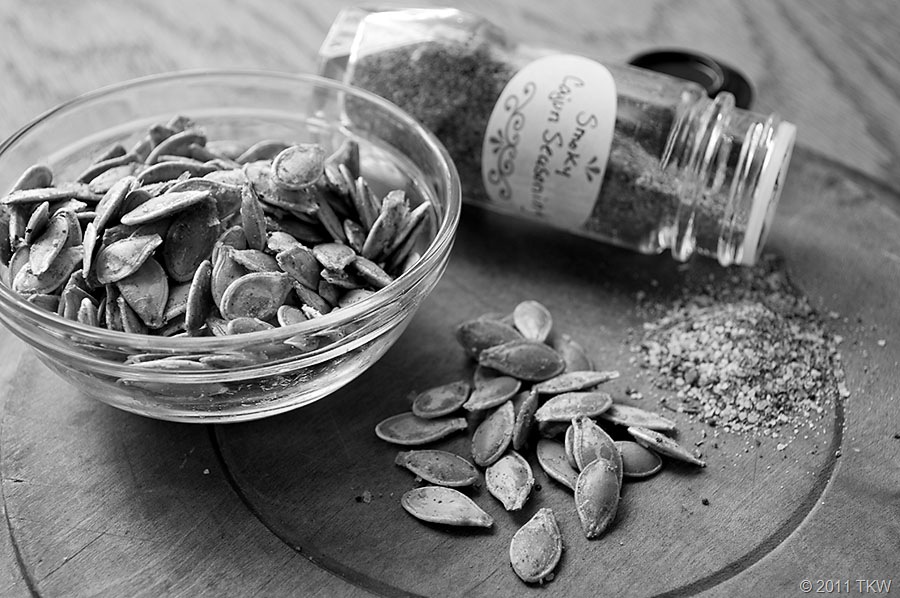 Smoky Cajun Seasoning mix
1 tablespoon Salt
2 teaspoons garlic powder
2 teaspoons paprika
1 teaspoon onion powder
1 teaspoon cayenne pepper
1 teaspoon white pepper
1 teaspoon black pepper
1 teaspoon dried thyme leaves
1/2 teaspoon smoked paprika
Roasted Pumpkin Seeds
Pumpkin seeds
Cooking Spray, such as Pam
1 teaspoon of butter for every cup of pumpkin seeds
1 teaspoon of season for every cup of pumpkin seeds.
Instructions
Smoky Cajun Seasoning mix: Mix all ingredients together in a small bowl.  Store in an air tight container.
Roasted Pumpkin Seeds: Separate the seeds from the pumpkin flesh,  rinse thoroughly in a colander, using your hand to rub off any tenacious pumpkin fibers.  Spread out on paper towels to dry (I let them sit out overnight).  Preheat oven to 275°F.  Spread seeds in a single layer evenly across a rimmed baking sheet, lightly spray seeds with the cooking spray.
Roast seeds for 30 minutes, stirring every 10 minutes or so, until the seeds look light brown.  Remove the seeds from the oven, add butter to the pan and stir to coat evenly over the seeds (the butter will melt in the hot pan).  Sprinkle Smoky Cajun Seasoning over the top of the seeds and return to the oven,  Roast another 10 minutes, stirring half way through or until the seeds turn a nice golden brown.
The Kitchen Witch http://www.thekitchenwitchblog.com/

Click to Print a Recipe Card