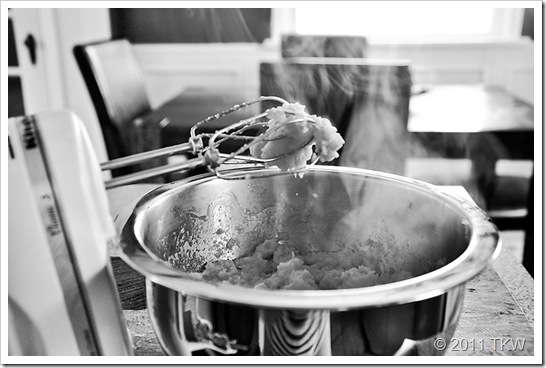 For this week's Black and White Wednesday I am featuring Sweet Potato Casserole. BWW is a weekly culinary event hosted by Susan from The Well Seasoned Cook. Although many people don't believe B&W photography has a place in the food world, Susan is busily proving them wrong.
B&W food photos can set a mood or make food look more dramatic. As an example, I think the steam in the photo above is more pronounced in the B&W version compared to the colored version (photo further down in post), what do you think? Um, I also noticed that the reflection of my striped shirt is more pronounced…hehe, oops. Thanks Susan for encouraging me to explore the world of B&W and drawing my attention to things that may have gone unnoticed.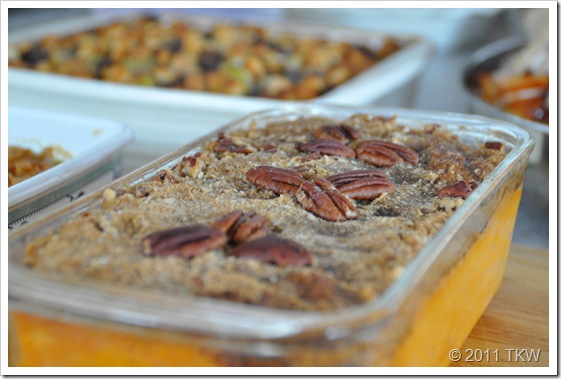 Sweet potatoes are accepted with mixed feelings in this house. As a family who generally prefers savory versus sweet, sweet potatoes find themselves sitting on the fence here. Typically our preference is roasted with onion, or spiked with a bold spice like cumin. In other words, something that down places the sweet side of these tubers.
You can imagine our horror when we have a big pan of sweet potatoes baked in some sweet buttery syrup and/or topped with marshmallows that ooze all their sweetness over the cooked potatoes placed in front of us. Blech (sorry to all of you sweet, sweet potato lovers). Actually, the Baby boy does not like sweet potatoes in any fashion, but that hardly counts.
In order to satisfy even the extended family that expects sweet, sweet potatoes at Thanksgiving, I needed a recipe that would bridge the gap. I found that recipe in a Better Homes and Garden Magazine in October 1997 and I've been making an adaptation of it ever since.
This recipe still leans toward the sweeter side which is a wonderful compliment to all the savory dishes put out on Thanksgiving, but it's not cloyingly sweet. Orange zest and juice provide a fresh acidic contrast and helps cuts the sweetness down. Pecans in the crumble crust, give a nice nutty flavor and texture.
Bonus posting: a pictorial tutorial (rhyme was not intended). Sweet potatoes may not be our favorite but they are beautiful.
Start off by assembling and prepping the ingredients. Try to keep the sweet potatoes relatively the same size so that they finish cooking about the same time.
Put the beaten egg, orange zest, butter, vanilla (not pictured) and evaporated milk into a large bowl. The evaporated milk gives the dish a wonderful silky richness but milk can be substituted.
To test if your sweet potatoes are done, remove one piece and break it apart with a fork. It should break apart easily. Add the drained cooked sweet potatoes to the mixture in the bowl.
You can break up the potatoes with a wooden spoon but I like to use a mixer on a low setting. Once the potatoes are broken down and mixed, add the orange juice. Mix on high until the potatoes are smooth.
(Below is the the steaming mashed sweet potatoes that I converted to B&W)
Put the sweet potato mixture into a greased casserole pan. I like to use a bread pan for two reasons: I like the topping to potato ratio and it takes up less space (very important since oven square footage is so important on Thanksgiving).
Prep the crumble top ingredients.
Blend the sugar and flour, then cut in the butter. Stir in the chopped pecans.
Cover the sweet potato mixture with all of the crumble top mixture. Decorate with pecan halves if desired.
Bake at 350F for 25 minutes (perfect while the turkey is resting!)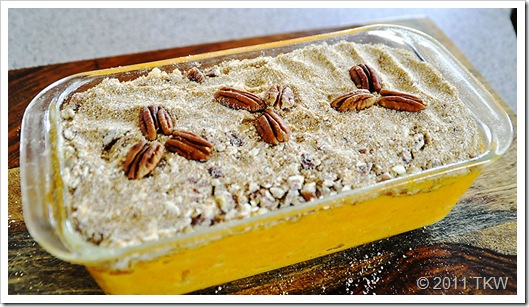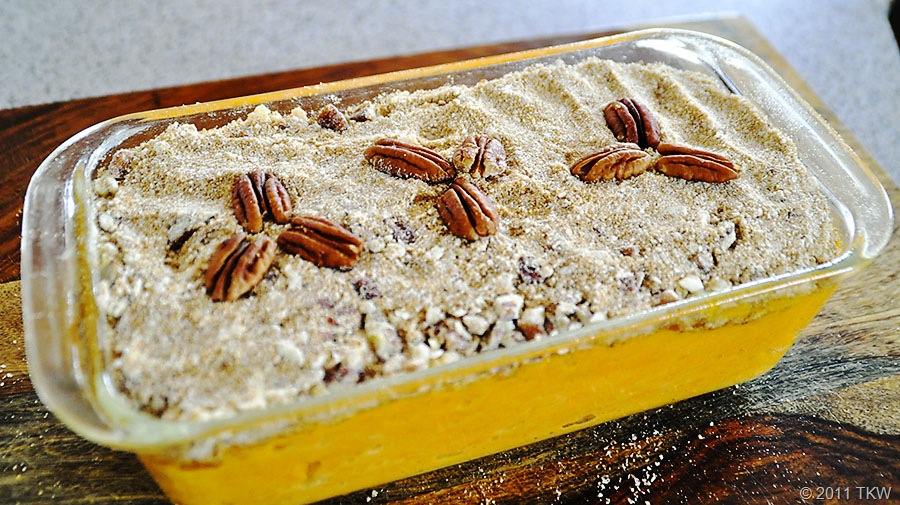 Sweet Potato Casserole
2016-06-13 09:48:12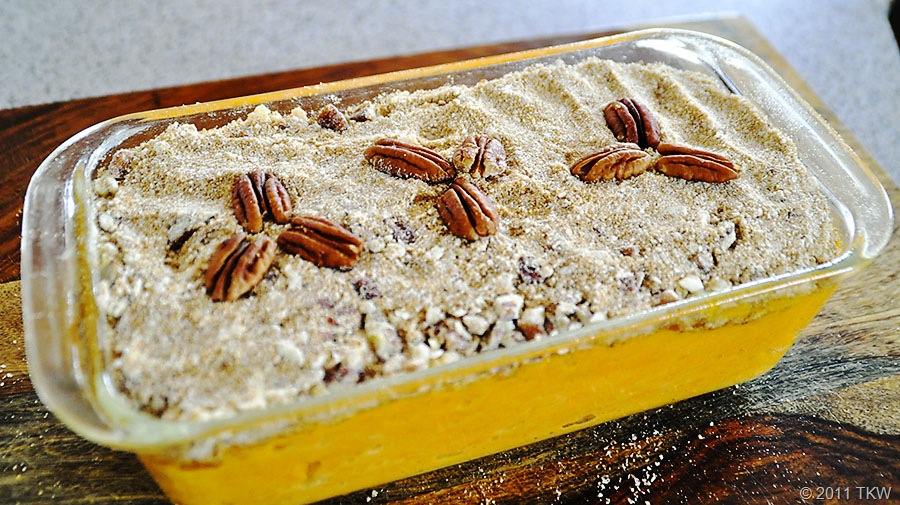 Casserole
1 1/2 to 2 pounds sweet potatoes, peeled and cubed
1/3 cup sugar
1/2 cup evaporated milk
1 egg, beaten
Zest of 1 orange
3 tablespoons butter
1/2 teaspoon vanilla
1/4 cup fresh orange juice
Topping
1/2 cup brown sugar
1/3 cup flour
2 tablespoons butter
1/2 cup pecan pieces
Pecan halves for garnish (optional)
Instructions
Preheat oven to 350°F.  In a a large pot, add sweet potatoes and fill with water until the potatoes are just covered.  Bring to a boil, turn heat down and gently boil until potatoes are fork tender, about 15 minutes.  In a large bowl add: beaten egg, sugar, evaporated milk, orange zest, 3 tablespoons of butter and vanilla.
Add cooked and drained sweet potatoes to the large bowl and break up the sweet potatoes with a wooden spoon or a mixer on low speed.  Add the orange juice and mix until combined and potatoes are smooth.  Put sweet potato mixture into a greased 9 x 5 loaf pan.
For the crumb topping, mix brown sugar and flour, cut in the 2 tablespoons of butter then stir in the pecan pieces.  cover the sweet potato casserole completely with the crumb topping.  Decorate with pecan halves if desired.  Bake for 25 minutes.
Adapted from Better Homes and Garden's Magazine, October 1997
Adapted from Better Homes and Garden's Magazine, October 1997
The Kitchen Witch http://www.thekitchenwitchblog.com/

Click to Print a Recipe Card