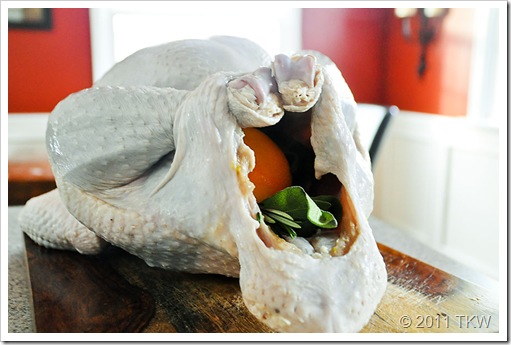 Holy cannoli! Thanksgiving is less than a week away! Have you bought your turkey yet? If you are purchasing a frozen turkey (the most economical kind) then you better get on it. Turkeys take several days in the refrigerator to defrost. If you are planning on brining the bird then you need to move up the defrost plan by a whole day. If you find yourself in a dire situation, there is the water method of defrosting. It's done by soaking the frozen turkey in cold water and changing out the water every 30 minutes. Hey, that is what bathtubs are for, right? Yeah, I've been there done that, I'd rather plan a little better and let the defrosting happen on it's own in the fridge.
If you haven't picked up on my theme for this year by reading my posts for Cranberry Orange Sauce and Sweet Potato Casserole, I guess I'll have to clue you in. Every year I pick a theme and put a twist on the traditional dishes. Sometimes the themes are centered around a specific ingredient like oranges, cranberries or sage. Sometimes I take my cue from a locale like Mediterranean (one of my favorites to date), Southern, etc. or a mood I'd like to set, elegant, or maybe homey. By setting a theme it gives me an anchor, a common thread throughout my dishes. The palate likes cohesion whether your aware of it or not.
I always serve the traditional turkey, stuffing, mashed potatoes, gravy, green bean casserole, etc. But I just can't help myself, I've got to put a little different spin on the traditional food every year. Ready for this….this years star is the orange, it's the Baby boy's favorite citrus and I thought it a suitable Thanksgiving theme! Don't worry, I'm not going to go to over the top, the idea is not to make everything taste like orange…just to allude to it. Note: I saved my squeezed (and sometimes zested) orange halves for the brine from my other recipes.
When brining a turkey, it's essential to keep it cold…don't want to make grandma sick! I like to brine mine in a large zipper lock bag, only because I hate washing up. It is perfectly acceptable to use a 5 gallon bucket or a cooler. It may be necessary if you don't have the refrigerator space.
I actually keep my bagged brining bird in a cooler in the garage. I have to store it in the cooler to keep it from freezing…not to keep it cold, crazy Montanans!
I've adapted the recipe from Alton Brown, the brined was changed and part of the cooking method is one I prefer. I like to start with the breast side down and then flip to ensure a tender moist breast with a beautifully crisp skin. The brine flavors the turkey wonderfully with just an essence of orange…that anchor that is my theme for this year. I apologize for not having a picture of the lovely whole bird, I guess I got a little to excited and dug into the slicing before capturing the big beauty.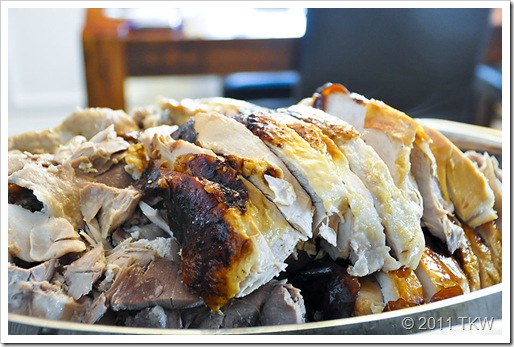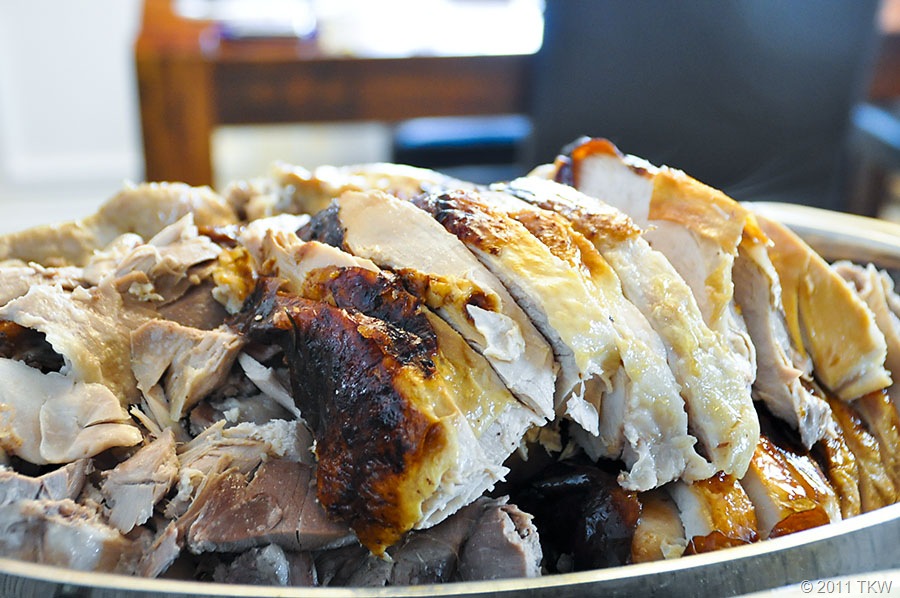 Orange Essence Brined Turkey
2016-06-13 09:42:55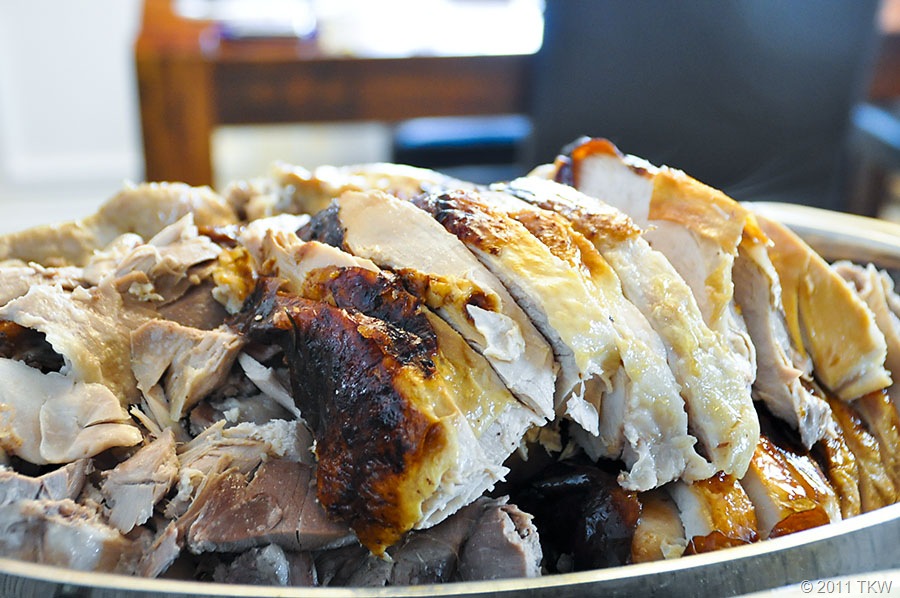 Ingredients
1 14 to 16 pound turkey, giblets removed
Canola Oil
Salt & Pepper
Brine
1 cup Kosher Salt
2 boxes (32 ounces) turkey stock
1 gallon apple cider
2 oranges, halved
1 1/2 teaspoon allspice
1 tablespoon peppercorn
Aromatics
1 onion, quartered
1 orange, halved
6 sage leaves
2 sprigs rosemary
4 sprigs thyme
1 cup water
Instructions
In a large pot, bring to boil the salt, stock, apple cider, halved oranges, allspice and peppercorns.  boil and stir until all the salt is dissolved, let cool completely.  This can be done up to two days ahead.
Day before cooking turkey, place the brine and turkey into a large sealable bag, (a 5 gallon bucket or appropriately sized cooler can be used).  Brine bird for 8 to 16 hours in a cold location (refrigerator, cooler with ice, garage, outside, etc.)  Turn bird half way through.
Day of, plan 3 hours for a 16 pound turkey to cook and rest.   Preheat oven to 500°F.  Remove bird from brine and rinse. Pat dry with paper towels.  Place onion, orange halves, sage, rosemary, thyme and water in a microwave safe bowl.  Microwave aromatics for 5 minutes, drain and stuff aromatics into the cavity of the turkey.  Brush turkey with canola oil and liberally salt and pepper.
Place turkey on a roasting rack in a roaster breast side down,  roast on the lowest rack in the oven for 30 minutes.  Turn the oven down to 350°F, carefully turn the bird over so the breast is up and continue to roast for another two hours or until the internal temperature reaches 160°F.  Remove turkey from oven and let rest 20 to 30 minutes before carving.
Notes
Note:  If the turkey starts to brown too much, tent it with foil for the remainder of the time.
The Kitchen Witch http://www.thekitchenwitchblog.com/

Click to Print a Recipe Card