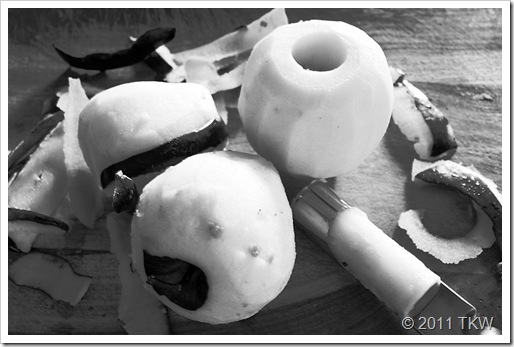 Have you ever tried cutting a up a butternut squash? They aren't the easiest to peel and chop, especially if they are quite large. When I saw that my regular grocery store had some that was peeled and cubed, ready to use, I was over the moon.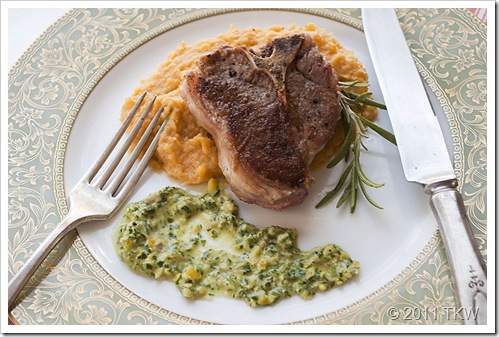 There wasn't a price listing anywhere, but I didn't expect them to be much. After all squash is still one of the great cheaper foods. We all know what happens when we assume… My cute little package rung up at almost $5.00. At this point, there was no going back for me as I already had visions of roasted butternut in my head without any of the labor.
I have to confess that it was ridiculously easy to just open up a container and put the squash on a roasting pan. My problem is, I'm often not satisfied with too easy. How much better would they be with some onion and those last few sorry looking apples I have? Since I planned on serving them with lamb, I threw a little rosemary in there. Rosemary and lamb are practically married, they are so perfect for each other.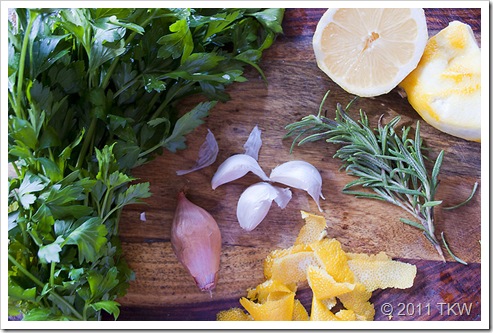 Don't you love it the day you come home from shopping and your refrigerator is full of beautiful and fresh food? I wanted to take some of that freshness and add it to my dish. I decided to put a little twist on a traditional gremolata. Gremolata is a parsley based sauce that is usually served with veal, in particular Osso Bucco (one of my favorite dishes). I brought that rosemary into the gremolata turning it into the perfect sauce for some simply fried lamb chops.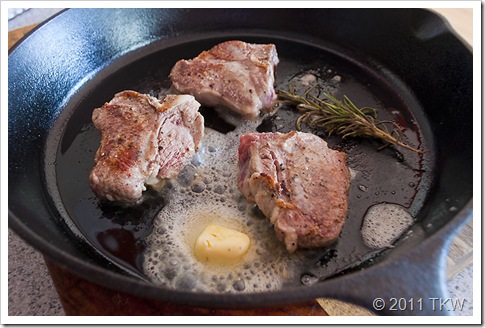 The roasted butternut squash and apple puree was a rich creamy side with a hint of sweetness and an undertone of rosemary. The gremolata was a refreshing burst of flavor that compliment both the hearty chop and creamy puree.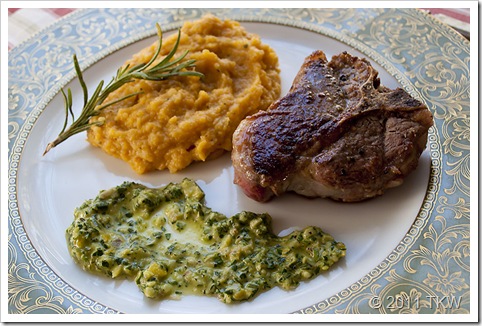 We had an insane amount of puree left, with the addition of some broth and some cream, viola instant butternut squash and apple bisque. The butternuts squash and apple puree is loosely based off of a Martha Stewart recipe with the main difference of mine being roasted. Personally I love the way roasting the veg adds depth of flavor.
In the future I probably won't be purchasing already prepared squash, the cost just isn't worth the convenience. If you'd like to know how to peel, seed and cube a butternut squash, Food52 has a nice short how to video, you view it here.
It's also Black and White Wednesday which is hosted by Susan from The Well Seasoned Cook. It's a weekly culinary photo event, if you are interested in participating you can see the rules here. I selected my apples for the B/W photo…they were to ugly for color!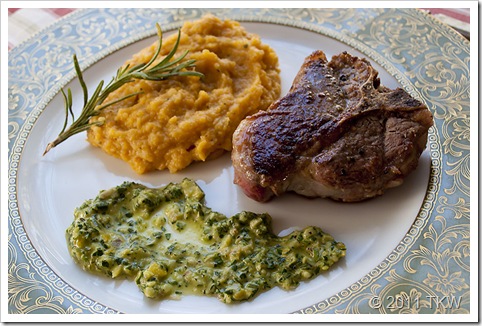 Roasted Butternut Squash and Apple Puree
2016-06-12 20:51:38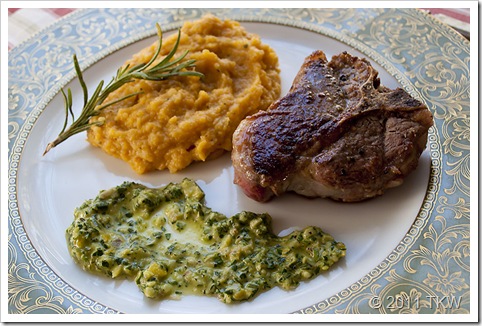 Ingredients
1 large butternut squash (about 2 1/2 pounds), peeled, seeded, and cut into 1-inch cubes
3 apples (about two pounds total), peeled, cored, and cut into 1-inch cubes
1 medium onion, cut into 1-inch cubes
Couple of sprigs of fresh rosemary
Coarse salt and ground pepper
Olive oil for drizzling
4 tablespoons butter, softened
Instructions
Preheat Oven to 400°F.  Spread squash, apples and onions in a single layer onto a rimmed baking sheet.  Drizzle with olive oil,  sprinkle generously with salt and pepper and add rosemary.  Roast for 40 to 45 minutes, turning every 15 minutes or so for even roasting.
When done, discard rosemary sprigs and let cool slightly.  Transfer squash mixture to a food processor. Add butter; process until smooth. Season with additional salt and pepper if needed; serve. (If serving later, gently reheat in a medium saucepan over low.)
Adapted from Martha Stewart
Adapted from Martha Stewart
The Kitchen Witch http://www.thekitchenwitchblog.com/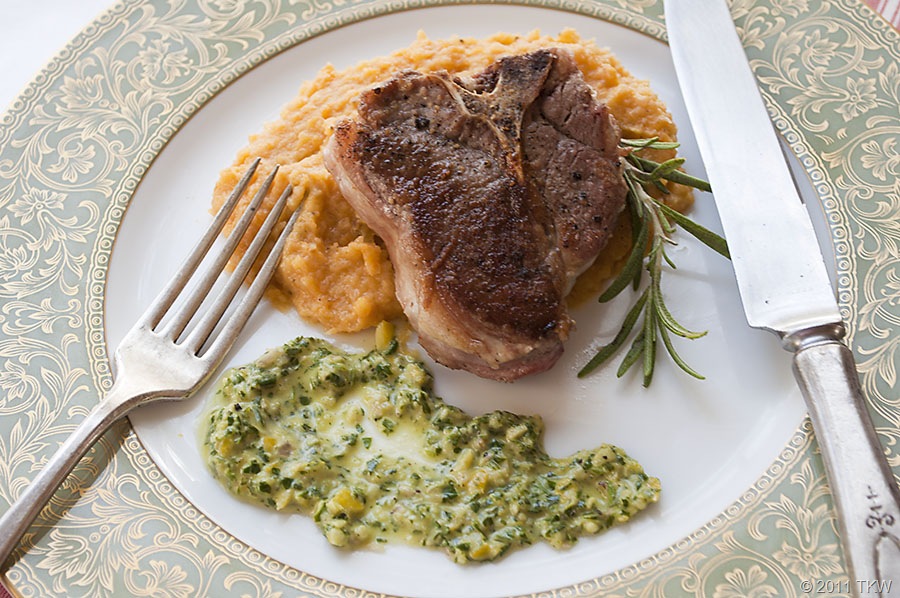 Lamb Chops with Rosemary Gremolata
2016-06-12 20:53:18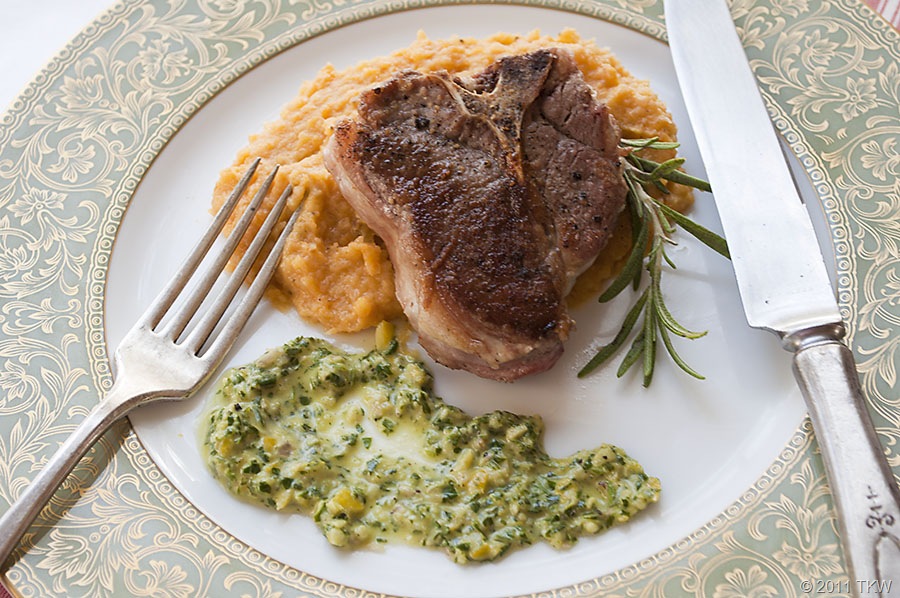 Gremolata
1 bunch Italian (flat-leaf) parsley, coarsely chopped
1 sprig rosemary, leaves removed and stem discarded
3 cloves garlic, peeled & coarsely chopped
1 shallot, peeled & coarsely chopped
1 lemon, zested and juiced
Kosher salt & freshly ground black pepper, to taste
Chops
3 or 4 lamb chops (depending on cut and size)
1 tablespoon canola oil
2 tablespoons butter
1 sprig rosemary
Salt and pepper
Instructions
Place lemon zest, juice and remaining ingredients in a food processor or blender.  Pulse until well blended but not liquefied.  If doing my hand, finely mince the ingredients and mix, or prepare in a mortar and pestle.  The gremolata can be made up to 6 hours in advance.
Preheat a skillet over medium high heat.  Generously salt and pepper the lamb chops.  Add the oil to the hot pan followed by the lamb chops and rosemary.  Cook the chops until desired doneness, we like ours medium rare, it took about 4 to 5 minutes on each side.  Turn off the heat and finish with the butter.  Let rest prior to serving.
The Kitchen Witch http://www.thekitchenwitchblog.com/

Click to Print a Recipe Card