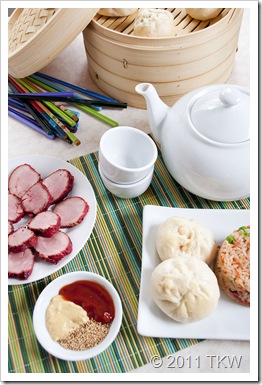 Way back in the 70's when I was a little girl, not much shorter than I am now, my parents used to take my sister and I out to dinner.  Sometimes it was Shakey's pizza, or maybe a burger joint but every now and then they would take us out for Chinese.  Going out for Chinese was fine dining in my little girls eyes.
The Chinese restaurants that I remembered were exotic and wonderful.  At the entrance, on either side of the door, you would commonly find giant sized golden dragons or maybe Buddha's  to greet you.  An indication of the riches you were going to find inside.  We would always be met by some little old Chinese lady, (I'm pretty confident she was Chinese, back in the 70's Chinese people worked in Chinese restaurants, now it's a 'fusion').  Then we would be escorted to a beautiful high glossed cherry wood table. The table would invariable be outfitted with a built in lazy-Susan, can you believe that…built in. Spin, spin, oops there goes the soy sauce.
My eyes danced around the room, soaking in Chinese art of dragons, maidens and koi all gilded in gold.  Lanterns with red tassels hung from the ceiling, everything seemed so rich and wonderful.  I could have sat at the table all day fantasizing about what its like to live in China.
Each place setting had a paper place mat, you know the one with the Chinese

zodiac.  I'd search out my birth year hoping that I wouldn't be anything gross like a rat or a snake!  In case you're interested I turned out to be a snake, sounds very uncomplimentary.  It's not all bad though:
Characteristics: philosophical, organized, intelligent, intuitive, elegant, attentive, decisive…and this cracked me up: Women under the sign of the snake do well in housework but are irritable (Source).
My parents would drool and slurp over the menu.  Ultimately we would get number something, the family meal for four.  Pretty standard, egg rolls, egg drop soup, sweet and sour pork, fried rice, and some kind of stir fry vegetable all served family style.  In addition to our family meal my parents always ordered the Chinese barbeque pork (Char Siu).  It would arrive thinly sliced on a plate with a trio of condiments in a small saucer: Chinese hot mustard, ketchup and sesame seeds.  As you can tell, I grew up with very fond memories of Chinese food and of Char Siu.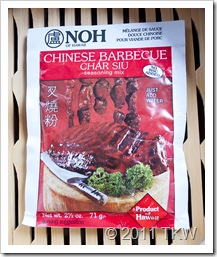 Many years have gone by and it seems that my childhood Chinese dining style experience is more difficult to come by.  Rather its been replaced with buffets and take-outs.  I had to resort to learning to make it at home, one of the things I made at home was Char Siu, but I used a packet mix (this is straight from my pantry).
You can only imagine my excitement when I found out what the Daring Cooks challenge this month was,.  Our Daring Cooks' December 2011 hostess is Sara from Belly Rumbles! Sara chose awesome Char Sui Bao as our challenge, where we made the buns, Char Sui, and filling from scratch – delicious!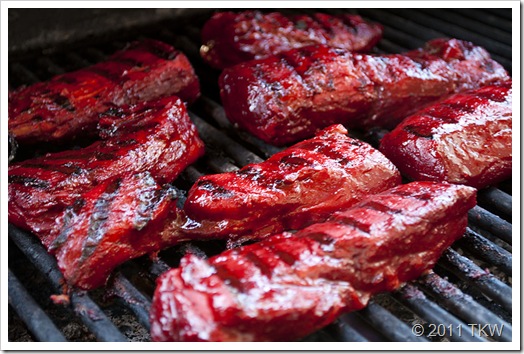 It was a balmy 38°F, here so I actually went out and grilled…it snowed the very next day.  I was lucky to sneak in one last grill time.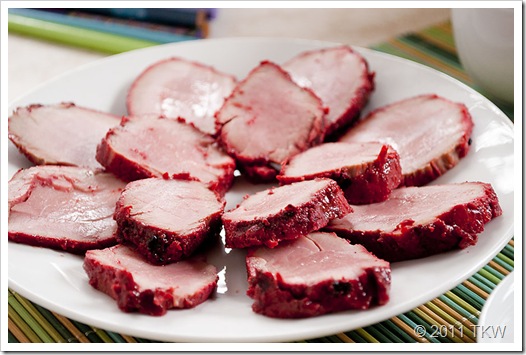 Knowing how much my family loves Char Siu, I doubled the recipe, I was sure that we would get a little piggy with it, plus I wanted to freeze some.  In the spirit of my childhood days, I also made Pork Fried Rice, with the Char Siu.  Plus we had some sweet and sour chicken (not pictured), it was a frozen P.F. Chang package, it was surprisingly good.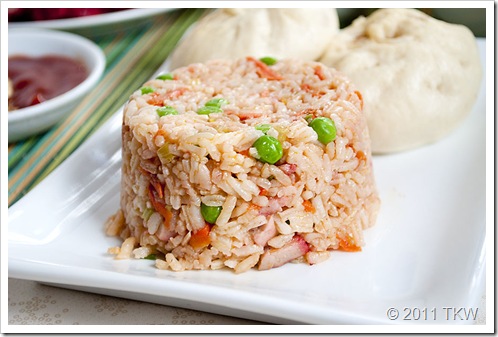 I did not grow up eating Char Siu Bao, truthfully, I hadn't really experienced them until 7 or 8 years ago when McGyver took me out for Dim Sum for the first time.  It was love at first taste, the steamed buns were these wonderful soft pillows of dough stuffed with a barbeque pork mixture.  While we lived in the Saint Louis area I got to enjoy these babies on a regular basis.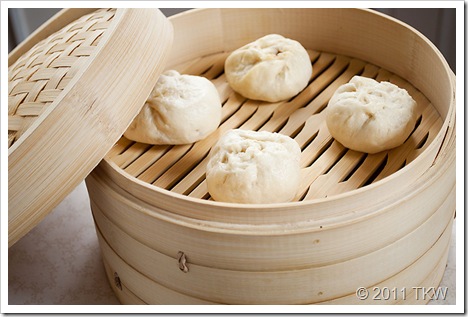 Now that we have located to the Northern tundra which happens to be the 22nd coldest city in the United States (true fact just found out today), there isn't a Dim Sum place any where nearby.  There may not be one in all of Montana for all I know.  This challenge was a perfect opportunity for me to learn to make my own.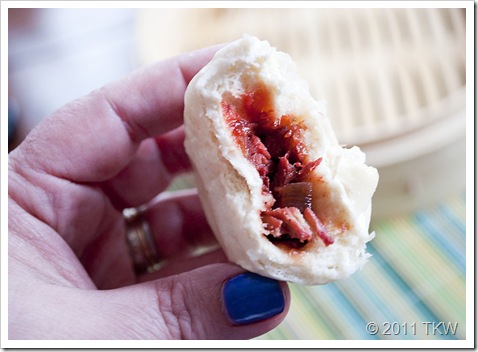 The Char Siu part was a breeze to prepare and cook but I have to confess that I had some trouble with the dough for the Char Siu Bao.  My first batch was way to dry and tough.  I let it rise anyways and gave it a go, but it just wasn't working like it should.  I redid the dough, the second time using only 2 1/2 cups of flour versus the 3 cups the recipe called for..ahhh perfection!  No worries though, I fried the other dough and put some powdered sugar on it and viola, dessert.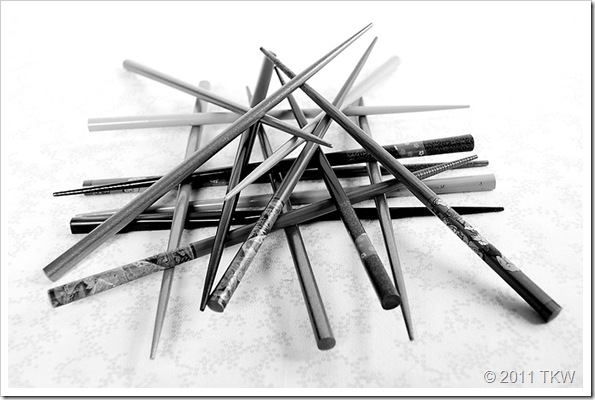 Chinese Pick-up Sticks
Wednesday is also the day that I post a black and white food related photo.  This week, to go along with my post, I did a still of Chinese chopsticks.  The way they are arranged reminded me of the children's game called 'Pick-up Sticks'.  Because I can't resist a great pun, I titled the photo "Chinese Pick'-up Sticks".  I know, I'm killin' you!  If you are interested in seeing more culinary black and white photos or participating, head over to my hostess Susan's site, The Well Seasoned Cook.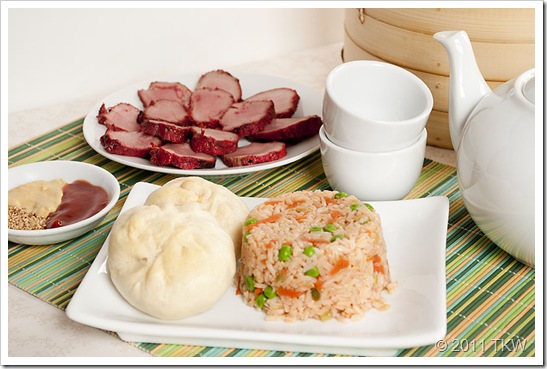 Note: The recipes below are the ones that were provided us, the few changes I made are in red.
Recipe
____________________________________________________________________________________________________________________
Char Sui (Cantonese BBQ Pork)
1 pork fillet/tenderloin (roughly 1-1.5 pounds)
4 large cloves of garlic, crushed
1 teaspoon (3 gm) ginger, grated
1 tablespoon peanut oil
1 ½ tablespoons maltose (you can substitute honey)
1 ½ tablespoons honey
2 tablespoons hoisin sauce
1 tablespoon light soy sauce
2 tablespoon dark soy sauce
1 teaspoon oyster sauce
1 tablespoon shaoxing cooking wine
½ teaspoon (2 gm) ground white pepper
pinch of salt
½ teaspoon (2 gm) five spice powder
½ teaspoon sesame oil
½ teaspoon pillar box  few drops of Duff red food coloring
(1 tablespoon=15 ml, 1 teaspoon=5 ml)
Trim the pork loin to remove fat and tendon and slice lengthways so you have two long pieces, then cut in half. By cutting the pork in to smaller pieces to marinate you will end up with more flavor some char sui. If you want to leave the pork in one piece you can do this as well. Place in container that you will be marinating them in (I used a zipper lock bag).
Combine all the other ingredients in a bowl and mix well to combine. I placed my maltose in the microwave for a few seconds to make it easier to work with. Maltose is quite a solid hard sticky substance.
Cover pork well with ⅔ all of the marinade mixture. Marinate for a minimum of 4 hours, I find it is best left to marinate overnight. Place the reserved ⅓ portion of the marinade covered in the fridge. You will use this as a baste when cooking the pork (I used the marinade left in the bag).
For all methods, let pork rest before slicing it.
Cooking Method 1 – Oven
Pre-heat oven to moderate 180˚C/350°F/gas mark 4.   Cover a baking tray with foil or baking paper. Place on top of this a rack on which to cook the pork. Place pork on the rack and place in oven. Bake for approximately 10 minutes, basting and turning.  Turn the heat up to moderately hot 200˚C/400°F/gas mark 6 for the final 20 minutes as this will aid the charring. Cook until cooked through.
Cooking Method 2 – Seared in pan & then into the oven
Pre-heat oven to moderate 180˚C/350°F/gas mark 4. Cover a baking tray with foil or baking paper. Place on top of this a rack on which to cook the pork. Place pork in a hot frying pan or wok. Sear it quickly so it is well browned.  Remove from pan/wok and place pork on the rack and place in oven.  Bake for approximately 15 minutes, basting and turning until cooked through.
Cooking Method 3 – BBQ
Place marinated pork loin on the grill of your BBQ, Cook on a medium heat, approximately 15 minutes, until cooked through. Be careful to watch that you don't burn the pork. (The last 5 minutes I turned my grill on high, marinated and turned the pork repeatedly until I got a nice char.)
Steamed Char Sui Bao (Cantonese BBQ Pork Bun)
Servings: 20
Filling Ingredients
350 gm (12 oz) char sui (finely diced)
2 shallots (finely diced)
1 tablespoon dark soy sauce
2 tablespoons oyster sauce
1 teaspoon sesame oil
¼ cup (60 ml) chicken stock
1 teaspoon (3 gm) cornflour (corn starch)
½ tablespoon vegetable oil
Bun Ingredients
1 cup milk, scalded
¼ cup (60 gm/2 oz) sugar
1 tablespoon oil
¼ teaspoon (2 gm) salt
2½ teaspoons (8 gm/1 satchel) of dried yeast
3 cups (420 gm/15 oz) plain flour (I used 2 1/2 cups)
(1 cup=240 ml, 1 tablespoon=15 ml, 1 teaspoon=5 ml)
Filling Directions:
Heat the vegetable oil in a wok or pan. Sauté the shallots for one or two minutes until soft.  Add diced char sui to the wok/pan and stir.   Add oyster sauce, dark soy sauce and sesame oil to the pork mixture, stir fry for one minute. Mix cornflour and stock together and then add to the pork mixture.  Stir well and keep cooking until the mixture thickens, 1 or 2 minutes.  Remove mixture from wok/pan and place in a bowl to cool. Set aside until ready to use.
Bun Directions:
Scald milk and then stir in sugar, oil and salt, leave to cool until it is lukewarm. Once it is the right temperature add yeast, leave until yeast is activated and it becomes frothy, about 10 – 15 minutes. Sift flour in to a large bowl. Add milk/yeast mixture to the flour. Bring the flour mixture together with your hands. Place dough on a lightly floured surface and knead for approximately 10 minutes. The dough should be smooth and slightly elastic.
Place in a lightly oiled bowl and cover with a damp cloth. Leave to rise until it is double in size. This will take from 1 – 2 hours depending on weather conditions. Punch down dough and divide in to 20 equal portions. Roll each dough portion in to a 7 – 8cm (2¾ – 3 ¼ inches) round. Place 1 tablespoon of filling in the centre of the round, gather the edges together at the top and place on a 8cm (3 inch) square of baking paper. Repeat until all dough has been used. Cover and let rise for 20 minutes.
Place buns in bamboo steamer, leaving space between the buns. Heat water in a wok until it is simmering and place steamers one on top of each other in the wok. Place lid on top bamboo steamer and steam for approximately 12 minutes.