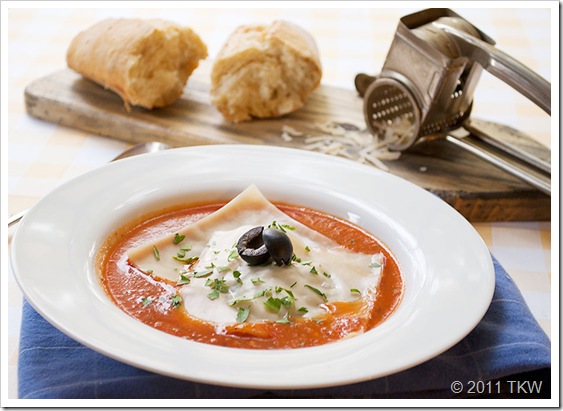 In the world of olives, the poor California ripe olive has taken a back seat to the amazing olive selection at the olive bars that are so readily available now.  Truth is, even with all the exotic olive choices I have (even here in Great Falls, MT), the California ripe olive will always hold a special place in my pantry.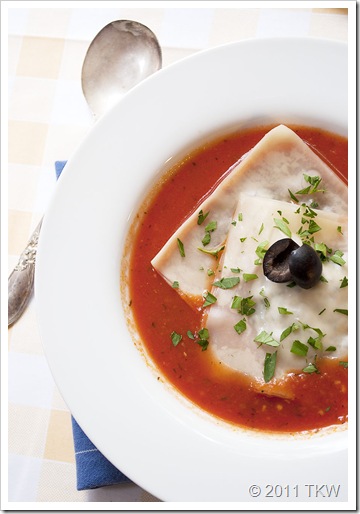 Recently I did a post on Olives stuffed with Boursin and mentioned how I loved to put the giant pitted olives on my fingers and eat them right off the tips of my fingers, talk about real finger food.  Besides being able to eat them off of my olive decorated fingers, California ripe olives have many other perks.
Let's start with the fact that they are grown right here in the United States, when you buy them you're supporting the good ol' U.S. economy. What about the cost? They are ridiculously low in cost versus kalamata or other more exotic olives. Convenience? Can't be beat, whole and pitted in sizes from small to jumbo and you can also get them sliced or chopped making them a snap to use in recipes.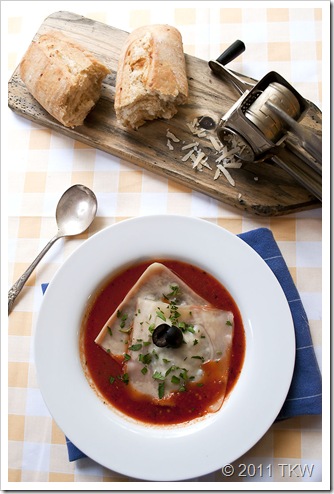 For my ravioli, I capitalized on the convenience of the canned chopped olives and purchased wonton wrappers.  Although the recipe itself looks like it may be a lot of work, with the help of a food processor you can make quick work of it and have the meal on the table in 30 minutes.
When I served this to my family, I didn't see their faces the whole meal.  they had their heads down, dishing up spoonful after spoonful, only coming up to say "you can make this again and again and again".  Anyone who has ever served food to their family knows that when they want something over and over, it's a good recipe.

Olive and Mushroom ravioli in tomato Sauce
Sauce
1 small onion
1 tablespoon olive oil
4 cloves garlic
1 (15 ounce) cans tomato sauce
2 cups chicken stock
1/2 cup dry white wine
1 teaspoon dried oregano
1 teaspoon dried thyme
1/2 teaspoon salt or more to taste
Ravioli
1 cup ricotta cheese
1 (6 ounce) can chopped California ripe olives
3 ounce cremini (baby bellas) mushrooms, minced finely
Salt and pepper
1 (12 ounce) package wonton wrappers
Using a food processor, mince onion and garlic until almost pureed.  In a large saucepan over medium  heat , sauté the onions and garlic in the olive oil for 2 minutes, stirring occasionally.  Add tomato sauce , chicken stock, wine , oregano, thyme and salt. Simmer 20 minutes.
Meanwhile prepare the ravioli:  set a large pot of water on to boil.  In a medium bowl mix olives, mushrooms, and ricotta add salt and pepper to taste.  Using a large melon baller or teaspoon, place a dollop of the olive filling into the center of the wonton wrapper.  With your finger moisten all edges with water.  Place a 2nd wonton wrapper over the top and lightly press on the edges to seal.  Repeat until all the wonton wrappers and filling is used.
Drop ravioli into boiling water a few at a time (don't crown or they'll stick together).  boil for 3 minutes.  Place ravioli in a shallow bow and ladle tomato sauce over the top.  Garnish with chopped parsley, grated parmesan and olives if desired.

Click to Print a Recipe Card