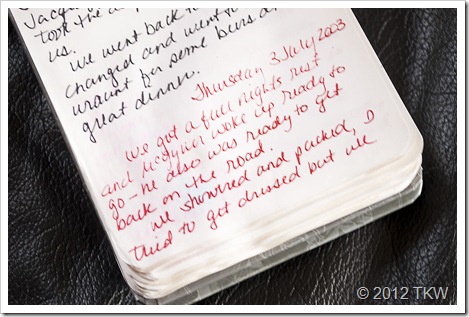 Last time I posted Day 9 of our journey, we started off in Italy, McGyver wasn't doing too well and we got to check out an Italian pharmacy.  We then made our way into Switzerland, we stayed the night in Oetz at the Post Hotel, a hotel that we found by chance on a previous trip.    We also continue to work on our "ABC's of Touring" (completing the alphabet with town/country names).  If you are just now joining our journey, you can catch on our prep days here and here, and days one, two and three, four, five, part 1 of day six, part 2 of day six, day seven, day eight and day nine by following the colored text links.
Thursday July 3, 2003

We got a full nights rest and McGyver woke up ready to go – he also was ready to get back on the road.  We showered and packed, I tried to get dressed but we left my vital undergarments in the bike.  So I just sat around in all in all and filled out some of our ABC's of touring info.

It was grey and misty and McGyver suggested putting on our rain gear – I think it's a pain in the ass so I convinced him the leathers are fine.  We stopped on our way to a picture of the city sign and then headed out.  The weather was getting progressively worse, McGyver asked again if I wanted my rain suit, but I'm no wuss so I said no.

We missed one of our turns and pulled over to turn around, this time I asked if we should put on our rain gear but McGyver just wanted to get back on the right track.  We passed through a short tunnel and on the other side it was raining pretty hard – okay, so I am a wuss.  I was wet and cold so we pulled over put on the gear.  As I was bundling up in just about everything warm I could get in and McGyver was doing the same it started to clear up, but it was still cold and the weather looked unpredictable.

Sure enough as we traveled it got wetter and colder.  We were grateful for the extra gear.  We saw many bikers along the way doing the same thing.  Once we were out of the Alps, things cleared up and it was turning into a beautiful day, just a little on the cool side.

We got onto the autobahn and McGyver opened up the S-Glide, it was an easy ride all the way to Rothenburg.  We had called ahead to our favorite gasthaus and had a room waiting for us.  We thought we would arrive around 4:00 pm.  Making great time, we arrived in Rothenburg at 2:06, almost 2 hours ahead of time, a first for this trip.

Rothenburg ob de Tauber is a medieval walled in city.  McGyver and I considered this the most romantic place in all of Germany – perhaps in all of Europe.  this is the first place that we spent a weekend trip together at.

The gasthaus "Meistertrunk" was built about 1687.  It is decorated in the traditional Bavarian style, has a beautiful biergarten and an excellent dining room.  After settling in for a bit we took a walk around the village.  It began to down pour so we headed to the hotel for a couple of beers.  We hung out in the room until it cleared and then went straight to Hell.

Hell is a small pub, the oldest building in Rothenburg.  We had a beer, some free grub (smoked salmon with dill sauce on bread) and listened to a group of American teachers from Oklahoma talk about their choir/band tour.  Just before leaving we asked this nice couple to take our photo to prove we went to Hell together.

Then back to the hotel for an "appetizer" in our room and dinner at the hotel restaurant.  We had another great meal and went for more of a walk since the rain seemed to be finished.  Back to the hotel for an early night – we head home tomorrow.
Although we didn't do The Walk of the Night Watchman this time I wanted to mention it just in case you ever decided to visit Rothenburg.  The Night Watchman Tour is a walking tour of the town at night, guided by the Night Watchman, of course.  His tours are in English or German.  The city actually had active Night Watchmen until 1920.  It's a wonderful way to tour the city and learn of it's long and interesting history.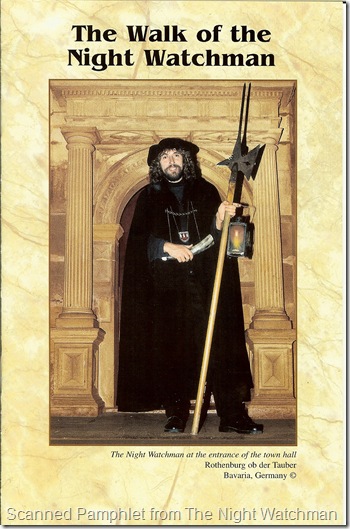 Next week will be my finally post on our honeymoon journey……sniffle, sniffle.