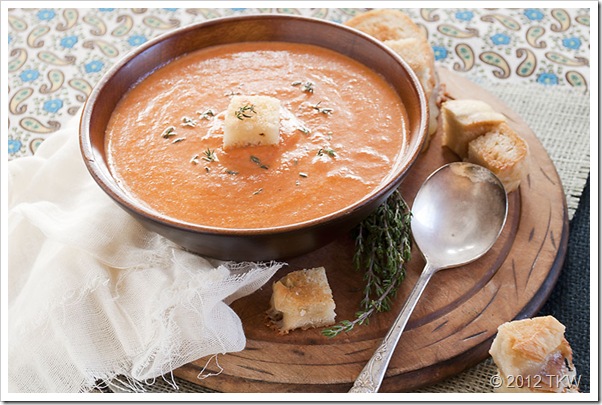 For those of you who read my blog regularly, you know that I do not, as a matter or course, do product reviews. However (you knew there was going to be one….), when the folks from Mooney Farms contacted me and asked if I would do a review of their Bella Sun Luci Sun Dried Tomatoes I eagerly said yes.
What the folks at Mooney Farms didn't know, is that I passionately and deeply love sun dried tomatoes, especially during the winter months. Speaking of winter, what dish naturally comes to mind? Soup, and when you have sun dried tomatoes, sun dried tomato soup seemed like a natural choice.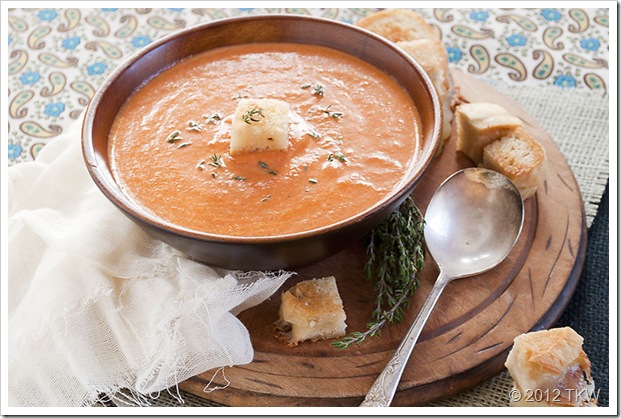 I've never made sun dried tomato soup, but I seemed to remember reading about it somewhere. A Google search brought up a recipe from Food and Wine and one from Mary at One Perfect Bite. As soon as I saw Mary's name pop up I knew that's where I saw it. I've been an avid follower (I especially love all the lemony recipes she posts) for a couple of years. Mary adopted the recipe from Food and Wine. What I loved about Mary's recipe is that she (actually her hubby) used canned tomatoes with the sun dried tomatoes versus fresh like it was called for from Food and Wine. Perfect for winter!
I made a few changes, I used the Bella Sun Luci oil packed sun dried tomatoes with Italian herbs, I subbed roasted garlic for the fresh garlic and then I went over the top and made grilled cheese croutons with truffle cheese. I can't even begin to tell you how fabulous this soup turned out, if it's possible to have a food-gasam with every bite, I'm sure that I did. I am actually struggling with words that would convey how good, delicious, yummy, exciting, drool inducing this soup is. Trust me, trust me, trust me. And thank you Mary!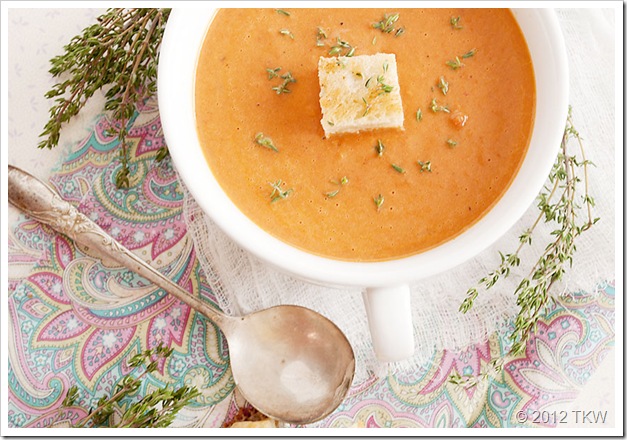 Every good meal starts with a good product, I was very pleased with the quality of the Bella Sun Luci Sun Dried Tomatoes. I tasted each product (I received six) before I created a fabulous dish with them. Every single product was perfect with a rich tomato taste. I was especially impressed with the sun dried tomatoes that were not oil packed. I can't tell you how many packages of sun dried tomatoes that I bought that weren't oil packed that were tough, chewy, orange in color and basically tasteless. I was so disappointed with them that I stopped buying them entirely and used only oil packed tomatoes. The Bella Sun Luci tomatoes were edible right out of the bag, no soaking necessary, perfect for snacking or adding to salads.
I loved the Bella Sun Luci Sun Dried Tomatoes, if they are sold at your local store pick them up you won't be disappointed (psst, if you go their site you can print a $1.00 off coupon). I'll be posting more recipes, get ready for a sun dried tomato palooza. Don't be intimidated by the 2 heads of roasted garlic, once garlic is roasted it is very mild. I like to roast 1/2 dozen or so heads at a time, puree them with a little olive oil and store it in a tightly sealed container with a little olive oil drizzled over it in the refrigerator for a week (although I have used past a week, but I'm a fearless eater).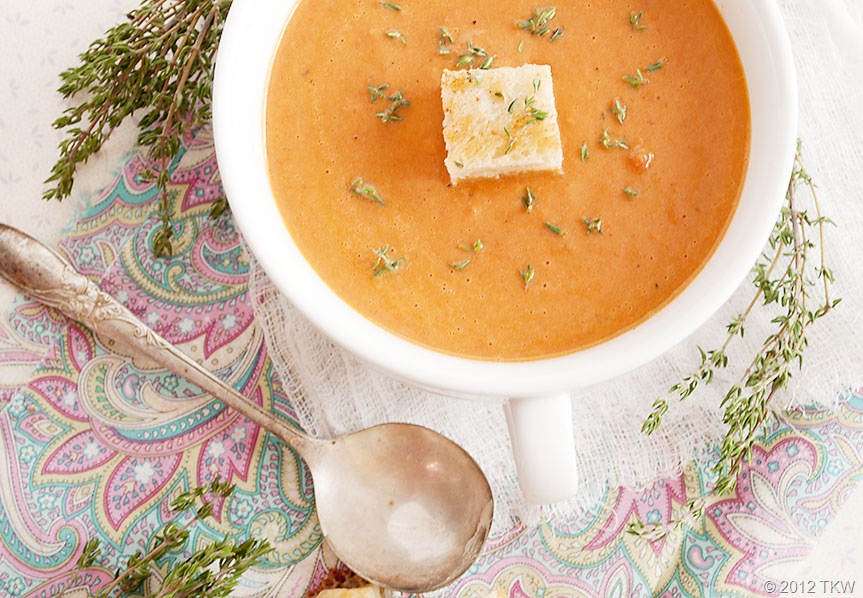 Roasted Garlic Sundried Tomato Soup
2016-06-12 15:15:45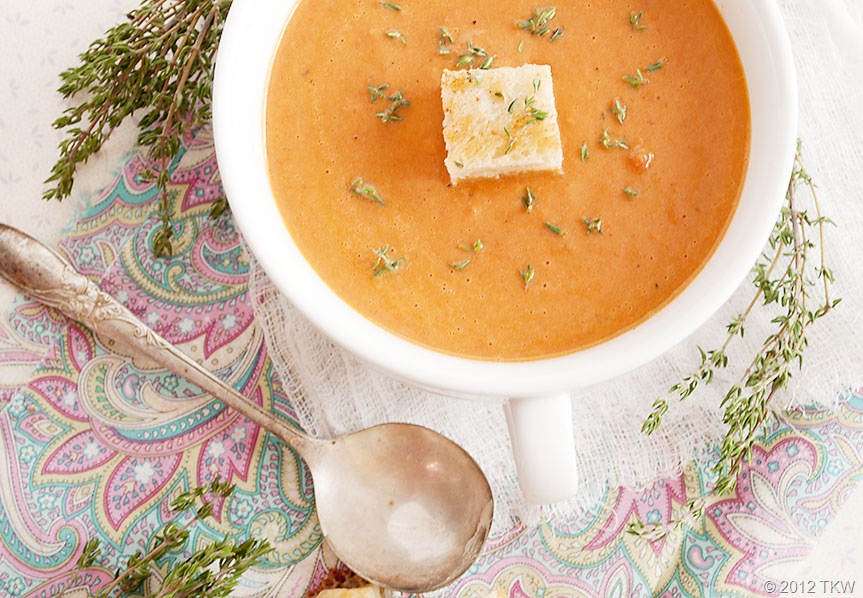 Serves 4
Ingredients
1 tablespoon unsalted butter
1 tablespoon extra-virgin olive oil
1 small onion, chopped
2 heads roasted garlic, mashed
1/2 cup oil-packed Bella Sun Luci Sun-Dried Tomatoes with Italian Herbs, drained and coarsely chopped
1 (14.5-oz.) can diced tomatoes, drained but juices reserved
2 to 2 1/2 cups chicken broth
Salt and freshly ground pepper
1 tablespoon concentrated tomato paste
1/4 cup heavy cream
Instructions
Soup: In a large saucepan, melt butter in the olive oil. Add onion and cook over moderately high heat, stirring until softened, about 4 minutes, add garlic and stir cooking for another 30 seconds. Add sun-dried tomatoes and canned tomatoes. Combine reserved tomato juice and chicken broth in a 3 to 4 cup measure to make three cups liquid. Add liquid to pot. Season to taste with salt and pepper. Cover and simmer over low heat until vegetables are very soft, about 20 minutes. Stir in tomato paste.
Transfer small batches of soup to a blender and puree. Return to pot and warm over low heat. Stir in creme fraiche or cream and heat through. Season to taste with salt and pepper. Garnish with Grilled Truffle Cheese Croutons (recipe following) if desired.
The Kitchen Witch http://www.thekitchenwitchblog.com/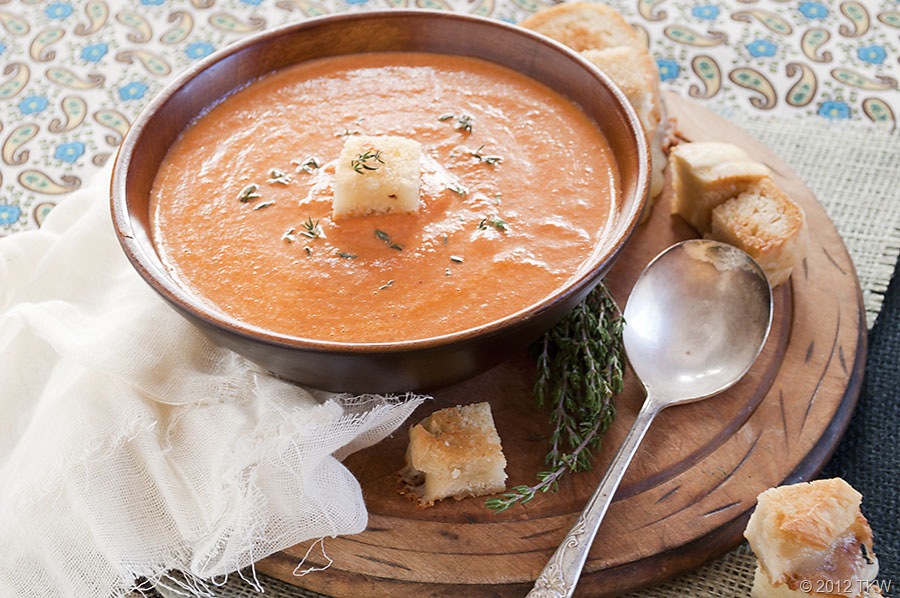 Grilled Truffle Cheese Croutons
2016-06-12 15:22:25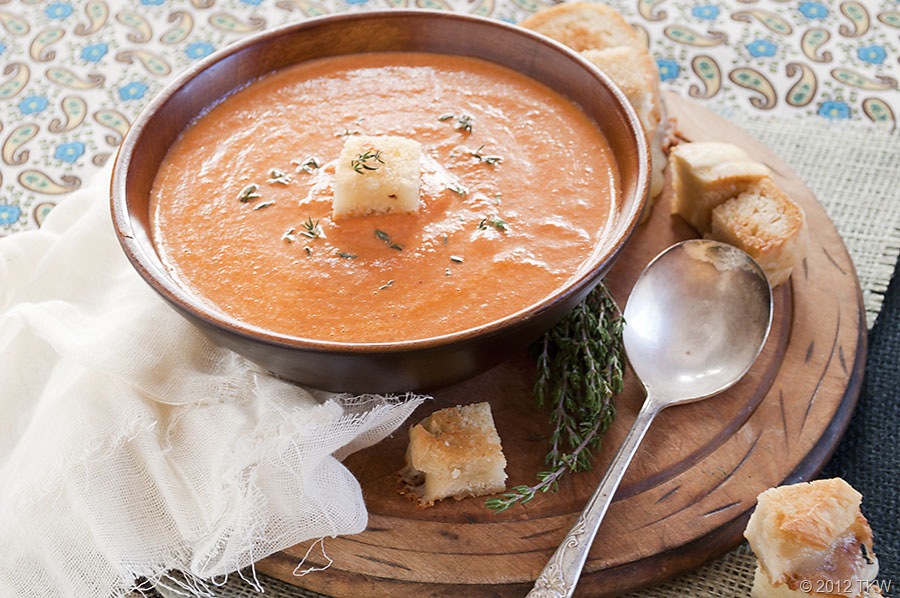 Serves 4
Ingredients
4 slices ciabatta or Simple Artisan Bread
1 to 2 tablespoons softened butter
2 ounces truffle cheese, sliced
Instructions
Butter each slice of bread, layer half of the sliced truffle cheese on the non-buttered side of on piece, top with another slice buttered side up. Repeat with other two slices and cheese. Place assembled croutons on a cold large non-stick pan, place on burner and turn heat to medium. Grill until the bread turns a light golden brown, flip the crouton and grill the other side until it turns a light golden brown.
Remove croutons to a cutting board and allow to cool for about 1 minute, cut the croutons into 1 inch squares, serve with tomato soup.
The Kitchen Witch http://www.thekitchenwitchblog.com/

For 2012 I am adding a new little feature….drum role please…
With each post I am going to provide an informal dictionary of several cooking terms. I believe some terms are more common knowledge than others, but I also have found that common knowledge is not common and what is common to me is not so common to someone else. My definitions are from 1. my own knowledge, 2. sourced from the internet, 3. my personal collection of cookery books.
The wisest mind has something yet to learn. George Santayana
Informal Cookery Definitions A to Z
Absorbent paper. Most commonly, paper towels but brown paper bags can also be used. Absorbent paper is used to soak up grease form fried foods like bacon or used to dry items like salad greens.
Aioli. (eye-oh-LEE) A garlic sauce that is made much like mayonaisse. It is a popular sauce in the Mediterranean countries. You may also see it spelled alioli.
A La King. Is a sherried cream sauce with mushroom, pimiento, and green peppers. It was first invented in America in the 1920's, think Chicken A La King.
Disclaimer: The products were provided to me without cost. The opinions are strictly my own.