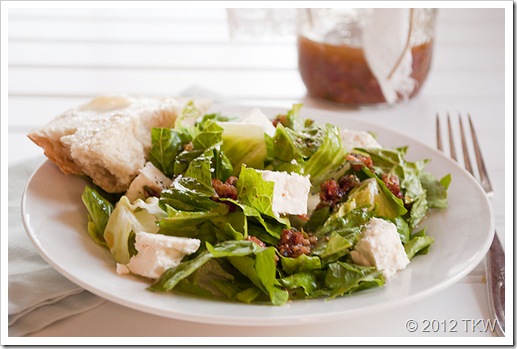 On August 27, 2011 I made a notation in my little spiral notebook, the one that I write recipes in (and a bunch of other stuff), it said:
Need to make again for photos.
As you probably have guessed, it was for a Sundried Tomato and Bacon dressing. It was one of those recipe that I threw together and it came out perfect, no tweaking needed. I quickly wrote down the ingredients so I wouldn't forget and then made myself that little note. I even put a little sticky flag on the page to remind me to remake it and take photos. I stashed the notebook away, then promptly forgot about it; until I received the Bella Sun Luci Sun Dried Tomatoes.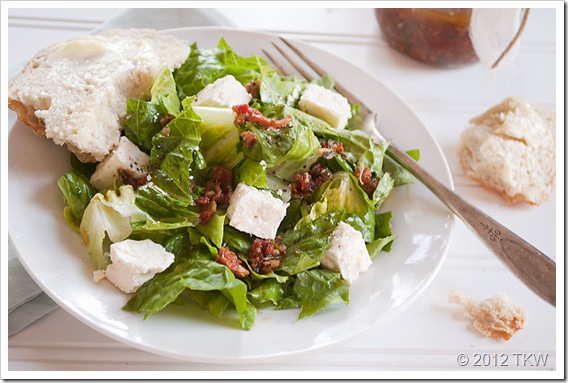 I served this on heals of the Roasted Garlic Sun Dried Tomato Soup with Grilled Truffle Cheese Croutons, which led to my choice of using the same product that I used in the soup. I'll not go on and on about how good the tomatoes were since I already shared that with you. But I will tell that the dressing flavorful, I could almost eat it straight up. For the salad I simply used some romaine lettuce and feta cheese and felt like I had a complete luncheon dish because the sun dried tomato and bacon dressing was hearty enough on it's own. A chunk of the Simple Artisan Bread that I've been making rounded out the meal.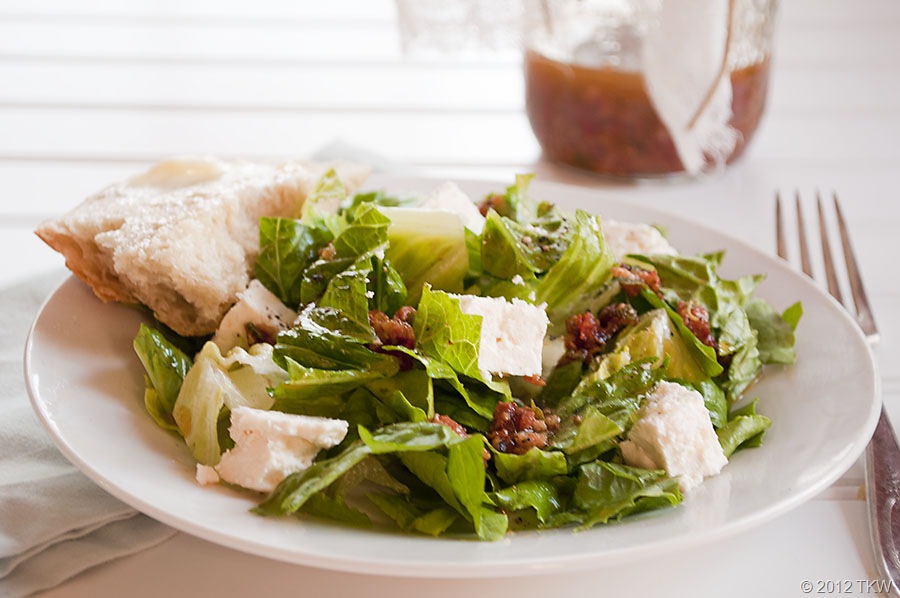 Sun Dried Tomato and Bacon Salad Dressing
2016-06-12 15:11:47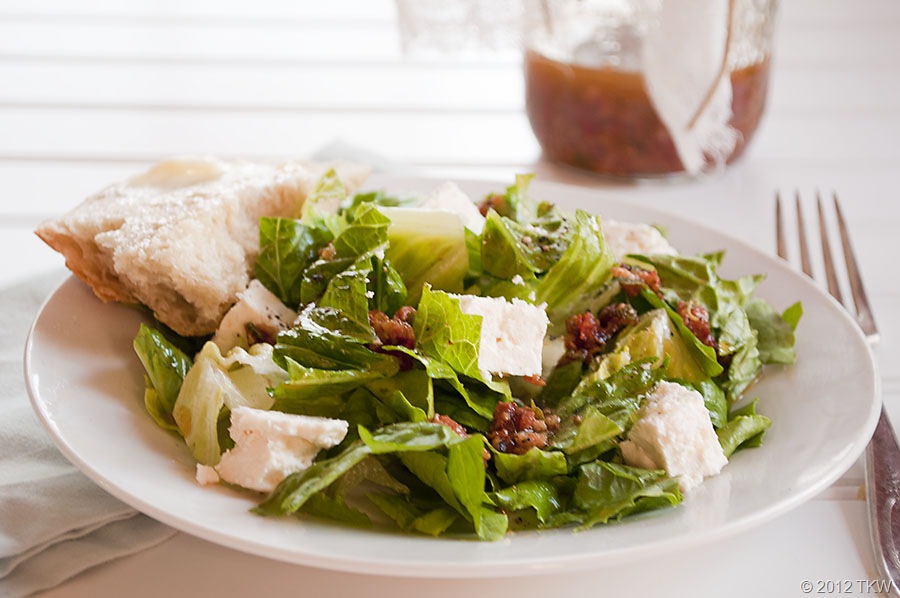 Ingredients
1/4 cup crumbled crispy bacon (3 or 4 slices)
2 tablespoons small diced Bella Sun Luci Sun Dried Tomatoes with Italian Herbs
2/3 cup lemon olive oil or extra virgin olive oil
1/3 cup red wine vinegar
1 garlic clove, finely minced
1 tablespoon fresh oregano, minced (or 1 teaspoon dried oregano)
Kosher salt and fresh ground pepper to taste
Instructions
Place all ingredients into a small glass container with a tight fitting lid, like a pint jar, shake until well blended.
Notes
Makes about 1 1/4 cup
The Kitchen Witch http://www.thekitchenwitchblog.com/

Informal Cookery Definitions A to Z
A La Mode. (ah lah mohd) In America the term strictly means pie served with a scoop of ice cream. The term found it's way into the American language around 1920. However, the literal translation in French is "in current fashion". The term was applied to beef when a Parisian restaurant wanted to tout that it had the finest beef and posted a sign with a cow wearing a flowered bonnet on its head. A fashionable cow to be sure, a "Beouf a la Mode." I guess that means that eating pie with ice cream is fashionable.
A L'Anglaise. (ah lahn-GLAYZ) Although this sounds fancy, it really isn't. In French it means "in the English manner", more specifically applied to a food that has been boiled and is considered bland. That serves as a good hint to what the French thought of English cooking. You may have also heard the term Crème Anglaise, it refers to a "boiled" custard.
Albacore. (Al-bah-KOHR) A really big tuna, commonly canned. It is the only tuna that can be labeled "white meat tuna" in the U.S. It hangs out in open waters and likes the tropical and temperate oceans and the Mediterranean Sea.
Albondigas. (ahl-BOHN-dee-gahs) Meatballs in Spanish.