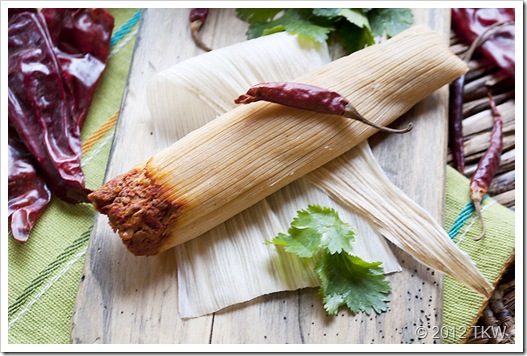 When I was stationed in England, I was the sergeant in charge of our Oral Surgery department.  I worked with two other assistants, both of Hispanic origin.  We were a great team, Dora, Gonzo and myself.  Gonzo was our muscle (and eye candy); he was also the youngest so he probably got a little more (s)mothering then he cared for.
Dora was definitely a homesick Texan, more than Texas, she missed her family (and their boxers).  Dora is also sentimental and a bit traditional in some ways.  My home sick Texan/Mexican decided that if she couldn't be home for the holidays and tamale making, then she would just make it happen there in England.
Dora got it all organized, I'm sure I must have been a little more than pouty when I found out.  So sentimental Dora, my very own homesick Texan/Mexican, adopted me for tamale making.  Nobody shows up to tamale making without something, even adopted Mexicans.  Dora gave me some instructions on cooking some meat (I believe it was pork) with very explicit instructions to NOT throw the broth water away (it is used to flavor and moisten the masa).  And bring large pots please.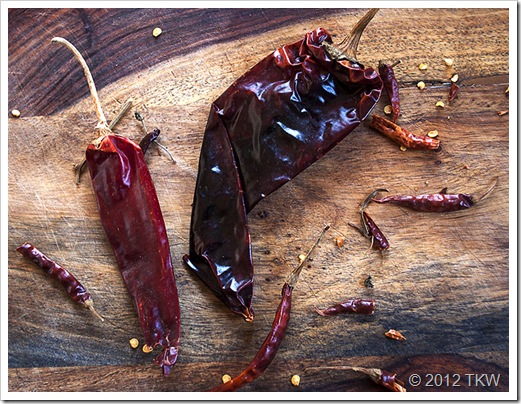 I arrived pork, broth and pots in hand.  We all crowded into Dora's little base housing kitchen/dining area.  Dora orchestrated everything, Gonzo mixed the masa (told you he was the muscle) and the rest of us drank and rolled tamales.  What I discovered was that getting together to roll tamales wasn't because it was so much work (although that's part of it), getting together to roll tamales brings you closer, it makes you family even if you are adopted.  That day I felt Mexican and part of a big family.
Now that was a long, long time ago, almost 15 years ago…I think.  I haven't attempted making a tamale since.  Naturally, when the Daring Cooks challenge came out and it was tamales, I was excited.  And then I was scared.  And then I was excited.  And then I was nervous.  And then I was excited.  And then I was intimidated.  Although I was an adopted Mexican, I needed a little more than that to rely on, so I put this out on Facebook:

Guess what?  I got a response!  It wasn't from a large Hispanic family, and they didn't bring the tequila (I provided that in the form of Beergaritas).  My dear Facebook friend Lorrie volunteered her Mexican mom and her half-Mexican self to help.  Lorrie and I have been Facebook friends for awhile and she's a Kitchen Witch follower, but we had never met, I was hoping she was serious and she was hoping that I didn't think she was being some kind of psycho stalker offering to help!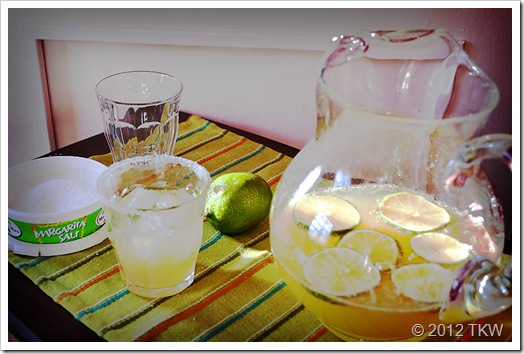 Lorrie and her mom were serious, and at my level of intimidation, I was willing to take the chance that they weren't some psycho stalkers.  My adopted Mexican/half-Mexican family showed up and I had a great time!  The Beergaritas flowed, we ate biscochitos, chips and my home-made Winter Sals-tice and I learned a hell of lot from Martha.  I also learned what I had already done wrong, up to that point…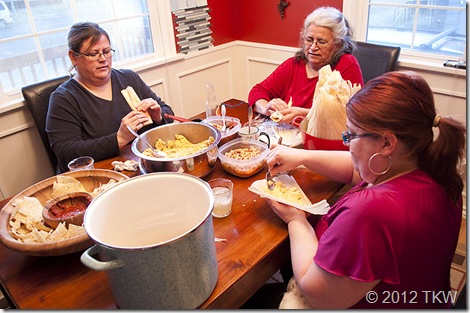 I learned to say maa-sa and not may-sa (which is a table – mesa), I learned how to de-seed dried chiles, I learned how to make chile sauce, I learned how to improvise a "steamer" set-up with coiled foil, I learned how to mix and spread masa on cornhusks, I learned how to fold and stack tamales so you don't have to tie them, I learned you can make gorditas from left over masa, I learned that Mexican mom's are always right and don't waste anything, I learned that no matter who comes together to roll tamales, by the time it's all said and done you are
family
Even if you are a homesick Texan/Mexican, a young strong Mexican, a Mexican mom, a half –Mexican psycho stalker Facebook friend or an adopted Mexican that just wants to make tamales!
Many thanks to Maranda of Jolts & Jollies she was our January 2012 Daring Cooks hostess with the mostess! Maranda challenged us to make traditional Mexican Tamales as our first challenge of the year!  Maranda, it was not only a challenge of the most daring kind, it was a reminder of how wonderful getting together and being a family (of whatever kind of make-up) is.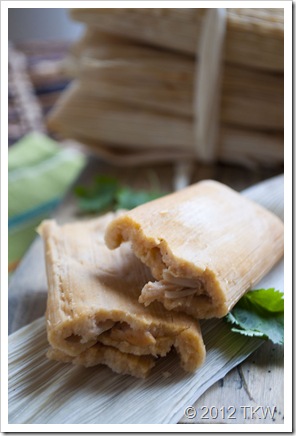 I'm not leaving you with a recipe, because like any Mexican mom, Martha just had me put stuff in until it was "right"…1 5 lb. bag of masa, 1/2 brick of lard, some big spoonful's of bacon fat, about that much salt and that much baking powder…you get the picture (we made over 5 dozen).  In the meantime, you can head over to the Daring Cooks and check out all the other tamale makers.  Next time I'll try to write things down as we go.