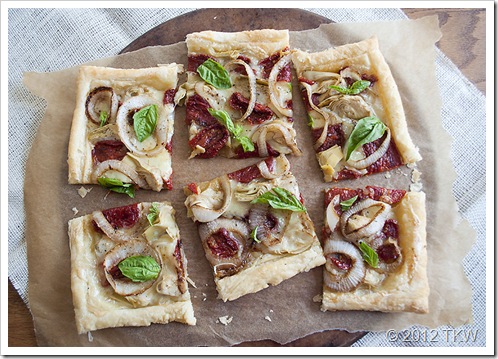 Have you ever noticed how some foods are just naturally beautiful? Or that the colors of the Italian flag make you hungry? There is something about the red, green and white combination that is so utterly and visually mouthwatering!
I have to say it wasn't my original intention, actually the onions weren't part of my original plan either. Truth is I had some leftover rings from making Feast on the Cheap's Baked Onion Rings with Old Bay (which were very tasty) and I thought the richness of the brie could use some sharp flavor.
When I finished cooking the tart, it looked good but I felt like it was missing something. I even took a few photos, but it kept bugging me, it needed something more. That's when I remembered that I had a little fresh basil left in the fridge. Perfecto! Not only was this more visually pleasing that fresh herbiness (not a word…I know) was a perfect compliment to this rich and tasty tart.
This is the last of my postings regarding Bella Sun Luci Sun Dried Tomatoes. This review may have seemed to last forever but I wanted to try each and every product and share with you what I thought before giving an overall consensus.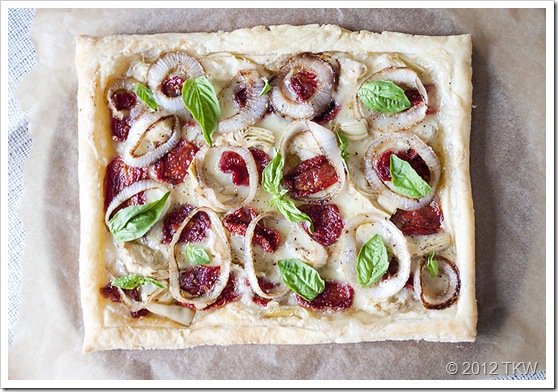 I really enjoyed using the Bella Sun Luci Sun Dried Tomato products. They had everything you would want in your sun dried tomato, rich, slightly chewy, intense tomato flavor, and a beautiful red color. For me the "wow" factor was in their Sun Dried Tomato and Zesty Pepper blend, they tasted so good, had that great tomato flavor with just the right amount of zip that tingles the taste buds but doesn't over power them. My least favorite was the Bruschetta, the quality was fine, it had a nice color and texture but the flavor was just too sweet for my tastes. I used every bit of the products I tasted (I even used the marinade to sauté with and make dressings with), I am sad that I have no more.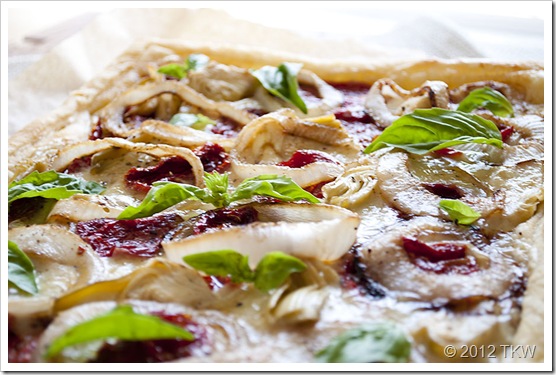 I really do recommend the Bella Sun Luci products, next time you are in the grocery store pick up some and give them a try.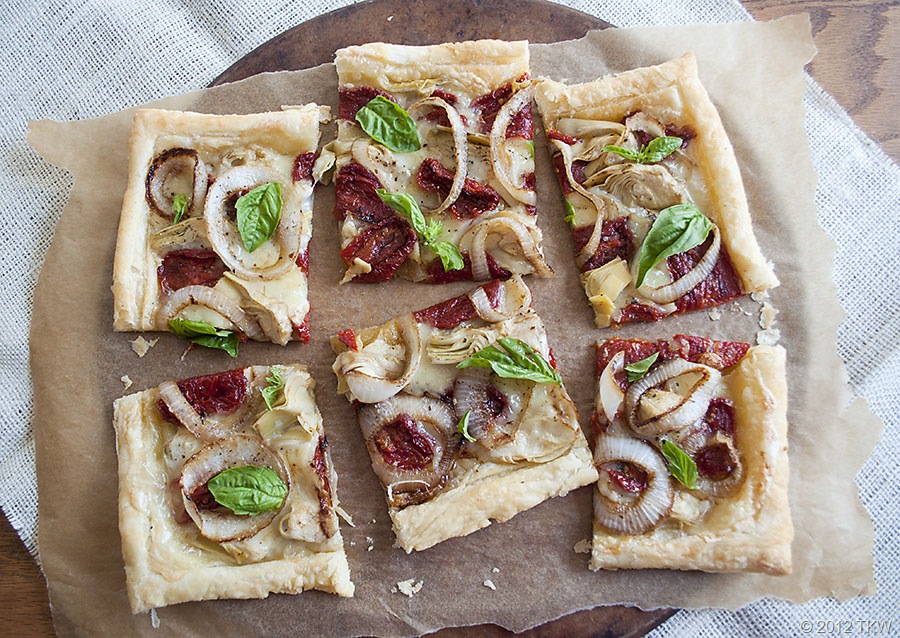 Sun Dried Tomato, Artichoke and Goat's Milk Brie Tart
2016-06-12 14:53:12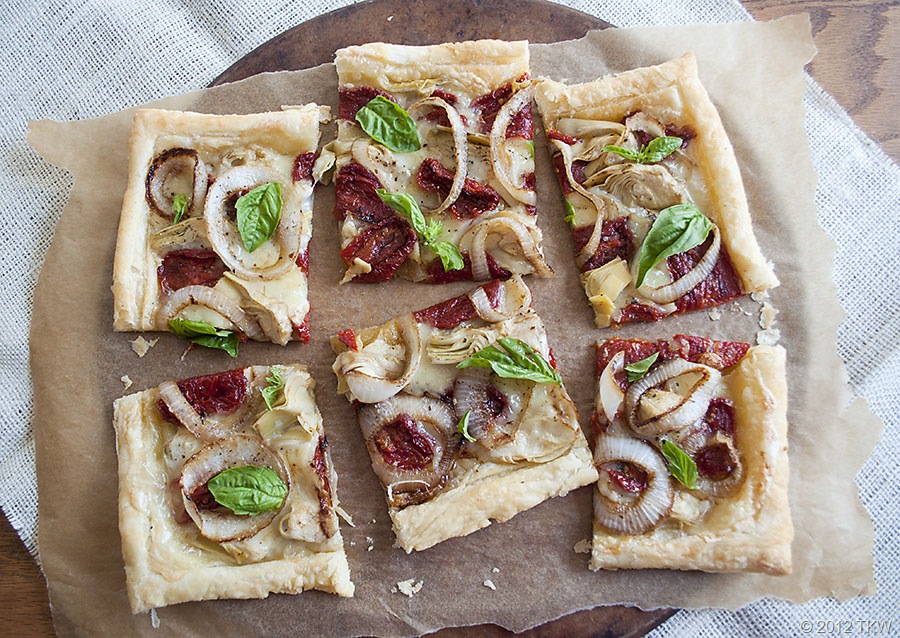 Serves 6
Ingredients
1 Sheet puff pastry, thawed
6 ounces goat's milk brie (or any other brie)
4 ounces Bella Sun Luci Sun Dried Tomatoes with Italian Herbs
1 jar marinated artichoke hearts, drained, marinade reserved
1 small onion, sliced
Fresh ground black pepper
Fresh basil leaves
Instructions
Preheat oven to 400F. Defrost pastry sheet by leaving it out at room temperature for 40 minutes or taking it out the night before and defrosting in the refrigerator. On a lightly floured surface, roll the pastry dough out until it is roughly an 8x12 rectangle. Using a very sharp knife lightly score around the edges, about 1/2" in.
Heat a large non-stick frying pan over medium high. Cook the onion slices in the drained marinade from the artichoke until the onion is tender and starts to brown slightly.
Remove the rind from the brie (I used goat's milk but any would do), slice the brie and lay it evenly across the tart. Layer the tomato halves on top of the brie. Halve the artichoke hearts and lay them on top of the tomatoes. Finally spread the cooked onion evenly across the top.
Bake for 15 to 20 minutes or until the edges of the pastry turn a light golden brown. Season with fresh cracked black pepper and garnish with basil leaves. Serve immediatly.
Notes
Tip: Use a pizza cutter to slice into squares. Cut into smaller pieces for a perfect appetizer.
The Kitchen Witch http://www.thekitchenwitchblog.com/

Informal Cookery Definitions A to Z
Aphrodisiac. (af-froh-DIZ-ee-ak). The love food. It's a food that is believed to stimulate sexual desire and increase sexual potency. This is a very ancient belief although science hasn't proved it. Some examples are oysters, truffles, and chocolate (there is a good list with explanations here). The name is derived from the Greek goddess, Aphrodite, the goddess of love.
Appetizer. A food to stimulate the appetite. In America it's typically a small morsel or finger food served before the main meal.
Arrowroot. Arrowroot is used for thickening sauces and gravies, similar to cornstarch except the results will be clear. It's obtained from the Arrowroot plant which is indigenous to the West Indies, the name is from an Indian term araruta.
(source)
Arroz Con Pollo. (ah-ROHTH cohn POHL-yoh). It's a Latin-American dish made with saffron rice and chicken. In Spanish it literally means "rice with chicken".