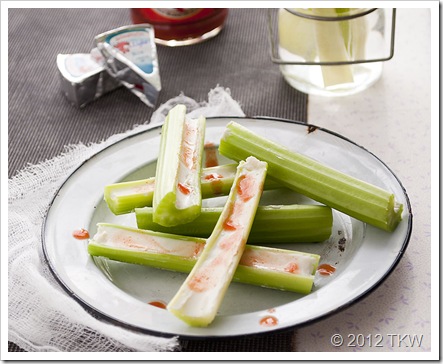 After yesterday's post I thought that I better post something a little more healthy than cupcakes. This is almost not a recipe, more of a gathering of ingredients that turned out, to me, a great healthy snack, and for my Weight Watcher's friends it's only 1 points plus value.
My inspiration came from buffalo wings. With the Superbowl just around the corner, my mind had definitely been on party snacks…the whole blogosphere is literally smattered with them. Although I probably won't eat as healthy that day, I did want to have some healthier choices.
Meet Buffalo Celery Sticks. Basic components of Buffalo wings (a personal favorite of mine) are chicken, hot sauce, blue cheese dressing and celery sticks. Dismissing the chicken part of the equation I concentrated on the blue cheese, celery and hot sauce.
I was surprised to find that I was able to enjoy the flavors reminiscent of Buffalo wings using just three ingredients. I spread Laughing Cow blue cheese wedges into celery sticks and sprinkled my favorite Frank's Hot Sauce on them. I've made this at least two times a week since I discovered it.
All the sticks shown in the photo (6 of them) used only one wedge of Laughing Cow blue cheese wedges. The Laughing cow wedges are only 35 calories each, the hot sauce, zero calories and the celery? The good news for people watching their weight, celery requires more calories to consume than calories it provides…basically a free food. If you don't care for blue cheese flavor, Laughing Cow has a ranch flavor that can be easily substituted.
While this is not a recipe that takes time, energy and skill, it has no less the wow factor. In short it is flavorful and satisfying. And here's a little tip, I only use the small end of the celery so my cheese spread goes further; I save the big end for chopping up and putting into recipes. Bang for you buck, baby!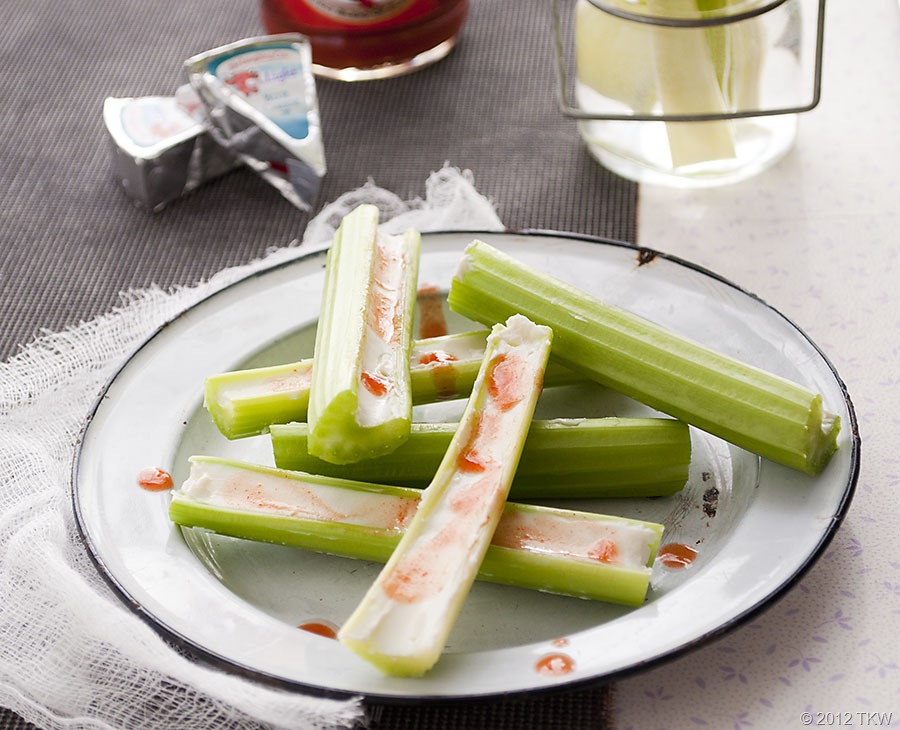 Buffalo Celery Sticks
2016-06-12 14:27:27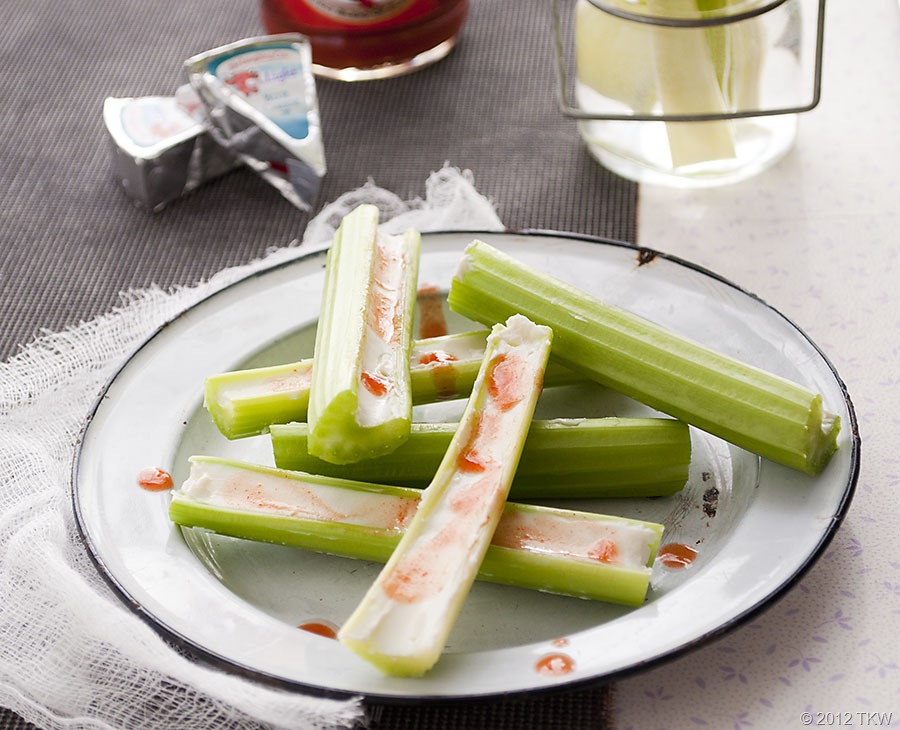 Serves 1
Ingredients
2 celery stalks
1 wedge Laughing Cow blue cheese wedges
Frank's Hot Sauce
Instructions
Cut the celery stalks into 4" lengths (I like to use only the small end which require more than 2 stalks). Divide the Laughing Cow blue cheese wedge between the sticks and spread to fill the center, trofting it out slightly. Sprinkle some hot sauce on (according to taste).
The Kitchen Witch http://www.thekitchenwitchblog.com/

Informal Cookery Definitions A to Z
Bacalao. (bah-kah-LAH-oh). Spanish term referring to dried salt cod fish (a favorite food to the bordering countries of the Mediterranean).
Bake. Basically means to cook food in an oven.
Baked Alaska. A popular dessert consisting of a block of ice cream, layered on sponge cake and baked inside a thick covering of meringue. The meringue serves as insulation, protecting the Ice Cream from the oven.
Baked Beans. this dish was adapted by Pilgrims in New England from a native Indian culinary specialty, it is truly an American dish. It consists of beans baked in an earthenware with molasses or maple syrup and fat, such as salt pork. It is also called pork and beans and Boston baked beans.