Last week I shared our first European H.O.G. rally together in Lido de Cavillino Italy, If you'd like to see the wet time that we had, you can catch up here.  Although we went to Italy for all the motorcycle shenanigans, we did take a day off to visit Venice.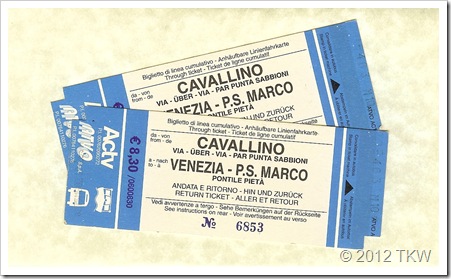 We took the ferry to Venice and stepped into an entirely different world.  It was so fascinating to see all the buildings, the water ways, bridges, people and pigeons!
I desperately wanted to ride in a gondola.  Lonnie was still wooing me and would do/spend anything for me.  We went over to the touristy Gondola area, where for an exorbitant amount of money you can get a gondola ride and guided tour of the city.
We lucked out our gondolier spoke 'American', as a matter of fact his nick name was American.  I was intrigued by his name.  American told me that he inherited it from his father, that's how it works.  You really can't just be a gondolier, typically it's a family business that is passed on from generation to generation, leaving no room for a new body.  Plus it takes years of training to be a great gondolier.
He went on to tell us that his father got the name right after World War II.  Evidently, when his father was a young boy he would sell black market booze and cigarettes to the American soldiers, he learned American since he spent so much time with American and it improved his business.  Later on American's father took over the family gondola business and found that he got more business and people were will to pay more because he spoke American.  American taught his son, and we got to enjoy the benefits.
We had been drinking, staying up late, and sleeping in a tent for days by the time we got to Venice.  Needless to say, I was starting to get a little worn out.  I was so tired that I fell asleep in the gondola!  The gently rocking of the boat, the soothing splashes of water as the pole glided us through the canal, the beautiful lilt of our guides voice and McGyver's snuggly arms around me were just too much.  McGyver still teases me to this day that dropped all this money to woo me on the canals of Venice and I fell asleep.  I always come back and say, "I guess you were just comfortable."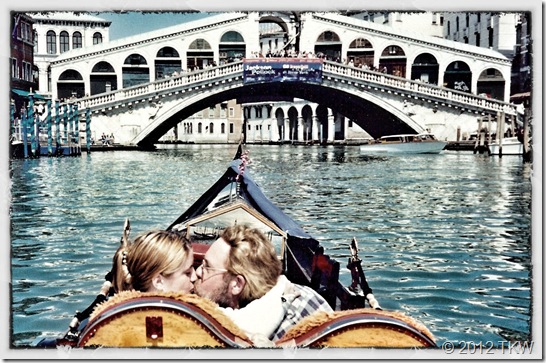 Like all good times, they must come to an end.  Sadly we had to leave Italy, and I mean very sadly, we had to leave.  On our way home, McGyver suggested we veer off the beaten path and drive through the Alps.  I love detours and was excited about the prospect.
"The hills are alive with the sound of music."  Except they weren't.  As we ventured through the winding twisted roads, going up, up and up, we began to notice that every town was shut down.  Not a soul to be seen, not a store open.  Weird.
As we were traveling what was becoming increasingly narrower and more treacherous roads (read cliff's with no shoulders), I was telling McGyver about this time I was in Scotland on a "B" road that wound through forest and cliff's, a super narrow road similar to what we were on, and how we rounded a curve only to be met by a huge tour bus.  All I could think of was "BUS!", we barely made it by.  I'm quite sure that we had half on our driver side wheels hanging off the edge.  Scary!
No sooner than I had finished my story, than "BUS!", hello Déjà vu, same scenario different country!  After we got done wetting ourselves, we laughed about the whole situation.  I stopped laughing when I realized that we were quickly running out of gas, my poor brakes were smoking from the steep declines and it was getting dark and there was nada a town or anything around.  Just when all hope was draining from me, we happened upon Oetz.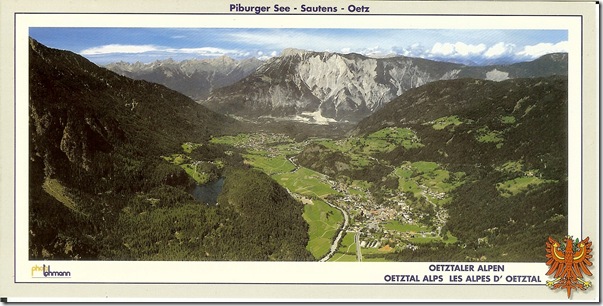 If the name Oetz sounds familiar, it may be that you recall the discovery of the Iceman.  A 5,300 year old mummified man that was found near this area.  You can find out more about it here, if interested.  Our adventure ended up taking us to one of our most favorite hotels we've ever stayed at, the Posthotel.  We loved it so much that we went out of our way on our return trip from our honeymoon to stay there (this time we took a little less treacherous road).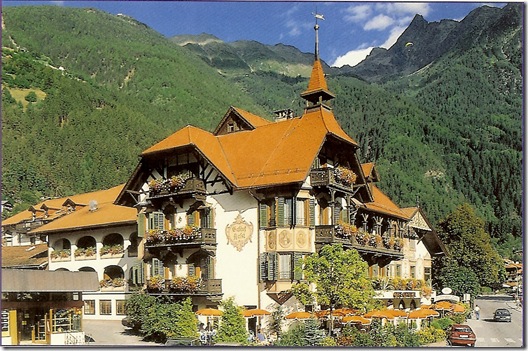 I had my first trip to Italy, my first time seeing Venice, my first gondola ride, my first taste of Gelato, my Italian Motorcycle rally, my first visit to Oetz and my second near death experience with a bus.  Life with McGyver is always an adventure.
Now for my Give-Away!  I wish that I could be like The Pioneer Woman and give away a Kitchen Aid mixer or an iPad or something really cool.  But I'm a poor blogger and can't even afford to buy that stuff for myself!  However, I am taking a cue from Ree (I can call her that cause we met once), and I'm doing a Trash to Treasure give away.  If you've ever hung out at the PW site, you know that Ree sometimes goes through her closet and gives away perfect good clothes.

I'm not giving perfectly good clothes, I'm giving away perfectly good kitchen utensils.  I went through my drawers and pulled out items that I either bought and never used, have duplicates or got in my swag bag at the l Foodbuzz meeting in 2010.  I purchased a new bamboo utensil holder to sweeten the deal.