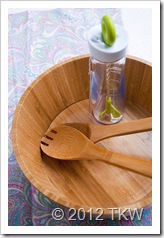 I'm one of those people who are super lucky to have great in-laws.  My father-in-law happens to be one of the coolest people I know.  He's always full of entertaining stories, I never get tired of hearing them.  My in-laws occasionally send us newspaper clippings from the local area or some stuff that they've dug up from their archives.  When we see mail from them, we're never quite sure what we are going to get. We always receive mail, the real snail mail kind. See, my in-laws are in their 80's and they don't have a computer at home.
A few years ago (2007 to be exact) we received a letter in the mail from my father-in-law, who is affectionately called Grandpa HoHo by the kids.    Inside the letter was a copy of a newspaper clipping.  Something you would never expect from a Grandpa HoHo.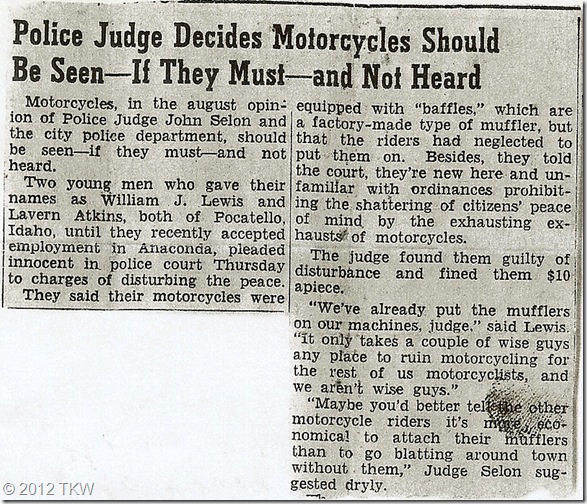 Yes, my father-in-law (LaVern) was arrested and put in jail, this happened in 1948.  With the copy of the news clipping, he sent a letter with a little more detail: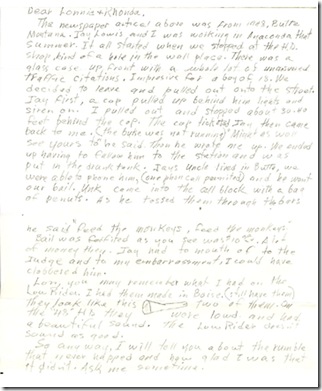 Dear Lonnie & Rhonda,

The newspaper article above was from 1948.  Butte, Montana.  Jay Lewis and I was working in Anaconda that summer.  It all started when we stopped at the H.D. shop, kind of a hole in the wall place.  There was a glass case up front with a whole lot of unanswered traffic citations.  Impressive for a boy of 18.  We decided to leave and pulled out onto the street.  Jay first, a cop pulled up behind him lights and siren on.  I pulled out and stopped about 30 – 40 feet behind the cop.  The cop ticketed Jay, then came back to me.  (The bike was not running) "Might as well see yours to" he said.  Than he wrote me up.  We ended up having to follow him to the station and was put in the drunk tank.  Jays Uncle lived in Butte, we were able to phone him, (one phone call permitted) and he want our bail.  Uncle came into the cell block with a bag of peanuts.  As he tossed them through the bars he said "feed the monkeys, feed the monkeys."

Bail was forfeited as you see was $10.00.  A lot of money then.  Jay had to mouth off to the judge and to my embarrassment, I could have clobbered him.

Lon, you may remember what I had on the Low Rider.  I had them made in Boise. (still have them), they look like this [see drawing in letter] two of them.  On the '48' HD they were lowd and had a beautiful sound.  The Low Rider doesn't sound as good.

So anyway, I will tell you about the rumble that never happened and how glad I was that it didn't.  Ask me sometime…
My father-in-law and me at Devil's Tower in 2005.
He was a bad ass in 1948 and still is (in the best kind of way)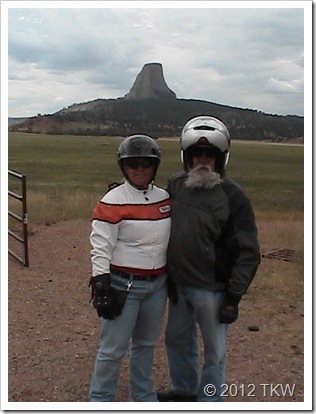 And the giveaway this week is…..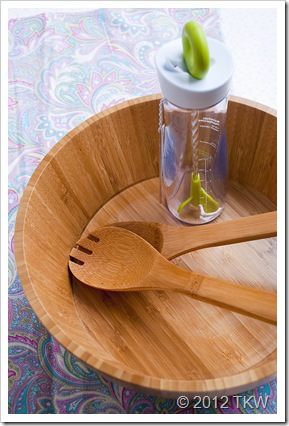 A bamboo salad set from Bed, Bath and Beyond and my most favorite dressing emulsifier from Target, which I posted my adoration for here and here.
I'll be hosting the giveaway all week and notifying the winner by email over the weekend so I can announce the winner on Monday.
Speaking of Monday, last week's winner was Sherry for 'Liking' The Kitchen Witch, thanks Sherry and Congratulations!