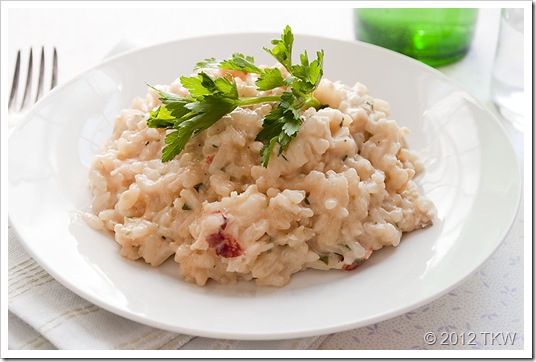 For our February 14th Lobster Palooza I choose to make lobster risotto as our side. I'm telling you right now that this was the highlight of our entire meal! Initially I felt guarded about stirring up a treat like lobster into a pot full of creamy risotto and that's my mother's doing.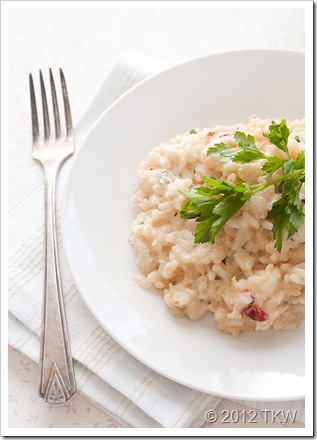 I very distinctly remember my first taste of lobster. A family friend, whom we affectionately called Uncle Don, invited us girls (my mom, me and my sister) to his house for dinner because he was able to acquire some fresh lobster. I tell you, my mother was excited about it. My sister and I didn't know any better, frankly it was just nice seeing Uncle Don. Uncle Don made us Lobster Thermidor. A dish in which lobster is served in a creamy egg and cognac based sauce served in the lobster tail. It really was quite delicious.
On the way home my mother commented about how the dish was wonderful but if she had lobster she would never do anything with it other than eat it as it's unadorned self with a lemon squeeze and some drawn butter. She went on to explain that she felt that lobster was such a treat that it shouldn't be mixed with anything for fear that it will take a back seat.
I've held on to that philosophy all my life, till now. Sorry mom I have to disagree with you now. This risotto changed my mind. It began with lobster stock made from the boiled lobster. After I cooked the tails, 6 in all (3 were for the Lobster Verrine), I shelled the lobster and returned the shells to the water and the put them back on to simmer. It wasn't very "lobster-y" so I ended up boosting the flavor a little with some Better than Bouillon Lobster base. It seems like when you only boil the tails you don't get a very flavorful stock *sigh*.
I only used a little shallot and garlic to give it flavor, with my mother's words ringing in my head I was afraid of overpowering the sweet delicate flavor of the lobster. I absolutely made the right choice, we ended up with a delectable creamy risotto that screamed lobster! So mom, I may not agree with you anymore about serving lobster unadorned but your words were the foundation for the most perfect risotto I've ever had.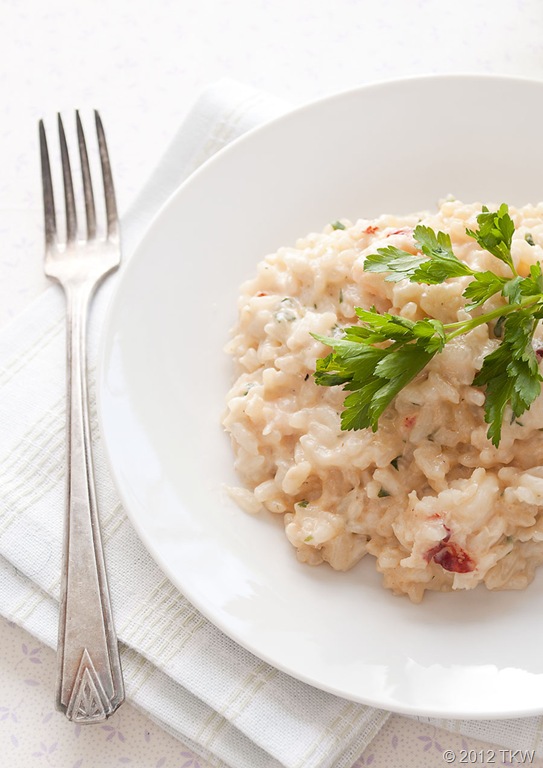 Lobster Risotto
2016-06-12 11:52:16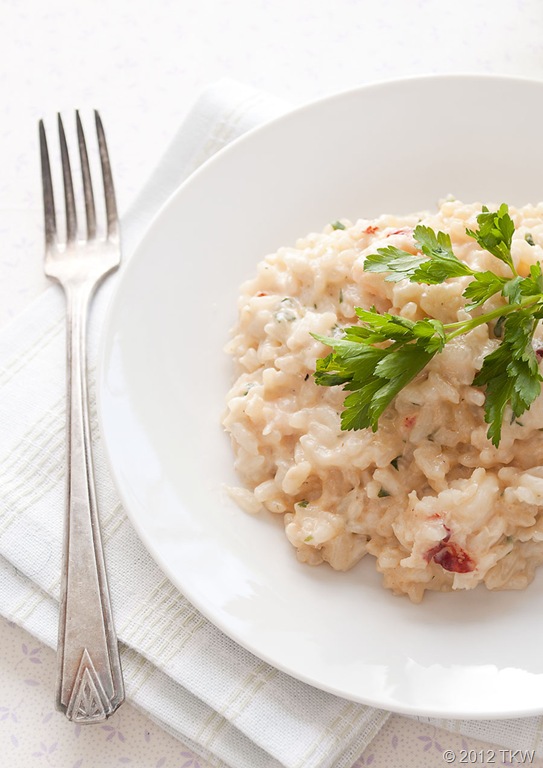 Serves 5
Ingredients
3 small lobster tails, cooked shelled and chopped (about 1 cup), stock reserved
2 tablespoons olive oil
2 tablespoons butter
1 shallot, finely diced
1 clove garlic, minced
1 cup arborio rice
1/2 cup dry white wine such as a chardonnay
3 cups lobster stock
1/4 cup grated parmesan
1/4 cup chopped parsley
Salt and Pepper to taste
Instructions
In a large dutch oven over medium heat, melt butter. Add olive oil, shallots, saute until shallot is tender, about 3 minutes, add garlic and cook another 30 seconds. Add rice, continue cooking until rice becomes opaque. Pour wine in to deglaze pan, stirring steadily until most of the wine is absorbed. Add 1 cup stock and stir until nearly all the stock is adsorbed. Add the second cup, again stirring until the liquid is mostly absorbed. Finally add the last cup of stock, continue stirring until most of the liquid is adsorbed. the risotto should look creamy and the rice should be al dente. Add Parmesan, lobster and parsley, stir well to combine and melt Parmesan. Salt and pepper to taste. Serve warm.
The Kitchen Witch http://www.thekitchenwitchblog.com/
Today is the last day for the Jewelry and Spice Mix giveaway…don't forget to enter.

Informal Cookery Definitions A to Z
Bigos. (BEE-gosh). In Polish it means "big mess", it's a stew that has many varieties but always includes: sauerkraut, several kinds of meat with one being kielbasa, and lots of peppercorn. It is said that this was first served to hunting guest by a Polish King in 1385. It's claimed to be Poland's national dish, it's so well that there was a poem written about it.
In the pots warmed the bigos; mere words cannot tell
Of its wondrous taste, colour and marvellous smell.
One can hear the words buzz, and the rhymes ebb and flow,
But its content no city digestion can know.
To appreciate the Lithuanian folksong and folk food,
You need health, live on land, and be back from the wood.

Without these, still a dish of no mediocre worth
Is bigos, made from legumes, best grown in the earth;
Pickled cabbage comes foremost, and properly chopped,
Which itself, is the saying, will in ones mouth hop;
In the boiler enclosed, with its moist bosom shields
Choicest morsels of meat raised on greenest of fields;
Then it simmers, till fire has extracted each drop
Of live juice, and the liquid boils over the top,
And the heady aroma wafts gently afar.

— Adam Mickiewicz, Pan Tadeusz, Book 4: Diplomacy and Hunt
Translated by Marcel Weyland
Bird's Nest Soup. A Chinese specialty soup made from a birds saliva. The cave swifts build nest with their saliva, the salvia is collected and dried to make the gelatinous base of this soup. Actual nests are not used in the soup.
Biscuit. (bis-CUT). Orignially biscuit meant twice cooked, However, there are so many varieties in so many countries that the term biscuit has several meanings. In Europe it typically refers to something sweet, in England biscuits are what Americans refer to as cookies. And in the U.S. a biscuit is a type of quick bread with baking powder or soda used as a leavener served at breakfast time.