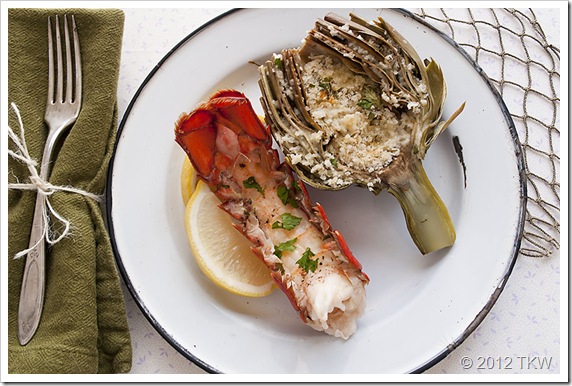 If you've been following along you'll remember that a couple of weeks ago, we bought ten lobster tails (since they were on sale at a price we just couldn't resist). I made Lobster Verrines as our starter and Lobster Risotto as our side (which ended up being the star of the entire meal) and for our main I selected something ridiculously simple.
I knew my hands would be quite busy with risotto, it's not a difficult dish but it's an attention whore and it must be stirred, stirred, stirred. If my hands were going to be busy on the stove top, that left the oven as my only other companion to help with dinner. Dear Pinterest came through for me on this one, someone had pinned a baked lobster recipe from Taste of Home and I knew that was the recipe for me. I've boiled, broiled and grilled lobster but never baked it so I was also excited about trying a different cooking technique.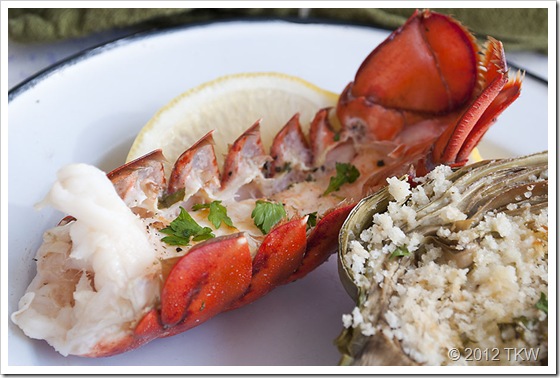 What really intrigued me was that it was served bottoms up, so to speak. What a relief, it seems that I have never been able to fully master cutting the hard shell down the middle and pulling the tail out so that it lays prettily on top of the shell. No, my shell always cracks in weird place and my poor tail ends up mutilated as I try to separate it from the shell, although it's still tasty it's hardly appetizing looking.
In this method, you cut the bottom membrane away on both sides, add butter, lemon juice, salt and pepper place it all in a casserole with a 1/2 cup water and bake away. When it's done, it's easy to scoop out the tail and devour the sweet lobster meat.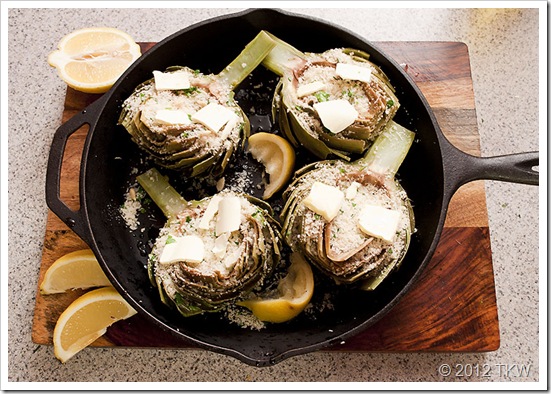 To make this part of my meal even easier, I decided to bake our artichoke. I got all the prep work done ahead of time and when I only had 20 minutes left on my risotto, I popped the lobster and artichoke into the oven. It was timed so perfectly! I love it when that happens. The artichoke turned out wonderful, everything you would want in an artichoke and more! The only thing that I would do a little differently is run the artichoke under the broiler for a minute or two to crisp up the panko bread crumbs.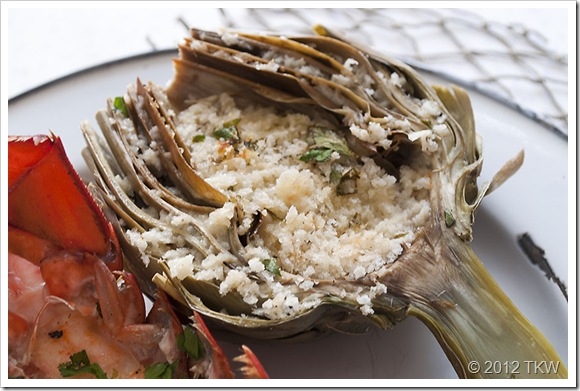 I almost forgot to mention, I discover the best way to take out the choke! I've always used a spoon to scoop out the inedible choke, this time I used my grapefruit knife and it was so easy and fast! I will never use a spoon again!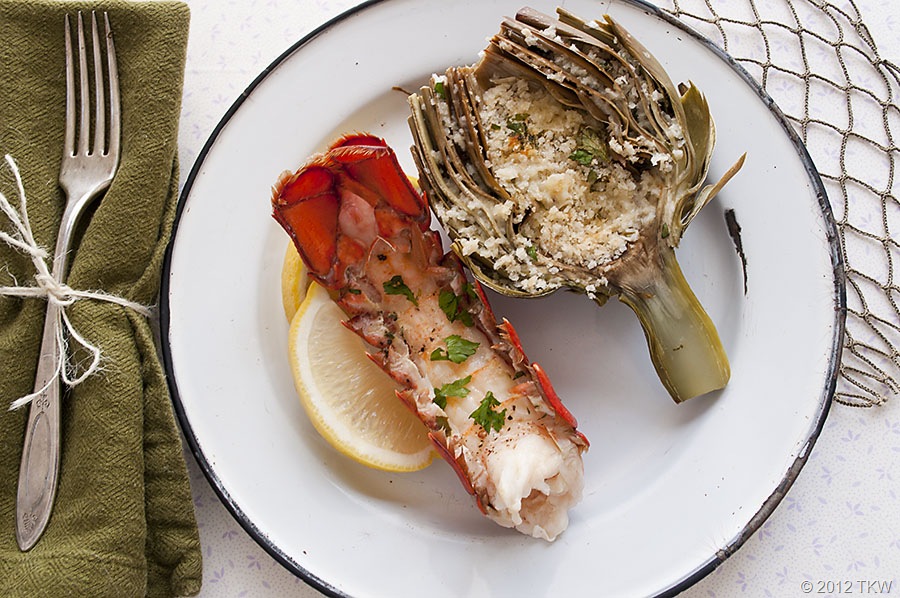 Bottom's Up Baked Lobster
2016-06-11 23:11:45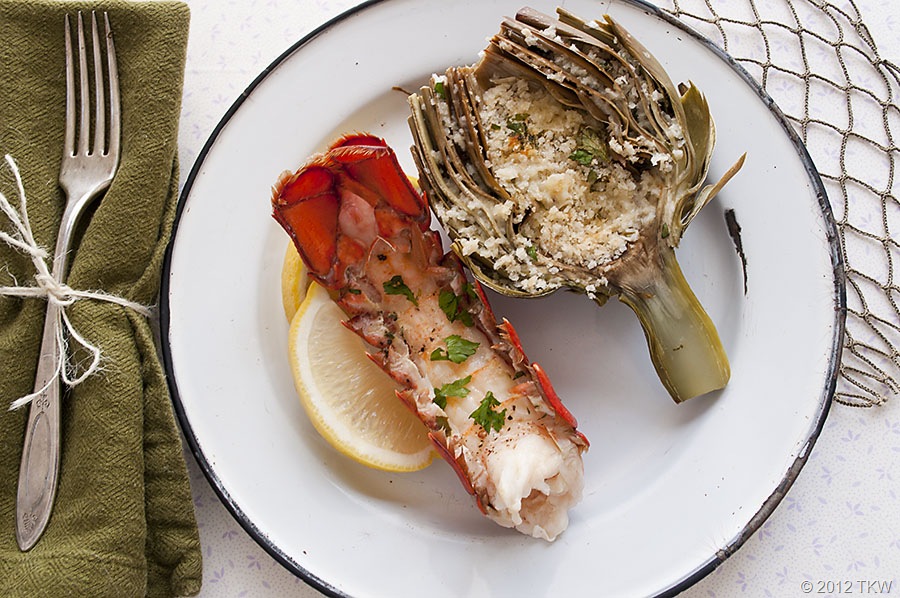 Serves 6
Ingredients
4 lobster tails
1/2 cup water
1 tablespoon minced fresh parsley
1/8 teaspoon salt
Dash pepper
1 tablespoon light butter, melted
2 tablespoons lemon juice
Lemon wedges and additional melted butter, optional
Instructions
Split lobster tails in half lengthwise. With cut side up and using scissors, cut along the edge of shell to loosen the cartilage covering the tail meat from the shell; remove and discard cartilage.
Pour water into a baking dish; place lobster tails in dish. Combine the parsley, salt and pepper; sprinkle over lobster. Drizzle with butter and lemon juice.
Bake, uncovered, at 375° for 20-25 minutes or until meat is firm and opaque. Serve with lemon wedges and melted butter if desired.
Adapted from Taste of Home
Adapted from Taste of Home
The Kitchen Witch http://www.thekitchenwitchblog.com/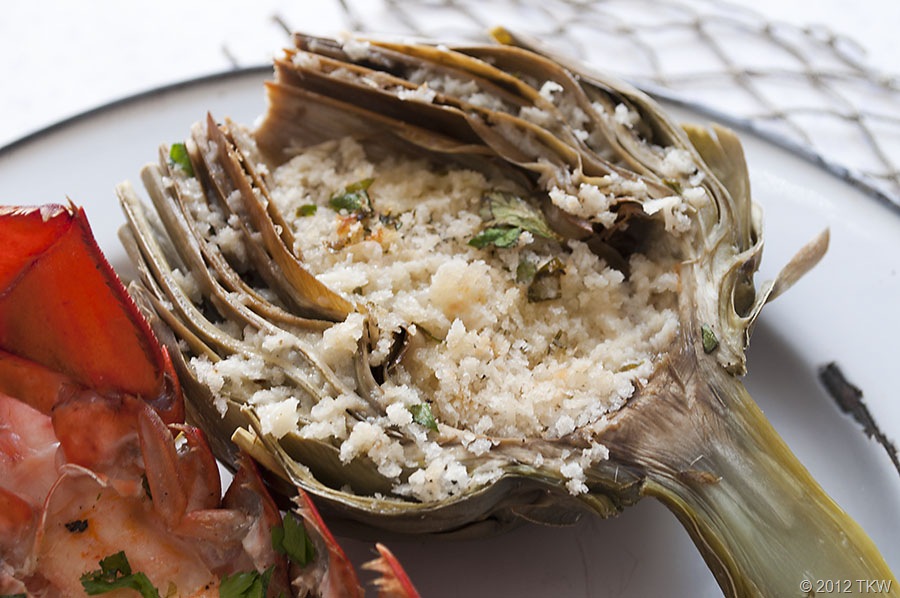 Baked Artichoke
2016-06-11 23:13:42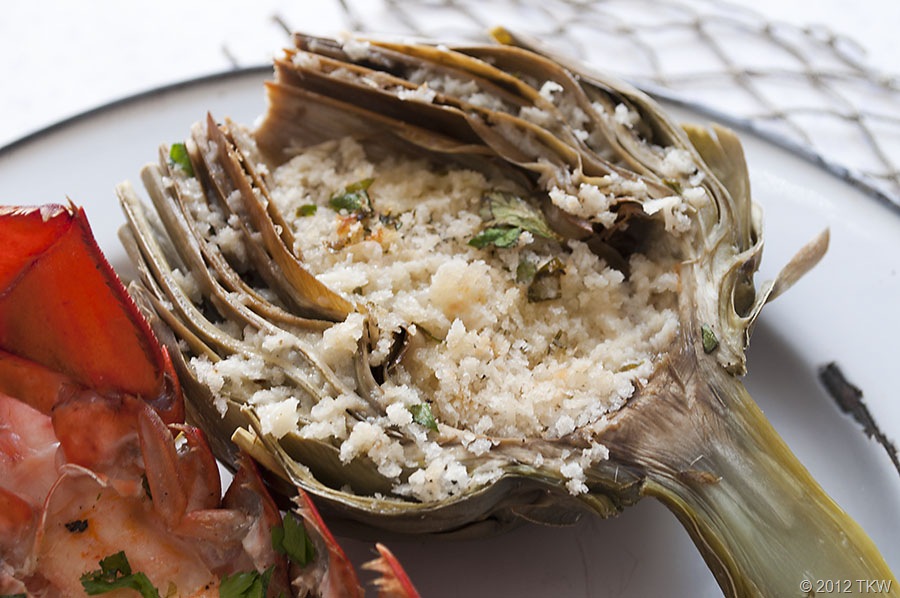 Serves 4
Ingredients
2 Large Artichokes
1/2 cup panko bread crumbs
1/2 cup grated parmesan cheese
1/2 teaspoon salt
1/4 teaspoon pepper
2 tablespoon chopped parsley
2 teaspoons light butter
1/2 lemon juiced
Instructions
Preheat oven to 375F. In a large pot, par boil the artichoke for 15 minutes. Remove and drain. When cool enough to handle cut in half and remove the choke and small inner leaves (I like to use a grapefruit knife).
Mix together the parmesan, panko, salt, pepper and parsley. Stuff the mixture between the leaves and in the choke cavity. Dot with butter and squeeze lemon juice over the top.
Place on a baking sheet and bake for 20 minutes. Turn on broiler and move rack to the top, broil artichoke for a couple of minutes or until the panko turns golden brown. Serve with additional lemon wedges.
The Kitchen Witch http://www.thekitchenwitchblog.com/

Don't forget

to enter my last blogoversary giveaway. This package includes two jars of BBQ sauce (Biker Chick and Biker Dude), homemade spice mixes, a standard BBQ brush, a BBQ brush that attaches to commercial sauce bottles and a cute caddy for jars.

Informal Cookery Definitions A to Z
Bishop. No it's not a religious figure nor a chess piece. It's a mulled red wine that has roasted clove spiked oranges set in it.
Bisque. (Bisk). By definition a bisque is a French term for a creamy crustacean (lobster, crab, shrimp, etc.) soup. The Bisque term is similar in it's roots as biscuit, in other words 'twice cooked'. The shellfish are sautéed with aromatics and then simmered in wine. The shells are pulverized into a powder to thicken the soup. The idea is to extract every bit of flavor. Other creamy soups made of pureed vegetables are sometimes referred to as bisques such as butternut squash or tomato bisque, although technically that is incorrect.
Black Bottom Pie. This pie found it's roots in the south. It consists of a chocolaty bottom layer that is said to represent the Mississippi mud then it's topped with a luscious meringue. Some versions like the one from the Famous Brown Derby Restaurant in Hollywood, use a gingersnap crust, a rum chocolate bottom and then top it with whipped cream.
Black-eyed Peas. Is in fact not a pea as it name suggest, but a bean with a pale tan color and a distinctive black spot. It was introduced to the United States sometime in the late 17th century. Eventually it became a very popular crop in the South and it is widely regarded as a 'soul food'. Eating black-eyed peas on New Year's day is considered to bring good luck.