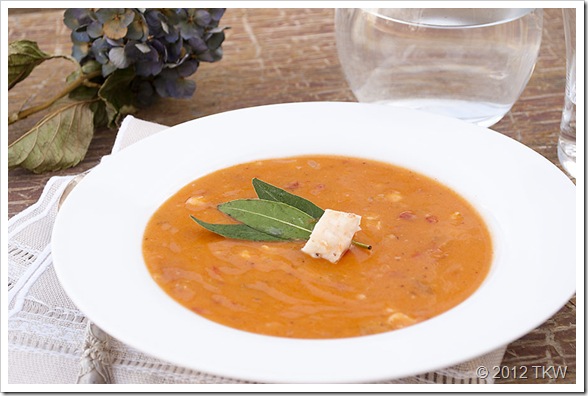 It was a lovely day in February, unusual for this time of year, especially in Montana. It was overcast, but I think the clouds were acting more like a warm blanket, keeping us all cozy down here on earth. There was a touch of spring in the air; I cruised the backyard and noted that some of my bulbs were coming up, evidently I wasn't the only one feeling spring like. It was a day that I actually wished that I had something to do outside, something to plant or to weed or mow. A very unusual thought for me since I am typically not an outdoorsy gardening type of person. I had undoubtedly been bitten by a bit of Spring fever!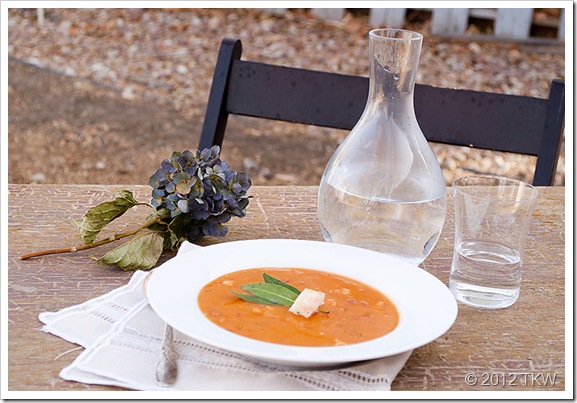 Today was not a soup day, it was more like a break out the grill day and dust off the garden furniture and eat alfresco kind of day. Alas, I had already set my heart on making this bisque. From the 10 small lobster tails that we purchased, we ate nine of them on Valentine's Day. That left me with one lonely tail and a big batch of lobster stock. Any cook knows that the best way to stretch a little bit of food is to turn it into soup du jour.
I clipped this recipe from The Great Falls Tribune. Sydney George, our local food writer had written that she made this for her husband's birthday. You know how some recipes grab you and won't let you go? I clipped that recipe out on September 21, 2011 and it's haunted me since. The original recipe is lobster laden with 3 cups of cream, decadent I'm sure, but it's way out of my dietary budget. I used it for inspiration and whipped up a lighter version that I am sure is just as tasty.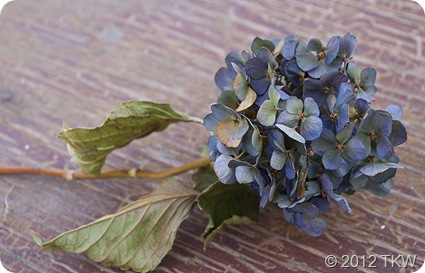 Although today was not a soup day, it was an alfresco day. I did indeed dust off my favorite wood table, then I dug through the shed for a chair and set myself up a nice lite spring lunch. I didn't have any fresh flowers to adorn my table; however during my stroll I found one perfectly dried and preserved hydrangea from my fledgling bush I bought last year (I am crossing my fingers it will come back).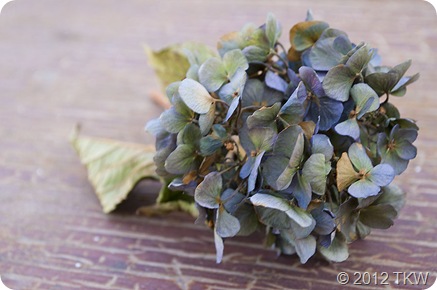 The colors screamed spring but the dryness spoke of a life that had passed; it seemed a perfect representation of this oddly warm day in February. It's not often that I get out of my kitchen and away from my computer and take advantage of a surprise day. This day reminded me of how nice it is to be out in nature, a truly peaceful time, one that I am eager to experience again and again.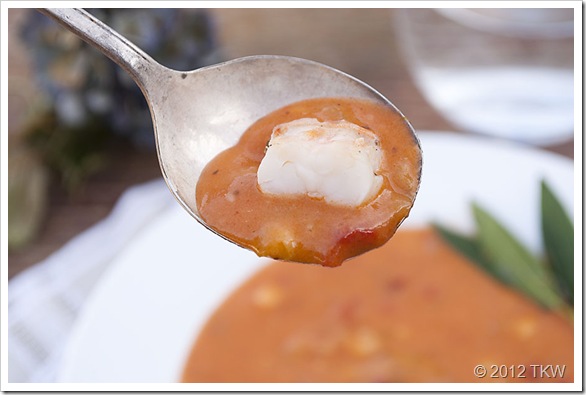 It's amazing how you can pack a lot of flavor into something with a great stock and some tasty ingredients. In all honestly I would have happily had this bisque without the added lobster. It has a rich flavor, the roasted red peppers gives it a certain depth, the Old Bay Seasoning adds just enough zing to make your taste buds crave another bite, then another. Finally the big secret to the creaminess? No cream. I used a can of Heinz Cream of Tomato soup. Ah yup, canned soup in lobster bisque, seems sacrilegious in a way. It seems that way until you taste it and don't feel guilty about eating it!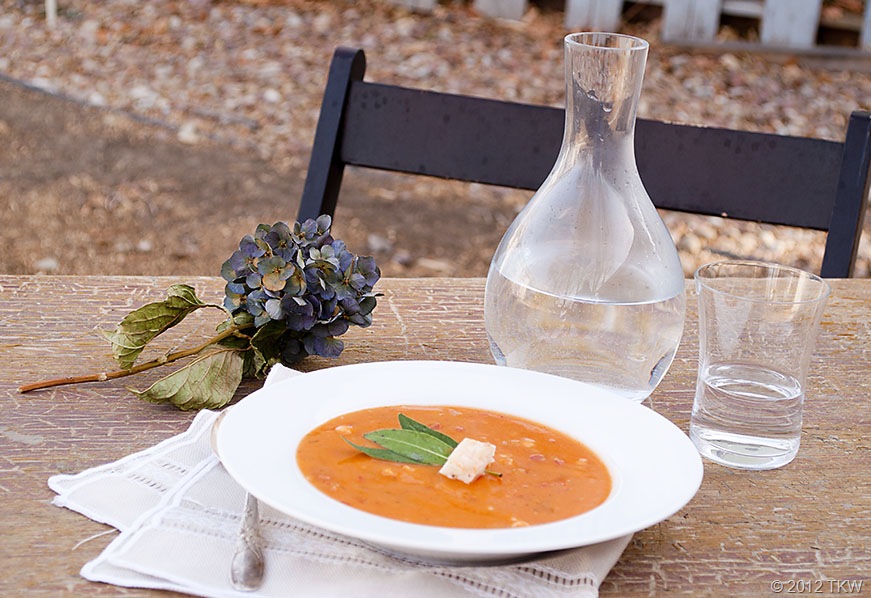 Roasted Red Pepper Lobster Bisque
2016-06-11 23:08:36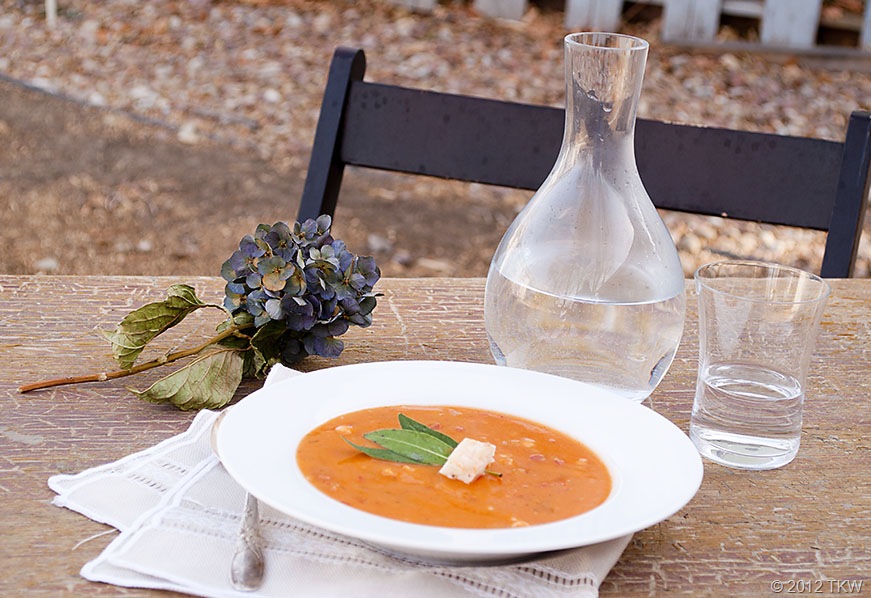 Serves 6
Ingredients
6 Tbsp light butter
1/2 small onion, finely diced
3/4 cup celery, finely diced, leaves included
6 Tbsp all-purpose flour
4 cups home-prepared fish stock, preferably lobster
1/4 cup Marsala or brandy can be substituted
7 oz (1 Jar) roasted red peppers (packed in water), finely chopped, liquid reserved
1 can Heinz cream of tomato soup (I prefer the Heinz brand)
4 teaspoons Old Bay Seasoning
1 cup cooked lobster, chopped
Instructions
In a large dutch oven, melt butter over medium heat. Saute onions and celery in the butter until tender, about 5 minutes. Add flour, stirring often until flour is hot and bubbly. Slowly whisk in lobster stock. Add Marsala, roasted red peppers with liquid, tomato soup and Old Bay seasoning. Bring to a boil, reduce heat and let simmer until thickened, about 10 minutes. Stir in Lobster just before serving.
The Kitchen Witch http://www.thekitchenwitchblog.com/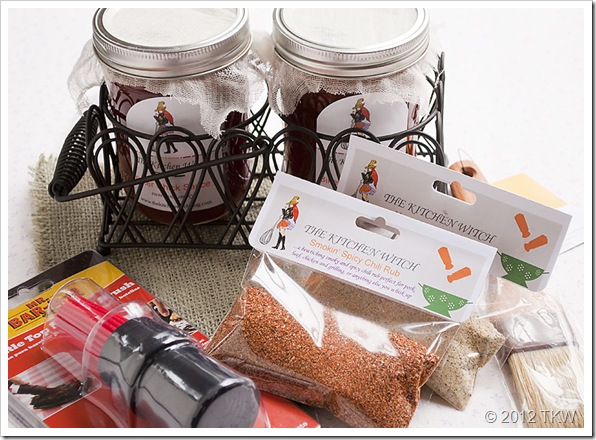 This is it, the last day for my last giveaway (for now). Enter to win two jars of BBQ sauce (Biker Chick and Biker Dude), homemade spice mixes, a standard BBQ brush, a BBQ brush that attaches to commercial sauce bottles and a cute caddy for jars.

Informal Cookery Definitions A to Z
Blanch. Is a French term that originally meant to whiten food, an example would be dropping almonds in boiling water so that their skins come off leaving them white, or cooking sweetbreads in acidulated water to whiten them. However the term now refers to partially cooking a vegetable and stopping the cooking process by plunging them into an ice bath so that it retains it's color.
Blanchmange. (bla-MAHNZH). A French pudding made from cornstarch and almond flavored milk.
Blanquette De Veau. (blahn-ket dih VOH). Is a French veal stew or ragout made by simmering the veal in a flavorful white stock. The veal nor the butter is browned. The stew is thickened with egg yolks and cream. Some versions contain carrots, onions and potatoes.
Blend. The combining of ingredients by gently stirring them until they are smoothly mixed together or homogeneous.