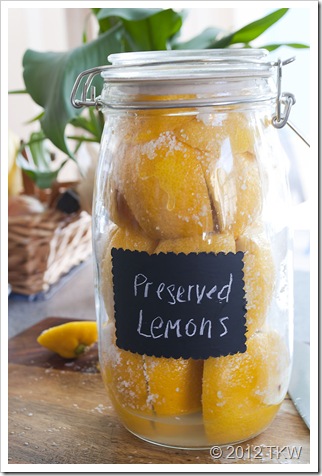 I wear leather, ride Harleys and hang out in biker bars; I am a self professed rebel and have even been called a "badass" on more than one occasion. But I'm way more complicated than that; I watch Dr. Who and Star Trek, I loved chemistry and science in college and I 'm definitely a "why" person. Throw in a little domestic diva and my strong attraction to creative artsy fartsy stuff (I have season tickets to our Broadway in Great Falls, I'm a member of the local art museum, make jewelry and love photography) you get what my husband calls "a complicated little handful".
I haven't figured out if I'm just diversified or confused? What do you expect from a girl who buys organic foods, is volunteering at an organic farm and still eats canned cheese straight out of the can. I'm my own contradiction! This last Christmas my Baby boy appealed to two sides of me when he bought my Christmas gift. He bought me Cooking for Geeks by Jeff Potter from one of his favorite online stores Think Geek, Stuff for Smart Masses.
From the Think Geek site:
Are you the innovative type, the cook who marches to a different drummer? Are you used to expressing your creativity instead of just following recipes? Are you interested in the science behind what happens to food while it's cooking? Do you want to learn what makes a recipe work so you can improvise and create your own unique dish? Do you enjoy paragraphs made only of questions? Read on, then?

Cooking for Geeks is more than just a cookbook. It applies your curiosity to discovery, inspiration, and invention in the kitchen. You'll learn all sorts of things, such as:

Why medium-rare steak is so popular.
Why we bake some things at 350° F/175° C and others at 375° F/190° C.
How quickly a pizza will cook if we overclock an oven to 1,000° F/540° C.
How to initialize your kitchen and calibrate your tools.
Important reactions in cooking, such as protein denaturation, Maillard reactions, and caramelization, and how they impact the foods we cook.
How to play with your food using hydrocolloids and sous vide cooking.
And loads and loads more!

Cooking for Geeks is an excellent and intriguing resource for anyone who wants to experiment with cooking, even if you don't consider yourself a geek. You'll even learn from researchers, food scientists, knife experts, chefs – even Adam Savage weighs in! Time to kick it up a notch in the kitchen with Cooking for Geeks, some ingredients, and a heaping helping of SCIENCE!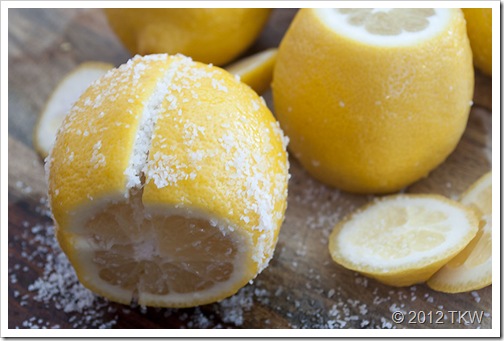 The cookbook is heavy on technical instructions including grpahs and tables of all types. If you are looking for a cookbook with beautifully photographed foods you won't find it in this book. It's more like a textbook and I love it! It really appeals to my techy geeky side. I confess that I have not read the book cover to cover yet, but then again I never read my textbooks like that either. I've jumped from here to there, then get caught up in some interesting subject and linger before moving on. While flipping around, my eyes landed on the "Playing with Chemicals" chapter. Now that's what I'm talking about!
The first recipe that caught my eye was Preserving Lemons. I was intrigued because it uses only two ingredients and it just sits out on the counter and doesn't spoil. Seriously, how cool is that? Interestingly enough the recipe is from another food blogger…really Rhonda, you read a cookbook and pick out another bloggers recipe? Must be natural, so to give credit where credit is due the recipe found in Cooking for Geeks is from Carolyn Jung at Foodgal. Later on I also found a similar recipe for Lemon Confit in Charcuterie by Michael Ruhlman, the cookbook by hubby surprised me by buying (you can read about that here).
I was so excited about doing the lemon preserves that I bought a special glass jar and did a chalkboard paint craft with it (hello domestic diva). If you want to see how I did it you can check it out here. What the heck do you used preserved lemons for? They are often used Mediterranean cooking, especially in Moroccan tangines. Carolyn suggested using it in tuna and pasta salads, vinaigrettes, poultry or fish marinades and in couscous and quinoa. Look for a recipe from me coming up soon.
I was so amazed at the whole process (hello geek), it was very hard to be patient (hello rebel) as I watched the salt disappear and the juice rise! Three weeks feels like fooooreeeeeever! Good things are worth the wait (or so I kept telling myself). I suggest that you don't wait to get started on these though, in 3 weeks you could have lovely preserved lemons that will last up to 1 year!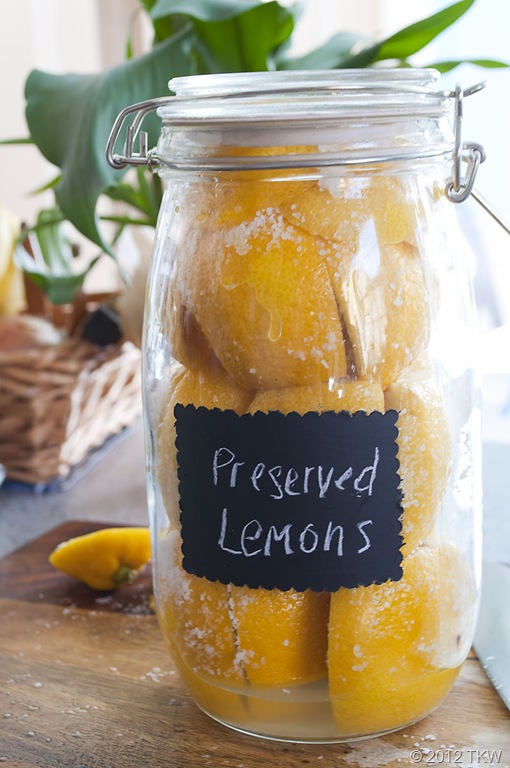 Preserved Lemons
2016-06-11 22:35:44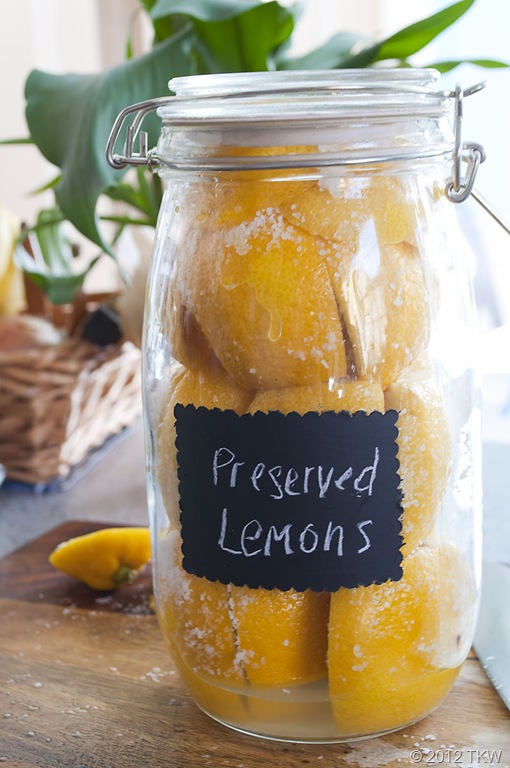 Ingredients
1 large Sterilized Jar, with a fitted lid
5 to 7 lemons
1 to 2 cups kosher salt
Instructions
Trim the ends of the lemons, set aside. Cut 4 slices through the peel and flesh of the lemons, leaving the lemons intact but the quartered. Place as much kosher salt into the sliced areas. Once all the lemons have salt in them, pack them as tightly as you can into the jar. I needed to halve a couple to get a tight pack. If there is space, fill it in the the trimmed ends. Fill the remaining spaces with kosher salt.
Every few days shake the jar or use a clean spoon to press the lemons down into the liquid. When the liquid has equaled or rose above the lemons they are ready to use about 3 to 4 weeks.
To use, select a lemon or parto of one and give the lemon a quick rinse, disposing of any seeds. Chop or slice the rind (and flesh if desired) to use in your recipe.
Notes
To sterilize a jar you can run it through the dishwasher or boil it for 10 minutes.
Carolyn Jung recommends refrigerating the lemons after they are ready. Michael Ruhlman states that they are pantry stable.
Adapted from Cooking for Geeks printed by permission from Carolyn Jung of http://www.foodgal.com
Adapted from Cooking for Geeks printed by permission from Carolyn Jung of http://www.foodgal.com
The Kitchen Witch http://www.thekitchenwitchblog.com/

Informal Cookery Definitions A to Z
Boeuf a la Mode. In French it means "beef in the style" or more commonly known as pot roast. It's a way of preparing tough cuts of meat by braising the meat and cooking with root vegetables, herbs and sometimes wine and/or tomatoes.
Boeuf Bourguignonne. (beef BURG-in-au-n). Also know as beef burgundy, it's a traditional dish from the French region of Burgundy. It's a beef dish of braised beef cooked in red (Burgundy) wine with garlic, onions and a bouquet garni. It was once considered a peasant dish but has been elevated over the years.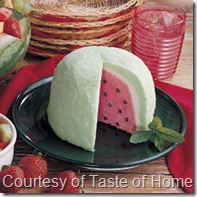 Boil. A French term that means "bubble". A boil is reached by heating a liquid to 212°F (100°C). When liquids come to a boil they'll begin to bubble, a rapid boil is when the liquid starts having large bubbles and a rolling boil is when the large bubbles appear consistently and rhythmically. Be careful of thick liquids that come to boil, when their large bubbles break they are notorious for splattering (picture tomato sauce).
Bombe. (bohmb). Another french term. In this case it describes a frozen molded dessert where the mold is lined with something like ice cream and then frozen. It is then filled with a contrasting frozen mixture. It is also know as Bombe Glacee. An example of a take on a bombe is the Baked Alaska.