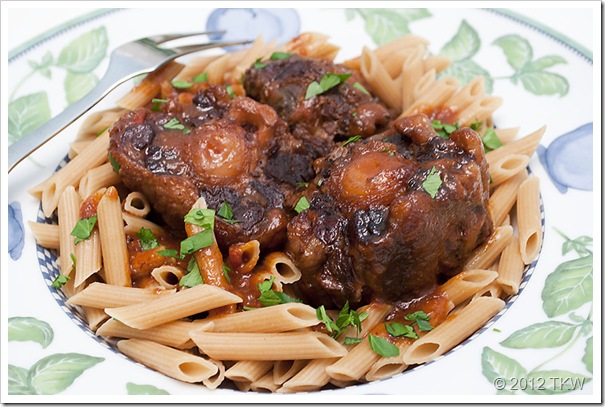 I've been a braisen fool the last month, our Daring Cooks Challenge this month inspired me to braise at least once a week. I posted about the challenge yesterday and featured my favorite recipe Spice-Braised Leg of Lamb with Lemon Preserve. But oh so close was the braised oxtail.
My mom used to make oxtail soup when I was growing, can you believe that silly me thought that it was oxtail? Perhaps it was at one time, but today oxtail is simply beef tail. It has a lot of cartridge and is kind of sinewy. It's a tough cut of meat, it probably got so tough from batting all the flies? Braising is an ideal cooking method for tenderizing humble cuts of meat. I have to complain a bit here…if oxtail is a poor cut of meat, why is it so expensive? It is nearly $5.00 per pound and I live in cattle country! I happened to get some on clearance, you know the frozen for quick sale section, at 50% off. Evidently I wasn't he only one who refused to pay $5.00 a pound for a fly swatter.
Done ranting. Despite the cost, oxtail is a wonderfully meaty dish, braising it in wine and plum tomatoes makes it rich and hearty, the kind of stick to your ribs (or tail) type of meal. I served this with pasta but it would certainly have been wonderful over some creamy polenta or mashed potatoes. This version is done in way of the Romans. I found the recipe at Food Lover's Odyssey, where she explains the Roman connection. I adapted the recipe to suit our household and we were extremely happy with the results. It makes a large portion and made a very nice conversion to stew the next day.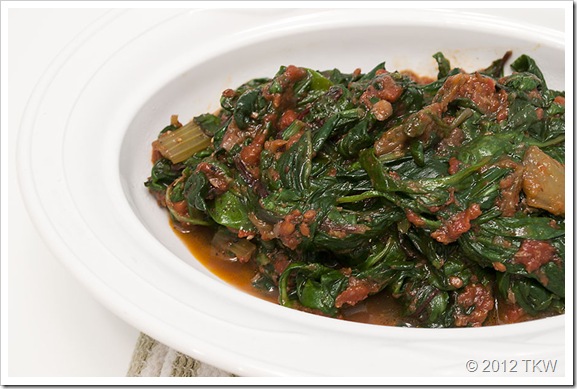 Since we had the whole braising thing going on, why not braise our vegetables also? These young greens were the perfect accompaniment to the uber rich oxtails. Their tang and ever so slight bitterness cut the richness beautifully. The best part? I cooked the greens in a little of the skimmed fat and used the vegetables from the oxtails.
My baby boy was helping with dinner, for some reason he loves to use the food mill. When he was done separating the vegetables from the oxtail sauce I told him to ditch the veg, they already gave all they had. My thrifty boy didn't believe me, he gave them a taste and declared them full of deliciousness. I tried them myself and sure enough they were still very tasty. They wouldn't be good for another long braise but they were perfect added to the greens. Now if the Baby boy was as thrifty about other things…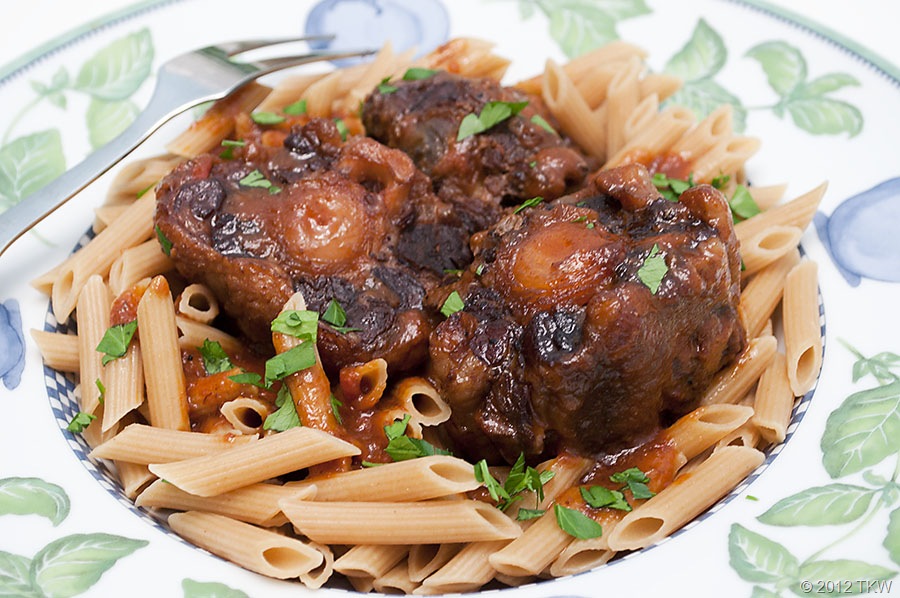 Penne con coda alla Vaccinara (Braised Oxtail and Penne) with Braised Baby Greens
2016-06-11 22:11:54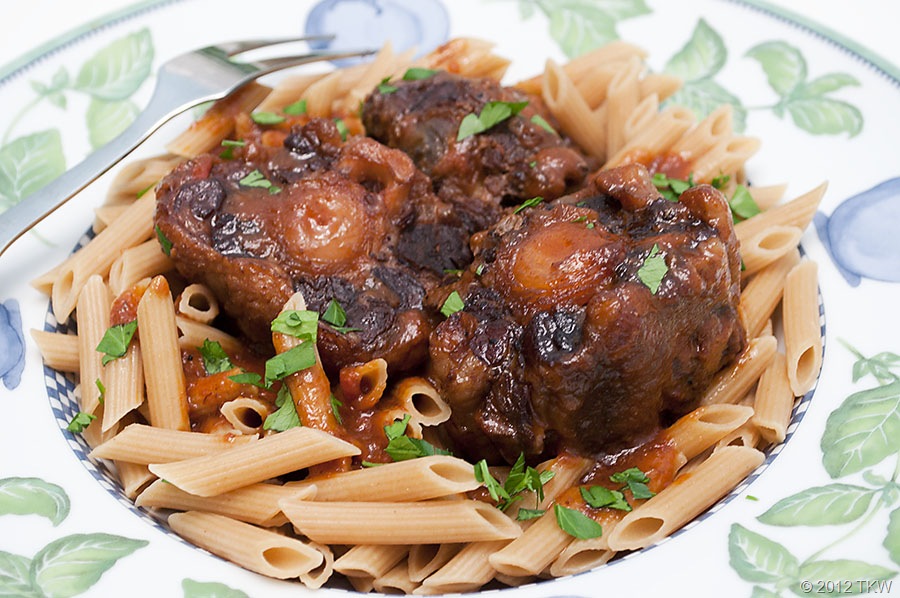 Serves 8
Ingredients
1 tablespoon olive oil
3.5 to 4 pounds oxtail, cut into 2-inch sections
1 tablespoon salt
1 small onion, roughly chopped
1 carrot, cubed
2 celery stalks, roughly chopped
1 head garlic, peeled and halved
3/4 cup red wine
1 can, 28 ounces whole San Marzano tomatoes
About 2 cups beef stock
1 teaspoon freshly ground black pepper
4 cloves
1 pound dried penne pasta, cooked according to package directions
10 ounces washed and dried baby greens
Instructions
In a heavy-bottom saucepot, heat the olive oil. Season the oxtail pieces with salt and pepper, browning each side of the pieces. Remove; set aside. Add the onions and a pinch of salt to the pan. Sweat the onions until they are translucent, 5 minutes. Add the carrots, celery and garlic cooking until tender, about 5 minutes. Deglaze with the wine over high heat, cooking about 2 minutes. Add the tomatoes; using a wooden spoon break the tomatoes into small pieces, bring to a boil. Continue boiling to cook off some of the tomato water. Add the oxtail pieces back to the pot. Add the beef stock just to cover the meat, then season with some salt, pepper and cloves. Bring to a boil. Once it boils, lower the heat to simmer, cover with a circle of parchment paper, and cook for 4 hours (stirring occasionally).
Once the oxtail is tender, remove the pieces to a serving dish. Cover with aluminum foil; set aside. Strain the sauce, pressing down on the vegetables to extract all the juices or use a food mill, reserve the vegetables for the greens. Skim all the fat off the top, reserving 1 to2 tablespoons for the greens, and pour back into pan. Bring to a boil and cook, reducing by 1/2. Taste for seasoning. Pour the sauce over the oxtail and pasta.
To prepare the greens: Heat fat from oxtails in a large pan over medium heat. Add the greens, in bunches if necessary until wilted. Add the strained vegetables from the oxtail, reduce heat and cover. Simmer 15 minutes for baby greens, 30 minutes for mature greens. Season with salt and pepper.
Adapted from A Food Lover's Odyssey
Adapted from A Food Lover's Odyssey
The Kitchen Witch http://www.thekitchenwitchblog.com/

Informal Cookery Definitions A to Z
Bordelaise. (bohr-dih-LAYZ). Is a French sauce named after the famous wine region of Bordeaux. A classic bordelaise includes, bone marrow, butter, shallots, demi-glace and of course a dry red wine. New Orleans has it's own version that has a prominent garlic flavor.
Borscht. (boar-shh). Also seen as Borsch, Bortsch, A red soup made from beet root. The soup is served in a variety of ways hot or cold. The classic borscht uses beet root for color plus other vegetables, potato is almost always included and it is topped with smetana (sour cream).
Bottom Round. A cut of beef also know as rump roast, bottom round roast, round tip roast, or simply pot roast. The bottom round is a lean tougher cut of roast from the, well, bottom or rump of beef. It is best cooked by braising.
Bouillabaisse. (BOOL-ya-base). A French soup, a.k.a. fish soup. It's a specialty of Marseilles, it contains a tomato and saffron base and a variety of fish and shellfish. The soup can be served all in one or the seafood may be removed and served with an Aioli with the broth in a separate bowl.