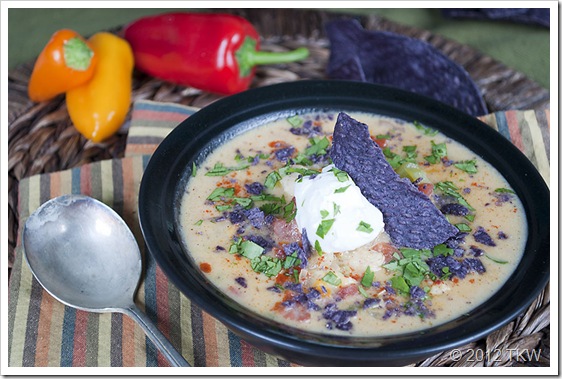 Every month I get so excited about my next Secret Recipe Club assignment. Secret what? If you haven't already heard about the club, it's a club where bloggers are assigned another club member's blog. The idea is to cook one of their recipes and post on reveal day. This is the brain child of Amanda from Amanda's Cookin', currently there are four groups. I'm in Group C hosted by the wonderful (and patient) Angie of Big Bear's Wife.
This month I got Rachel from The Avid Appetite. First of all I have an avid affection for alliterations, so I think the name of her blog is adorable (see how I did that)and so is Rachel. After cruising through her blog and reading the 'about me' section, I decided that she should rename her blog to "The Adorable Avid Appetite". Rachel only got the cooking bug in the last few years, it took wanting to be a "kick ass" wife to get her in the kitchen. She's been blogging her experiences and from what I could tell I think she has definitely mastered the kitchen!
I had to choose a recipe but narrowing things done is always difficult. Lucky for me, Rachel has a Weight Watchers section and since I half heartedly follow Weight Watcher's I wanted to choose a recipe from there. One of the toughest things to manage when counting calories is cooking something fast that isn't junk food. Rachel had posted a quick little recipe for a tortilla pizza cooked in a pan.
I recently bought a Cucina Pro tortilla maker/cooker and had not made tortillas yet (I've made Lefse with it) so I thought I'd make my own tortillas and have some on hand for whenever the tortilla pizza bug hit me. Unfortunately my whole wheat tortillas did not turn out right. I could wax poetic about all the failings but I'll spare you. I was able to salvage a few and made a Mexican tortilla pizza with taco sauce and Weight Watcher's cheese mix. Since I flubbed that one and decided it wasn't worthy of me to share my experiment, I went back to her site; Rachel had just posted another recipe that caught my eye that included the Weight Watcher's points.
Cheesy Chicken Tortilla Soup. Soup lover, check. Cheese lover, check. Mexican food lover, check. Zombie run lover???? You'll have to go to her post to find out what that's all about. I made a few changes to Rachel's recipe to suit our families love of bold flavors and also because I didn't have cooked chicken on hand. My recipe includes using chicken breast, seasoning them and then cooking them at the beginning.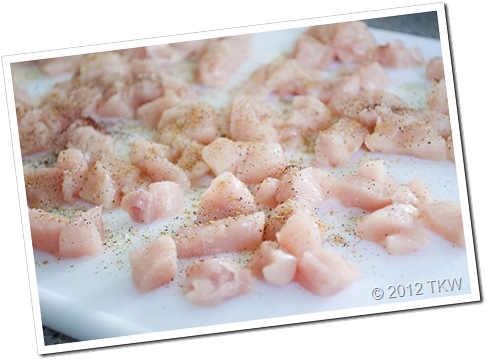 In addition to using the green bell pepper that Rachel's recipe called for I used some of my newest favorite vegetable, the sweet mini peppers plus a jalapeno. I set to chopping the peppers, chop, chop, push aside, new pepper, chop, chop push aside and so on, when I was done I had inadvertently made the shape of a pepper. Just for kicks I stuck a pepper stem on top and took a picture.
I'm a lazy cook for sure, most of the time I like food bold and simple to prepare. Lazy cooks are typically lazy when it come to clean-up also. I clean as I go because I detest a giant mess at the end, that being said I minimalize the amount of dirty dishes I make. One of the little tricks I use is by making an inverted lid a plate. In this case I cooked the chicken and needed to set it aside for later. Maybe not the most brilliant kitchen tip ever, or maybe it is for the other lazy cooks out there..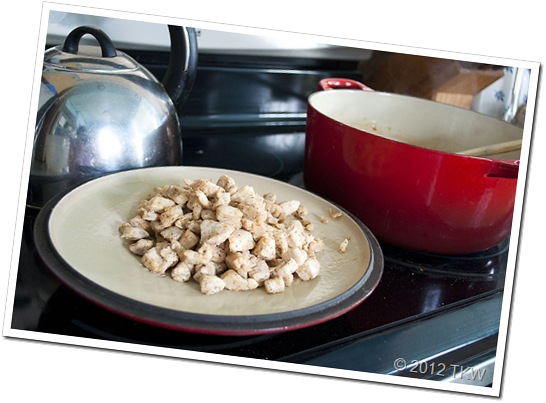 I used light butter versus margarine and fat free half and half. The only other changes were the addition of cumin and smoked paprika and I used blue corn tortilla chips and cilantro for garnish (none of which change the Points Plus value). Very festive!
The soup was like a Mexican Party in my mouth. Creamy and crunchy, cheesy and spicy, hearty but not heavy.
Una Sopa Perfecta!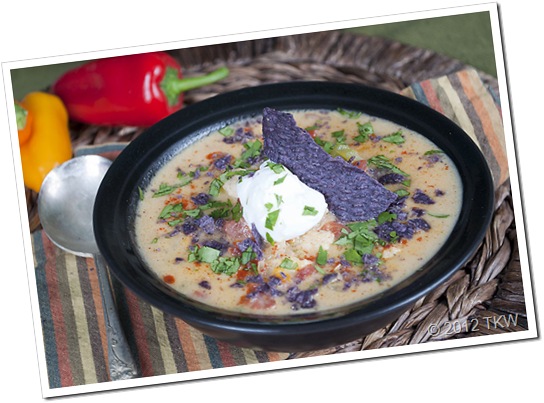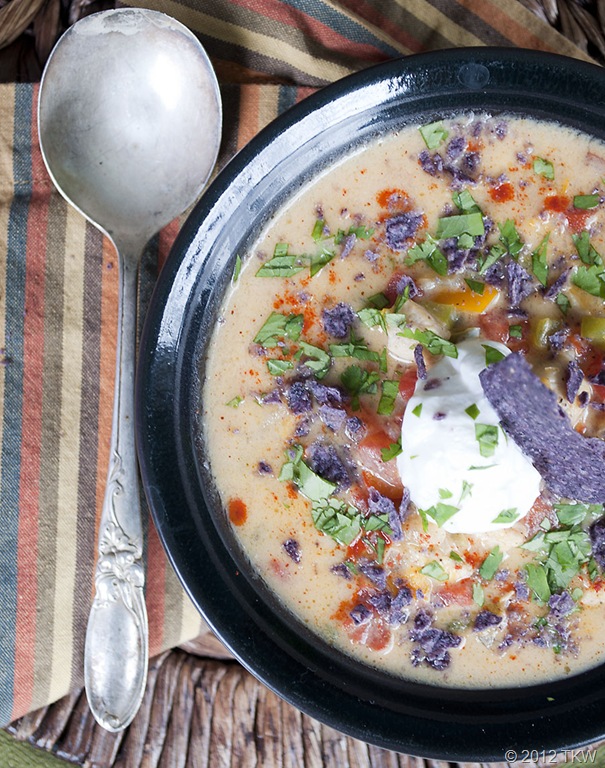 Cheesy Chicken Tortilla Soup
2016-06-11 22:06:37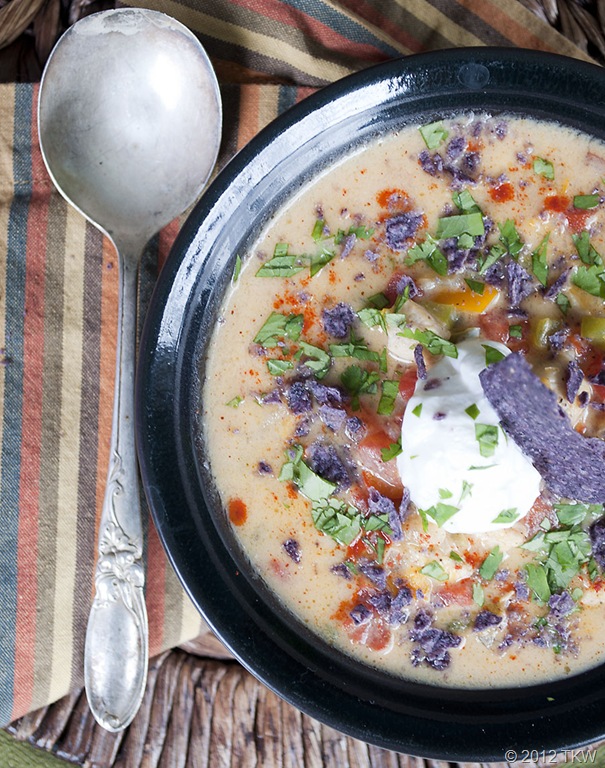 Serves 6
Ingredients
2 chicken breasts, cubed
1 teaspoon olive oil
1/2 bell pepper, diced
2 red mini sweet peppers, diced
2 orange mini sweet peppers, diced
2 yellow mini sweet peppers, diced
1 jalapeno pepper, diced
1 onion, finely diced
2 Tbsp light butter
1/4 cup all-purpose flour
1 cup fat-free milk
3 cup fat free, reduced sodium chicken broth
2 tablespoons fat free half-and-half
1 (14 oz) can diced tomatoes with chiles
2 1/2 C reduced fat sharp cheddar cheese, shredded
kosher salt to taste
Fresh ground black pepper to taste
1/2 teaspoon chili powder, divided
1/2 teaspoon cumin, divided
1/4 teaspoon smoked paprika, plus extra for garnish
tortilla chips, broken into small pieces for topping
sour cream, for garnish
chopped cilantro for garnish (optional)
Instructions
Sprinkle the cubed chicken breast with salt, pepper, cumin and chili powder.
In a dutch oven or other large pot, heat the oil over medium heat, add chicken and cook until chicken is done about 8 minutes (if the chicken doesn't sweat enough moisture to cook it without it sticking add a tablespoon of water as needed). Remove the chicken with a spider or slotted spoon and set aside.
Add the butter, peppers and onions to the dutch oven, saute until tender about 5 minutes. Add chili powder, cumin and smoked paprika, cook for 30 more seconds.
Whisk in the flour until combined, cook for one minute. Whisk in the chicken broth and milk and bring to a light boil, reduce heat and simmer for 5 minutes. Stir in the cheese and half and half. Stir until completely melted and combined.
Sir in the chicken and diced tomatoes. Season with salt, pepper. Adjust spices to suit your taste. Serve with a dollop of sour cream, crushed tortilla chips (with extra on the side) and chopped cilantro.
Adapted from www.theavidappetite.com

Adapted from www.theavidappetite.com

The Kitchen Witch http://www.thekitchenwitchblog.com/

Thanks Rachel for a recipe that my family loved! Please take some time and visit the adorable Avid Appetite. If you'd like to see more Secret Recipe Club reveals follow the blog hop below.

I'd also like to say a special thanks to Jane of The Heritage Cook for babysitting Group C this week while Angie was off in sunny Florida for blogging stuff, THANKS JANE.