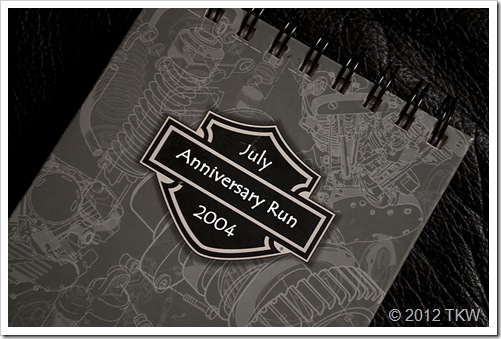 McGyver and I have been traveling from Washington State to Shiloh, Illinois.  McGyver has finally returned from Germany, after a year's separation from me.  He purchased a brand new 2003 Road King while in Germany and had it shipped to Seattle.  His dad kept it for him (and did the break in miles, plus some)  until he was able to move to back to the states.  If you'd like to catch up on the previous days, you can do it here, here, and here.
Wednesday July 14, 2004

5,335 miles to start the day off.  Last night we rolled into Minot just after 9:00 pm (10:00 CST).  Jen met us at Denny's and I hopped in the car with her to maximize our time together and five the ol' bunners a break!

We hung out at her house and caught up.  Lonnie hit the sack about 1:30 and 2 bottles of Muscato and a couple of beers later Jen and I rolled into bed about 3:30 or so.  We hung out in the morning, did laundry, played with the two cutest boxers ever (Abby and Buster) then went to HD [the Harley dealership] in Minot.

McGyver got some oil for the bike.  The Road King really needed the 5,000 mile check but HD was unable to accommodate us.  Jen bought us each a shirt and then we had to hit the road.  As much as we love to ride, it is really hard to leave good friends.

Our next long rest stop was in Jamestown, ND.  We had to stop – couldn't miss visiting the World's Largest Buffalo. 

We checked out "Frontier Village", took photos, visited the "Buffalo Museum", bought some small souvenirs for the kids and to the Frontier Shop to eat some Buffalo.  Found out that buffalo taste pretty good.

We finished the day in Fargo, ND.  McGyver wanted to stop while there was still light.  We stopped about 80 miles short of the plan so we'll have to make that up.  McGyver wanted to check out the right saddle bag, it was rubbing against the frame and some of the paint came off.  It looks like it was mounted wrong.  Since it'll need to go back to the dealer for adjustments will just put some clear packing tape on it to protect it temporarily.

After relaxing, having a couple of drinks we'll get some rest and get ready for an early start tomorrow.
Notes:  The World Largest Buffalo was built in 1959 and it is 26 feet (7.9 m) tall, 46 feet (14 m) long and weighs 60 tons.  If you ever go through Jamestown, ND it's worth stopping to see.