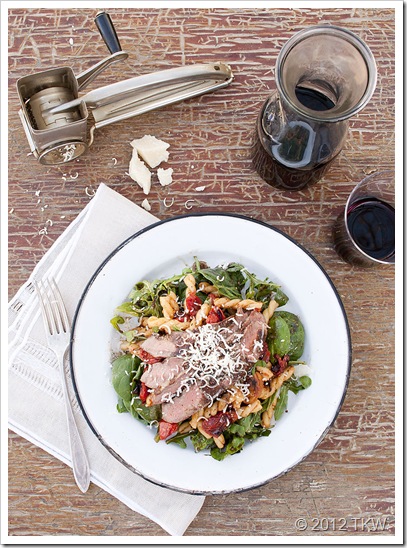 We've certainly had an unusual winter this year, not much snow but a lot more grey days. Deep dark depressing grey days. Days that make you want to cuddle up on the couch with a good book or movie and some hot tea and not leave the house (or couch) at all. It was one of those days when I was doing some reading, blog reading, when I ran across Lea Ann's (from Cooking at the Ranch) Rocky Mountain Steak Salad.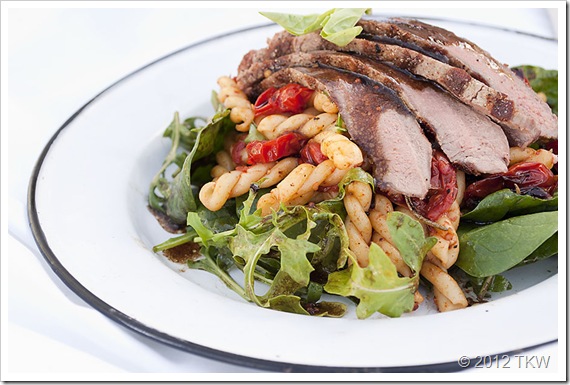 You ever read a recipe and go down the mental pantry checklist in your head. Arugula √, steak √, spinach √, grape tomatoes √, pasta √, vinegar, mustard, garlic, basil….√√√√ and so on. The timing was perfect, I had a surplus of grape tomatoes, arugula and spinach from a recent Sam's Club trip and I needed to use them up fast. It's weird how those clam shells of lettuce products, you open them up take gobs and gobs of stuff out and yet they remain full….kind of like my laundry chute.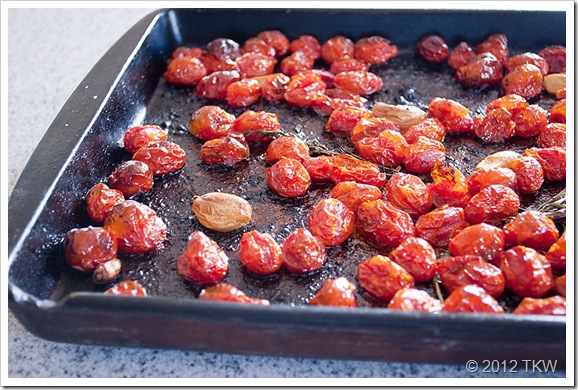 I made the recipe on a beautiful day, a change up from just the day prior and as bloggers do, I changed the recipe up a touch. My mental checklist wasn't very good, I was missing an ingredient..cilantro. Well, I wasn't exactly missing it but it was just too slimy to use. Scratch that and adapt and overcome. I decided to roast the tomatoes since I had 3 cups and knew after roasting it would seem like a lot less, plus the richness of the tomatoes roasted with rosemary and thyme were a great flavor combination with grilled steak, a vinaigrette and peppery arugula.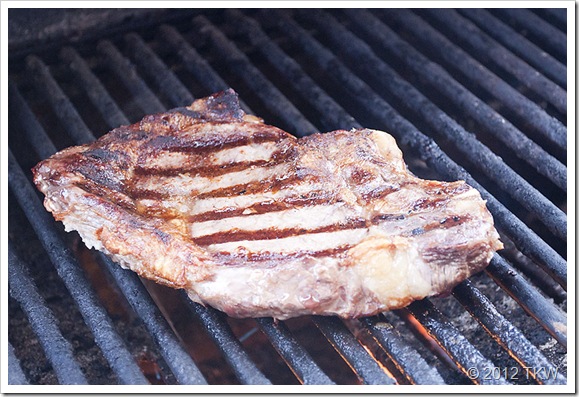 An unbelievable change from dreary days before, my heart was virtually singing when my eyes soaked in the sun. A great day to grill; while I was grilling my steak I heard, peck, peck, peck. There on my old maple was a woodpecker adding character to my tree. I grabbed my camera to take a photo but I only had my 18 – 55mm lens on. Can you see the woodpecker? Unfortunately my steak cooked longer than I prefer, bird distraction, what's a poor girl to do?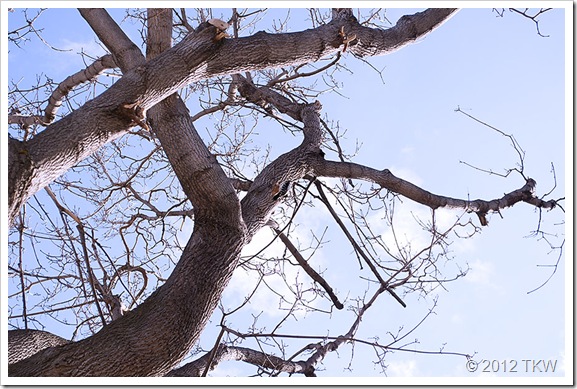 Lea Ann's recipe was a little more pasta centric, with us trying to eat healthier, I made this more greens centric and tripled the amount of greens. Then I turned it into a layered salad, versus a tossed pasta and steak salad. In the end, I ended up with 8 hearty servings at 12 points plus each. For those of you who do Weight Watcher's that may sound like a lot but its an all in one meal and totally, totally worth it.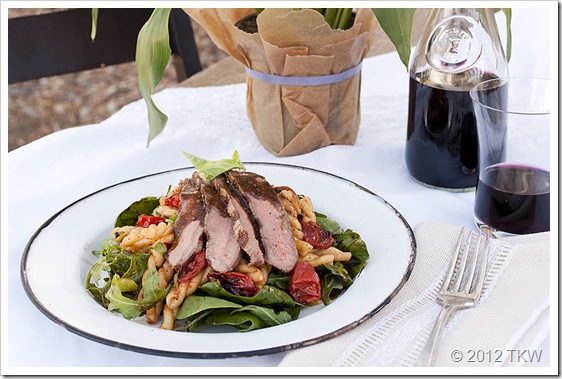 Lea Ann recently had a giveaway and guess who was the winner! Can you believe it? I got my stuff on Monday but already had planned to post a recipe from Lea Ann on Wednesday…a recipe made well over a month ago.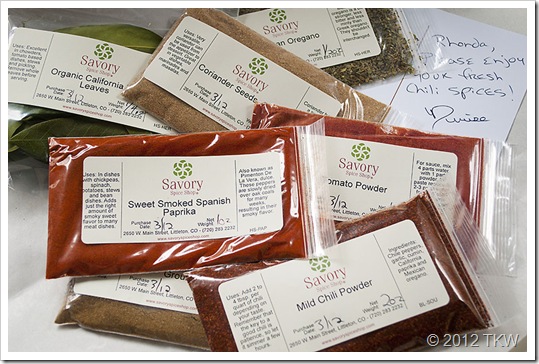 Thanks Lea Ann for the chili spices from the Savory Spice Shop and another great recipe.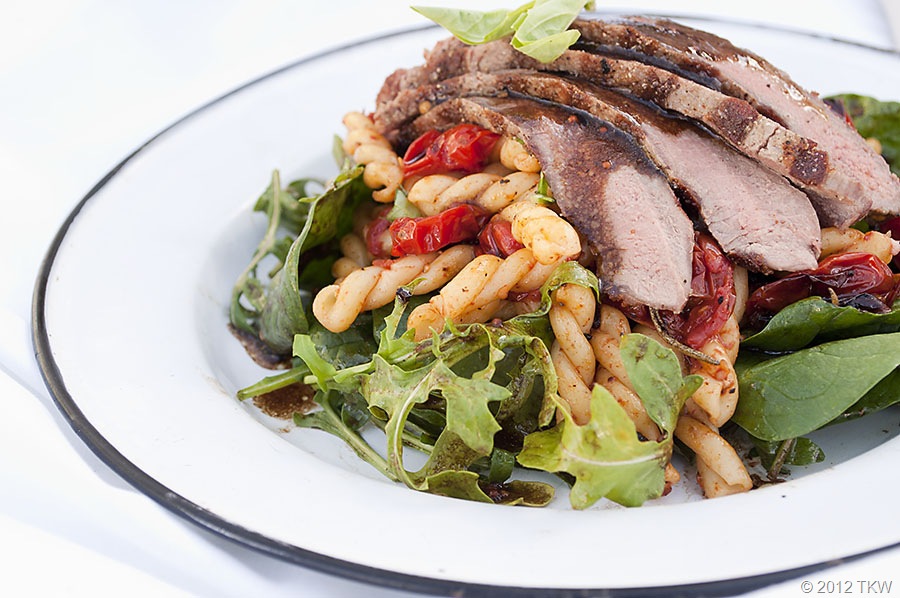 Rocky Mountain Steak Salad
2016-06-11 21:25:43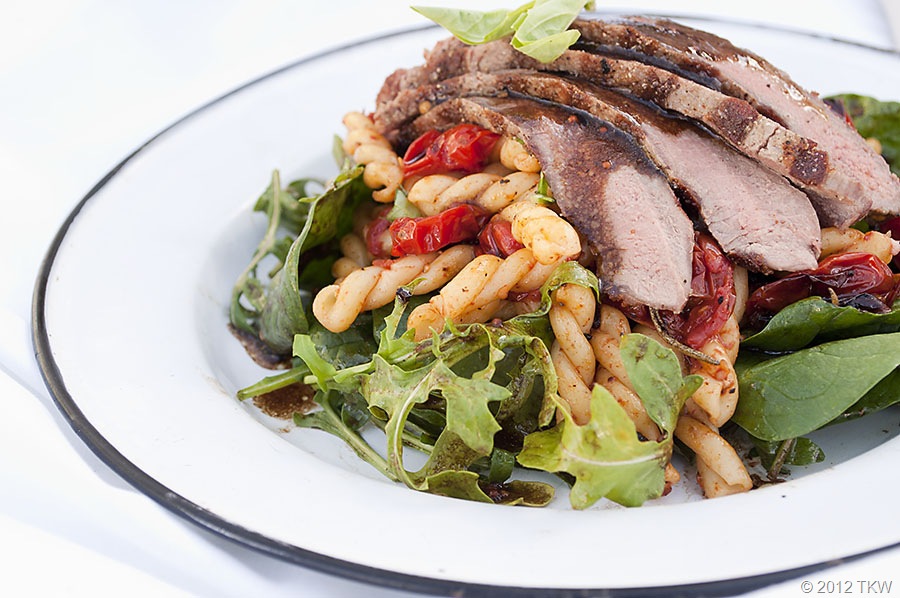 Serves 8
For the Roasted Tomatoes
3 cups grape tomatoes
1 tablespoon olive oil
Kosher salt and pepper to taste
1 sprig rosemary
1 large sprig thyme
1/2 head garlic cloves, peeled (optional)
For the salad
8 ounces pasta (penne, gemelli, etc.), cooked al dente and drained.
1/2 cup extra virgin olive oil
1/4 cup balsamic vinegar
1 tablespoon Dijon mustard
1 clove garlic, minced
1/2 cup chopped basil
6 cups spinach leaves
6 cups baby arugula
1 (12 ounce) steak
Kosher salt and pepper
Grated Parmesan cheese (optional)
Instructions
To roast the tomatoes: Preheat oven to 400F. Spread the tomatoes evenly on a rimmed baking sheet, drizzle with oil, generously salt and pepper. Add sprigs of rosemary, thyme and garlic (optional). Roast 20 minutes, check tomatoes. If they are dry add 1 to 2 tablespoons of water, continue roasting another 20 to 30 minutes. Set aside and let cool.
For the dressing: whisk together the extra virgin olive oil, balsamic vinegar, dijon mustard, and garlic. Salt and pepper to taste. Set aside.
Generously season the steak and grill to desired doneness. Let the steak rest 10 minutes before slicing.
To assemble the salad: lightly toss the arugula, spinach and basil with 1/2 the dressing, divide evenly between 8 plates. Mix the cooked pasta with the roasted tomatoes, layer on top of the dressed greens. Slice the steak and divide evenly between plates on top of pasta. Serve with additional dressing and garnish with grated Parmesan cheese if desired.
Adapted from Cooking at the Ranch
Adapted from Cooking at the Ranch
The Kitchen Witch http://www.thekitchenwitchblog.com/

Informal Cookery Definitions A to Z
Bread Crumbs. Bread crumbs refers to pieces of bread that has been broken down into smaller pieces. Soft bread crumbs are from fresh pieces of bread that are typically torn up by hand. Dry bread crumbs (which are sold in grocery stores) are from old or dried bread that has been broken down into pieces. A food processor is a quick way to make fine dry bread crumbs such as crumbs used as breading, broken apart dried bread crumbs can be turned into stuffing.
Breaded. A term to described food that is coated and cooked with fine bread crumbs. Typically the food item is dipped in an egg wash to help the breading stick.
Bread Knife. A long thing serrated edged knife.
Bread pan or loaf pan. A rectangle shaped pan used to cook bread in.