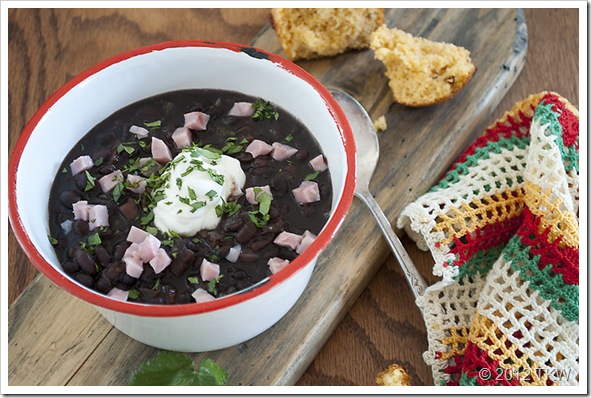 The humble little bean, one of the cheapest and most musical foods you can buy. For years the only beans in my life were navy beans, green beans, chili beans, refried beans and the horrid lima bean (never liked them as you can tell). What child didn't sing the praises of the bean?
Beans, beans, the magical fruit, the more you eat the more you toot. The more you toot the better you feel so eat beans at every meal
My sister and I would roll with laughter after singing the little bean ditty, then we would make tooting noises of our own…immensely funny! Who am I kidding, I've never stopped singing that song, as a matter of fact I taught my children it (along with some others that probably shouldn't be shared) and we would laugh and make tooting noises and laugh some more.
All the musical attributes aside, the bean is a darn good food and you really can't beat the price of dried beans. What other food product can you buy for a buck and a half and get several days' worth of meals out of it? Plus, cooked beans freeze wonderfully, if after day two you've had your fill, just freeze and bring it out later.
Like any meal, having the same thing over and over gets old fast. I've expanded my bean repertoire and now I don't ever get tired of the humble musical little legume. Besides navy beans, kidney, and pinto beans some other beans that have been featured in my kitchen are: broad beans, chick peas (garbanzo), cannellini, lentils, soy beans, and of course the black bean.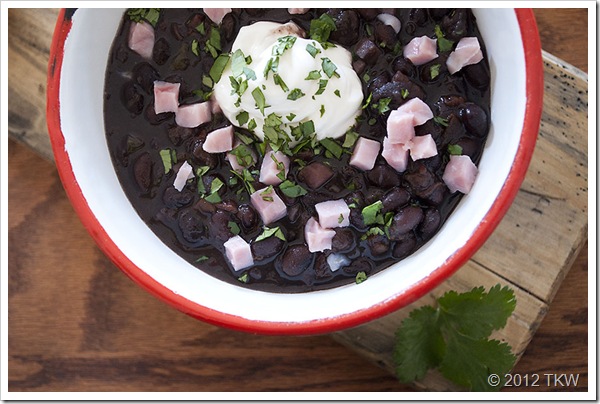 I love black beans; I think they are the most beautiful and sexy bean in the world; if a bean could be beautiful and sexy. When you cook black beans the liquid also turns a gorgeous deep black, it's like looking into the pupil of an eye. This endless pool of blackness that you know is going to delight your taste buds also.
I use an electric pressure cooker to cook my beans in; no soaking required, all the ingredients (except the garnish) go in at the same time and it's done in an hour. They are a great appliance if you are a poor planner. If you don't have a pressure cooker you'll want to soak your beans overnight to soften them up.
My chipotle cornbread bread muffins are a perfect accompaniment to this soup; you can get the recipe here.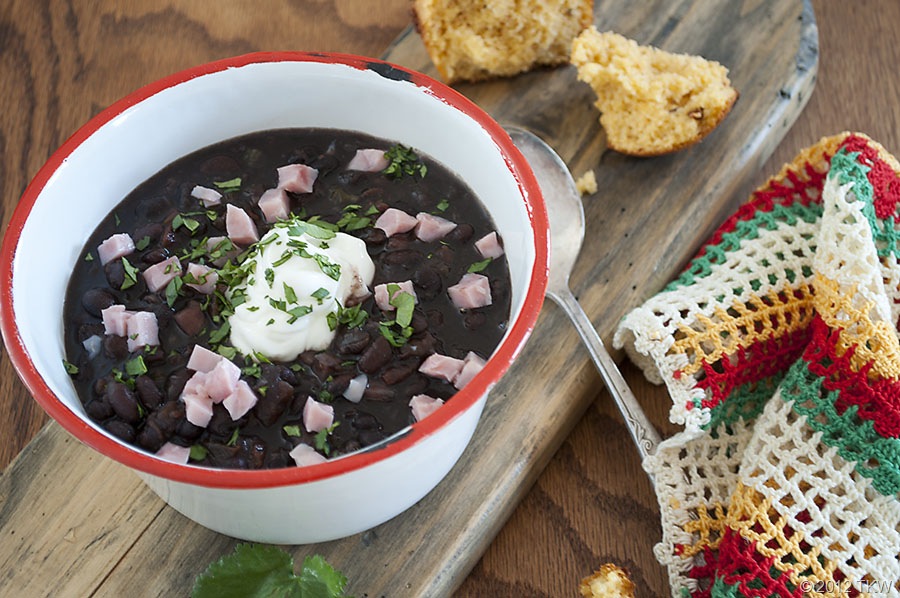 Mexican Black Bean Soup (sopa de frijoles negros)
2016-06-11 21:12:52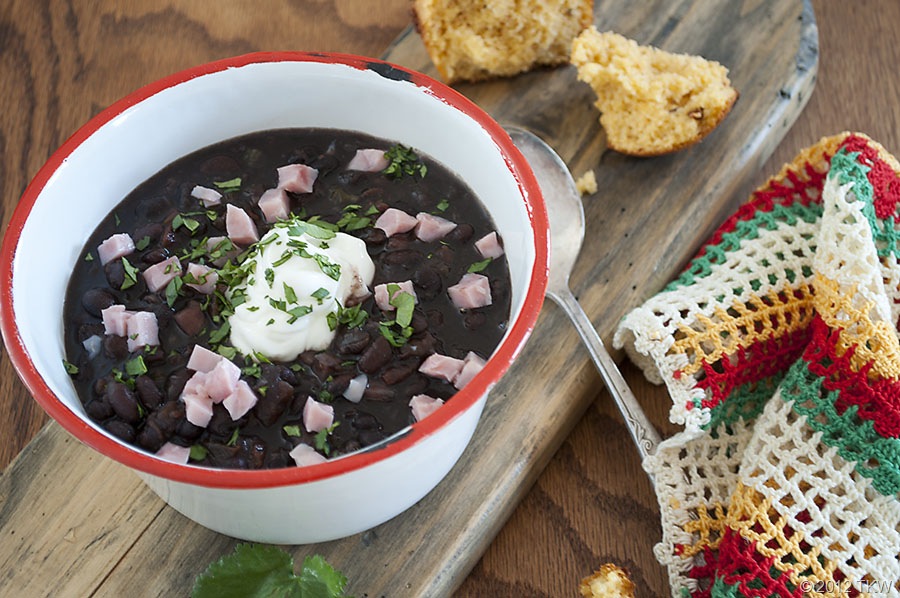 Ingredients
1 pound dried black beans (use the one that comes with the seasoning packet)
½ large onion, diced
2 cans Mexican style Rotel canned tomatoes
1 Jalapeno, seeds removed and minced
1 16 ounce package of diced ham (1/2 cup set aside for garnish)
Chopped fresh cilantro (garnish if desired)
Sour cream or plain yogurt (garnish if desired)
Instructions
Day before: sort through the beans and pick out any little pebbles or debris. Place the beans in a large pot and cover with water, let soak overnight.
The next day, drain beans and add 7 cups water. Bring the beans to a boil then reduce to a simmer. Simmer uncovered for 1 hour.
Add diced onion, canned tomatoes, jalapeno and ham. Continue to simmer another 1 ½ hours. Add the seasoning pack and simmer for ½ hour more.
Garnish with a little sour cream, diced ham and chopped cilantro.
Alternatively the beans can be cooked in a crockpot. Place pre-soaked beans, 7 cups water, onion, tomatoes, jalapeno and ham in a crockpot. Cook on low for 8 to 10 hours or on high 6 to 8 hours.
The Kitchen Witch http://www.thekitchenwitchblog.com/

Informal Cookery Definitions A to Z
Brisket of Beef. A cut form the shank or foreleg, it's a boneless less-tender cut of beef. It is corned for corned beef and typically cooked low and slow. It's a very popular cut for smoking and grilling.
Broccoli. Is a member of the cabbage family, it's an Italian word, in England the green flower-like sproutings was sometimes referred to as "Italian asparagus". It did not become a popular vegetable in the United States until the 1920s.
Broil. To cook by very hot direct heat. Such as under the broiler of an oven or above the coals in a grill.
Broth. It is simply the liquid in which food is cooked in whether vegetable of meat. It is also another term used to refer to a soup.