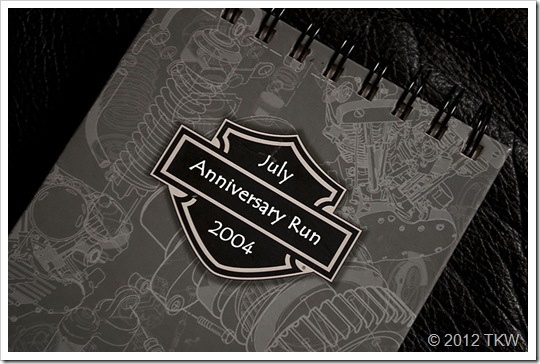 McGyver and I have been traveling from Washington State to Shiloh, Illinois.  McGyver has finally returned from Germany, after a year's separation from me.  He purchased a brand new 2003 Road King while in Germany and had it shipped to Seattle.  His dad kept it for him (and did the break in miles, plus some)  until he was able to move to back to the states.  If you'd like to catch up on the previous days, you can do it here, here, here, here and here.
Friday July 16, 2004

We woke up early ( a few times) due to a severe thunderstorm.  I was so glad that we were in a hotel instead of out on road.  When we got out of bed it was still grey and a little nasty out and after checking the news that had flash flood warnings we decided that we would take out time getting ready.  We were hoping that it would clear up soon like it often does in the Midwest.

After a leisurely breakfast – a bit too leisurely – it was the first time the newly renovated Holiday In was serving breakfast [slow service].  Things happen for a reason and once we got outside the weather was nice and clearing up.

We started off with 6,279 miles.  The last leg of the ride is tough, you're eager to get home but hate the end of a good ride.  We made only one long rest stop to see Nostalgia Town and checked out some cool retro stuff, then headed out.

We really didn't run into any traffic until St. Louis – no surprise there!  We got home just before 4:00.  Janet had bought some fresh flowers to welcome us home.  We unpacked, took showers, got some beer and decided to take it easy the rest of the night.  Janet wisely decided to go else where for the night and McGyver and I celebrated his coming home to stay.

We ended with 6,507 miles on a 6 day run.  We traveled 7 states, did a total of 2, 599 miles and averaged 466 miles a day – not bad at all.  We're looking forward to our next long run to????
That's the end of this trip but not of my journal.  I'm really excited about my next piece, it's my first "big girl" ride on my own bike…I'll be challenged like I never could have imagined.