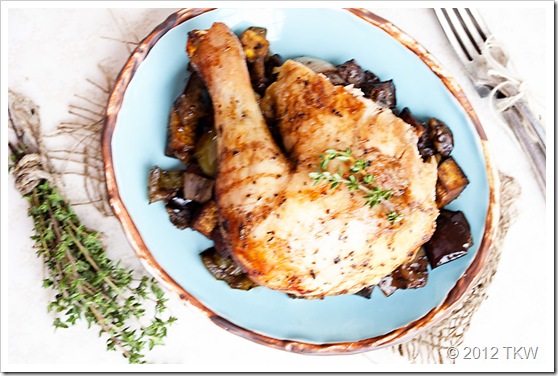 Our Daring Cooks challenge this month was more like a scene from "Chopped", contestants, open your baskets.
In basket 1 you have Parsnips, Eggplant, and Cauliflower
In basket 2 you have Balsamic Vinegar, Goat cheese and chipotle peppers
In basket 3 you have maple syrup, instant coffee, and bananas
The challenge was to pick one ingredient from each list and create a main meal from them. The challenge this month is hosted by David and Karen from Twenty-Fingered Cooking. The purpose behind this challenge was NOT to have a "Chopped" challenge, it was to inspire original…truly original recipes from a set of ingredients.
Although I am a laaaaazy cook, when a challenge is thrown down I can't just meet the minimum, I must go above in beyond. I decided to make 3 main dishes (on different days of course…I not that motivated to do it all in a day), I made each dish from one of the "baskets".
The first dish I made was the roasted chicken (see picture above), but I'll get to that later.
The second dish I made was a Cowboy Steak with Pureed Cauliflower and Goat Cheese topped with a Red Eye Gravy. For this manly dish the mandatory ingredients were: cauliflower, goat cheese and instant coffee. Cowpokes, lemme tell you this is one of the best steaks I've ever made in my life, and that's all I have to say about that.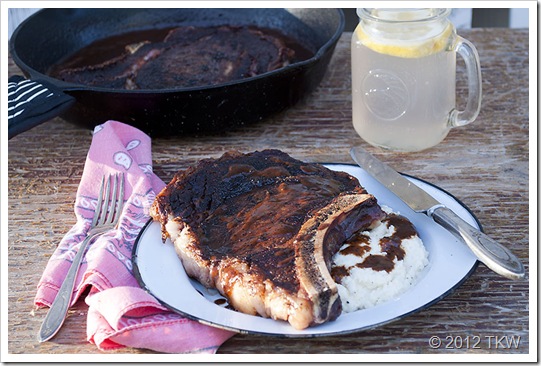 Dish number three, was pan seared Salmon with roasted parsnips and carrots topped with a maple chipotle sauce. The mandatory ingredients were: parsnips, chipotle peppers and maple syrup. Thank goodness I was at home and didn't have to mind my manners so I could guilt free lick the plate.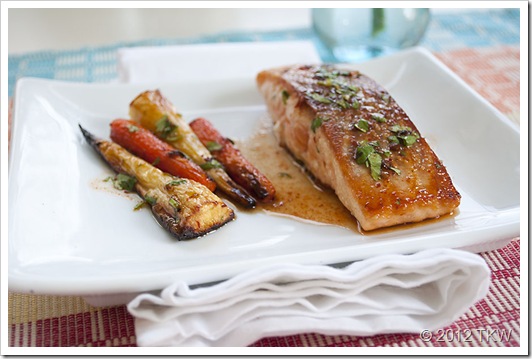 Back to dish number one, here I made roasted chicken, eggplant and plantains with a honey balsamic glaze. The mandatory ingredients were: eggplant, balsamic vinegar and bananas (plantains in my case). Another delish recipe.
Did you notice that I also use three different proteins and three different cooking methods for them? That was a little extra personal challenge set up by moi.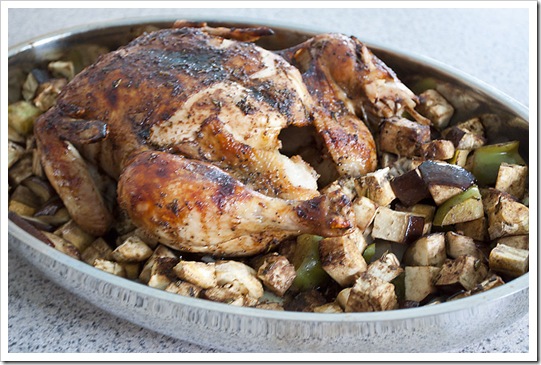 I absolutely adored the glaze on the chicken and vegetable, the honey and vinegar were very complimentary of each other, kind of that sweet/tart thing that keeps you coming back for more. Out of every dish I made I was least happy with the veggie side to this one. All the flavors were there, the under ripe plantain roasted beautiful, crisp on the outside and tender on the inside, but….they all turned into a very unappetizing color once fully roasted! I would not serve them again due to the unfortunate coloring (which is why in the completed photo up top, they are under the chicken.
Because I'm wordy and have so much more I want to say about the other two dishes, and for the sake of my dear readers and fellow Daring Cooks who have little precious time like the rest of us, I am only posting the roasted chicken recipe today. I invite, no I implore you to come back and check out the other two dishes, it'll be worth it…pinky swear!
If you'd like to check out more about the challenge please visit The Daring Kitchen.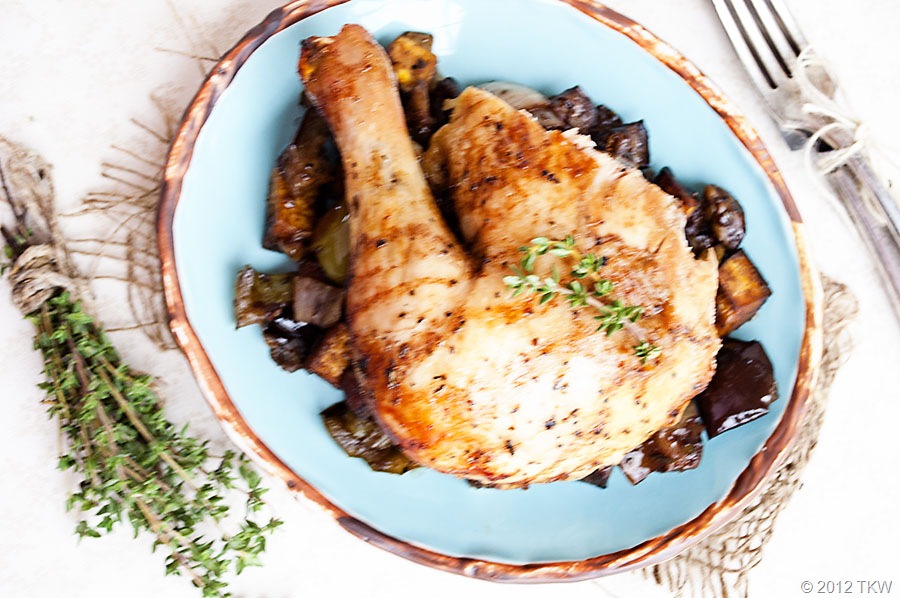 Balsamic Honey Roasted Chicken, Eggplant and Plantains
2016-06-11 20:45:30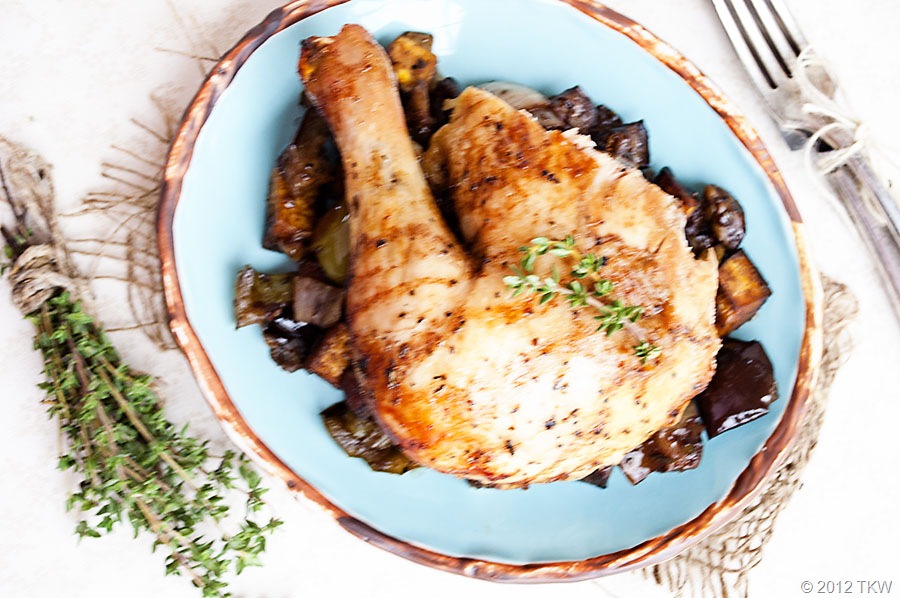 Ingredients
1 roaster chicken, rinsed and patted dry
1/2 stick butter, slightly softened and cut into slices
Kosher salt and fresh ground pepper
1 eggplant, cut into 1" dice
1 green plantain, peeled and cut into a 1" dice
1 onion, diced
1 green pepper, diced
1/2 cup balsamic vinegar
2 tablespoons honey
2 tablespoons coarse ground Dijon
1 tablespoon rosemary, minced
1 tablespoon thyme, minced
Instructions
Preheat oven to 375F. Rinse and clean chicken, pat dry. Using your fingers carefully slip them under the skin and separate the skin from the flesh in every place possible. Be careful not to tear the skin. Slide the thin slices under the skin and distribute evenly. After all except 1 1/2 to 2 tbsp. of the butter is under the skin, gently massage the butter to spread out over as much of the meat as possible.
Melt the remaining butter and brush it over the outside of the chicken. Liberally sprinkle with kosher salt and black pepper. Place chicken on a v-rack breast side up in a roasting pan. Roast breast side up for 45 minutes. Remove from the oven, turn the oven down to 200F then carefully turn the chicken over so it is breast side down. Roast the chicken for an additional hour.
After 1 hour, turn the oven up to 400F add the diced vegetable to the pan, pour 1/2 the balsamic vinegar glaze over chicken and vegetables, and roast for 10 more minutes, next remove the chicken from the oven and turn it back to breast side up and pour the remaining glaze over the chicken. Place back in the oven for another 10 to 15 minutes or until a meat thermometer reaches 170F to 175F.
While chicken is resting, stir the vegetables and continue to roast the vegetables until the plantain is tender, about 10 to 15 more minutes.
The Kitchen Witch http://www.thekitchenwitchblog.com/

Informal Cookery Definitions A to Z
Buffet. (BUFF-eh). Originally it was a piece of furniture or other set up where the food was laid out in a banquet hall. Now, it is more commonly used to refer to serve yourself dinners, especially in all you can eat restaurants.
Bulgur. It is wheat that has been cracked into coarse fragments after it has been cooked, dried and some of the bran removed. It's a Turkish term and is used in making couscous and many other Middle-Eastern dishes.
Bully Beef. Another term for Corned Beef.
Burgoo. (Bur-GOO). The true origins of the name are not known but may have come from Kentucky. During the frontier days there would be huge community get togethers where everyone would add to a stew that was cooked in a huge cast iron pot called a burgoo.