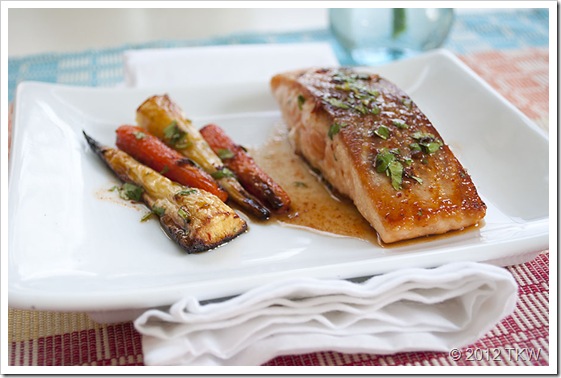 Here is the last of my dishes from The Daring Cooks Challenge. The mandatory ingredients I selected for this one was: maple, chipotle and parsnips. Although this dish wasn't at the same show stopper level as the Cowboy Steak with Red Eye Gravy, if I would have made this first I probably would have thought so.
I simply roasted the carrots and parsnips (a little too much…), salted my salmon and pan seared, it was the ridiculously sweet and spicy sauce that pulled it all together. It had just the right amount of sweetness with a small kick that followed close behind.
The recipe for the sauce is more than you need, because I had extra, I discovered that with the addition of some vinegar it also made a great salad dressing. I definitely see myself making this as a dressing for my next Southwest style salad.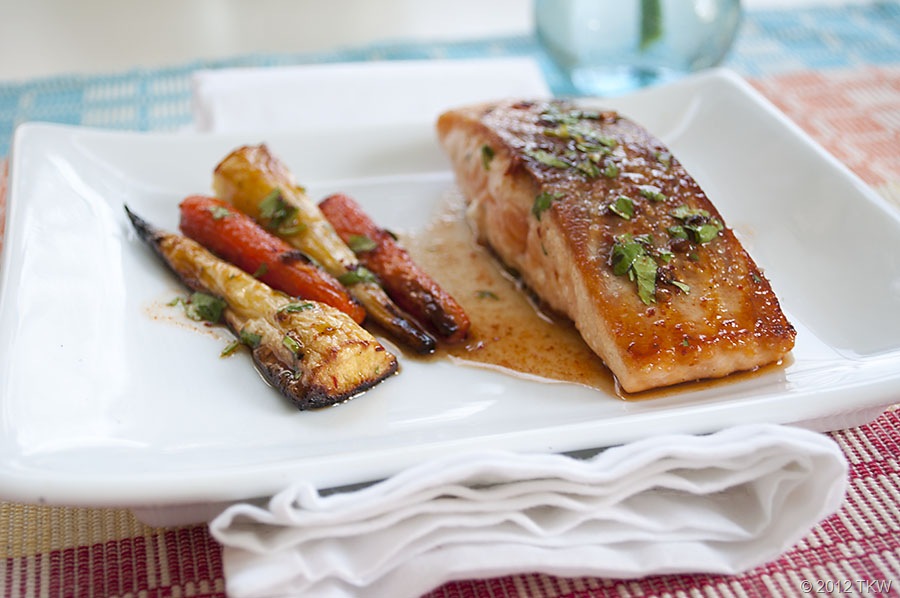 Pan Seared Salmon with Maple Chipotle Sauce
2016-06-11 20:26:52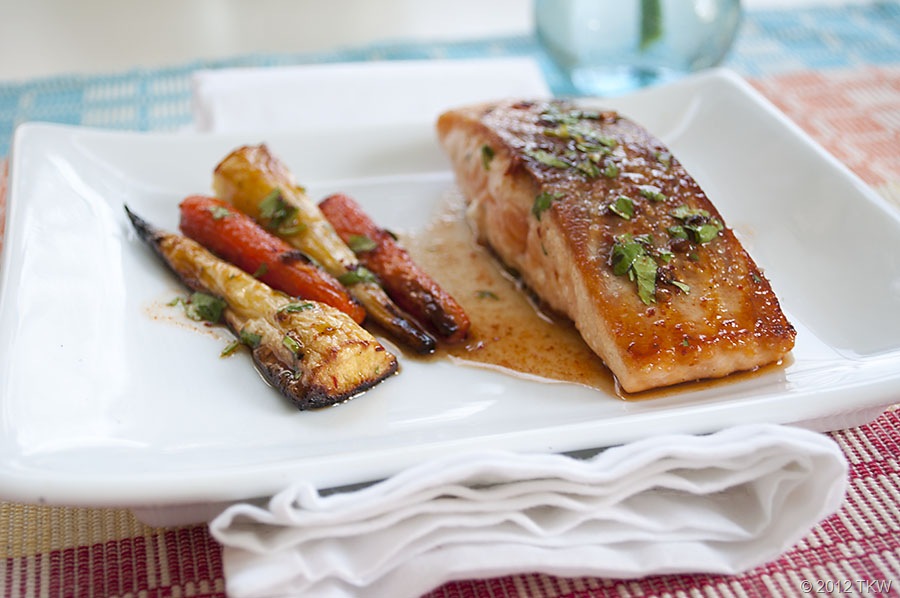 Serves 4
Ingredients
4 salmon steaks
1 tablespoon canola oil
1/2 cup maple syrup
1 tablespoon chipotle en adobo
1 tablespoon fresh squeezed lime juice
Kosher salt and fresh ground pepper to taste
1/4 cup cilantro, chopped
Instructions
For the sauce: mix maple syrup, chipotle and lime juice, add salt and pepper. Set aside.
Heat a large heavy skillet over medium high, add oil. Lightly salt the salmon, place the salmon skin side down first into the pan, turn heat down to medium and fry 5 minutes on each side or until crisp and brown. If you prefer your salmon well done, finish it in a 350F oven for another 5 to 10 minutes. Let the salmon rest 2 minutes prior to serving. Serve with the sauce drizzled over it and garnish with cilantro.
The Kitchen Witch http://www.thekitchenwitchblog.com/

Informal Cookery Definitions A to Z
Cacciatore. (kaht-chah-TOH-rih). In Italian it mean "in the style of the hunter". It's a style of dish made with onions, garlic, tomato, herbs and wine. The two most common protein ingredients are chicken and rabbit.
Caesar Salad. When traditionally made it contains lettuce, grated parmesan, croutons and a pungent garlic dressing.
Café. A French term referring to a coffee, as in café au lait, or a coffeehouse, or perhaps a small place that serves light snack with coffee, tea or other beverages.
Café au Lait. French for coffee with milk.