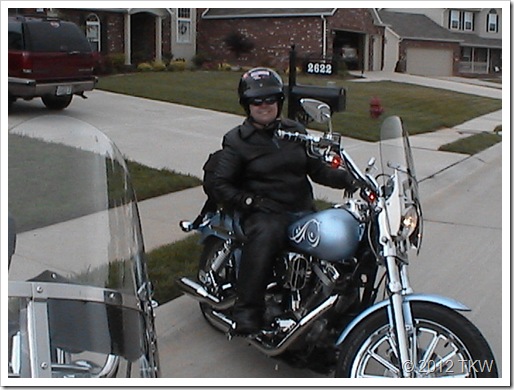 Before I go into the journal part of my trip, I'm going to share a little background.  I got my motorcycle license at the end of the riding season in 2003.  I took my 1998 Superglide, which I had bought from McGyver (it was the bike we fell in love on) out for my first spin and promptly dropped it in a cul de sac.  McGyver was living in Germany at the time, so I decided maybe I better wait until I have someone experienced to ride with.
The following year I did a lot of riding, mostly just putting around the local area and a few adventures (some unintentional).  The bottom line was, I was a inexperienced rider coming into 2005.  Plus I had very little confidence since I seemed to drop my bike a wee bit more than I should have been…grrr those low slow left turns.
McGyver and I planned this trip to go up into the Smokies and ride the infamous Tail of the Dragon.  A hot spot ride for bikers and sports car enthusiasts.  What I didn't know…let's just say, what I didn't know 'my ignorance' was probably a good thing, otherwise I would have been scared to death and not excited!
May 22, 2005

First Rally of the year and my first "big" ride.  This past winter we had the SGlide custom painted and chromed out, lowered too.  She looks beautiful!  Anyways, Sturgis is coming up and it's time to get road ready especially for me.  So, as soon as the weather was decent (and the SGlide too..another story) we jaunted around the local area and the River Road.

We had heard about the "Tail of the Dragon" a road with 318 curves in a mere 11 mile stretch, shortly after hearing about this fantastic road we found out about the "Wakin of the Dragon Rally" and knew we had to go.

It took a lot of planning, i.e. getting child care but after that we were good to go.  We dropped Ryan off at school and then we took off about 9:00 am, it was overcast and cool but just right.  The ride was as well as anyone could want – evidently we were lucky enough to miss the heavy rain.  We'd drive up to areas where the road was soaked with puddles but no rain.

Despite the distance we traveled (550 miles plus in 10 hours with stops), we only got off track only for a short way and ended up taking the scenic route through highway 321 and the Foothill Parkway in the Smokey Mountains.  Once on track we found the Punkin Campground with no problems.

After we were all set-up we hung out at the lodge, drank beer and enjoyed meeting folks.  Lonnie even scored some local Moonshine from a toothless drunk – let me tell you what – it was good!  That is, until the cops chased him off.

We got off to bed at a reasonable time – about 11:30.  McGyver's pea sized bladder only woke him up once. Minus a few "girls gone wild" we slept well.
Our Camping Site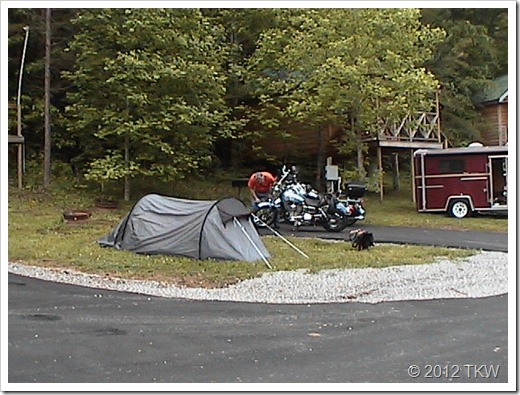 Yes, we both slept in that tiny tent.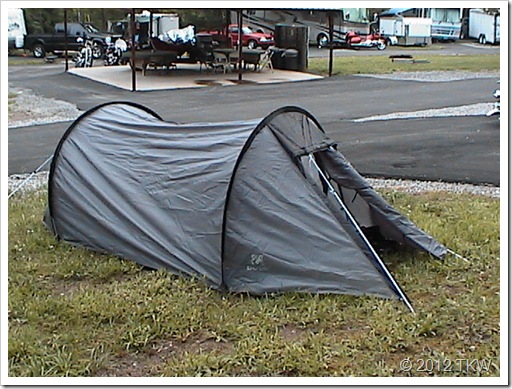 The office and the place to hang out at the end of the day.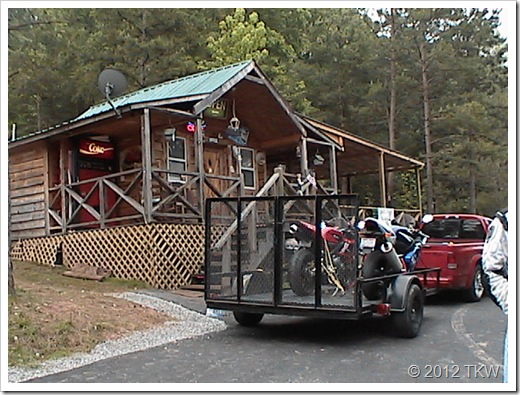 I was a little concerned that the bears might clue in on the slow children….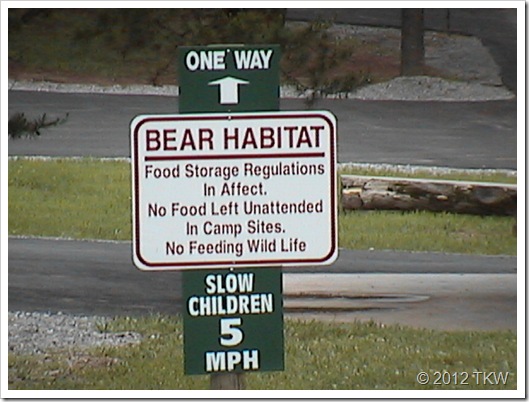 That's the end of day one, so now I'm there, next week will be all about THE RIDE(s) and the rally.