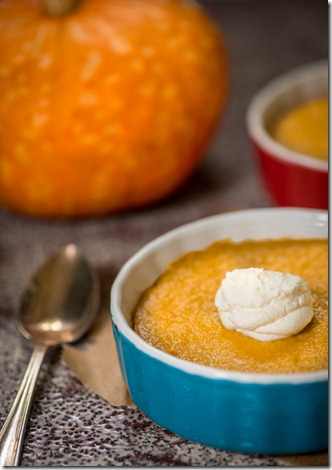 Is there anything more quintessentially fall than pumpkins? As I sat in my little adobe, I was so sadden that I was by myself and that buying hoards of pumpkins was not very practical. Normally I surround myself with the beautiful orange globes that reminds me of one of my most favorite seasons.
However, I had to move out of place before Halloween and honestly it wasn't worth going all out for. It can be so difficulty to be practical. But a trip to the local organic store broke my willpower. Soon I found myself spellbound, unable to resist the call of the fresh pumpkin.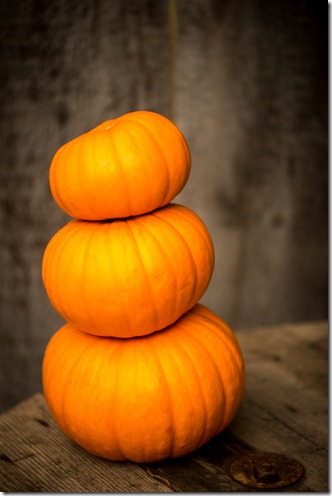 I caved. More like I compromised. I didn't purchase any big pumpkins, nothing for carving, but instead picked up a few pie pumpkins. Just a few… I know people thought I was crazy buying these guys, cause, I, umm was stacking them in the store to see how it would look for a picture. I spent an inordinate amount of time stacking pumpkins.
Why do I stack pumpkins in public places?
"Mommy, why is that lady stacking pumpkins?"
"Well, honey it's because, um she needs too, well, I guess she has special needs."
Enough about public humiliation.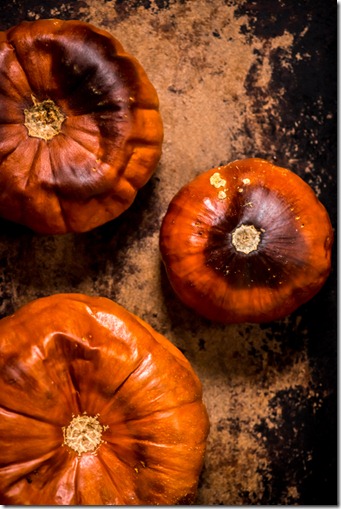 Besides, I had neighbors (who don't care if I stack pumpkins) and cooking is all about feeding and sharing. I was also limited by the number of spices I had on hand. I had been careful not to overstock myself on too many duplicate spices. After all I was only in Missoula and alone for 5 months, I needed to be practical (trust me that is a tough task). In addition, at this point I was on the heels of moving back to my real home. What I really needed to do was use what I had on hand.
With a limited repertoire I wasn't sure what I was going to do with my pumpkins. So I put my imagination hat on, dug through my cabinets and was oh so pleased with the results! Infusing milk with ginger tea, cinnamon and star anise gave the custard a beautiful subtle flavor and let the pumpkin really shine.
Did you notice I cooked my pumpkins whole? Lemme tell you, it's the best way I've ever baked my own pumpkins. Once they cooled, they split open, real easy like, and the innards practically spit themselves out. Not only that but I didn't get that sort of dry skin on, what is normally the exposed part of the flesh, when baked. I didn't try roasting the seeds but I checked them carefully and I'm fully convinced that they would have been just fine to roast.
Even if you don't give the custard a whirl, try baking your pumpkins whole for your puree, it took 1 hour at 350F. Baking time may vary according to the size of your pumpkins. My three pumpkins yielded exactly 3 cups of puree. I used the leftover pumpkin puree to make a curried pumpkin risotto inspired by Feast on the Cheap's Pumpkin Risotto, my neighbors enjoyed that also.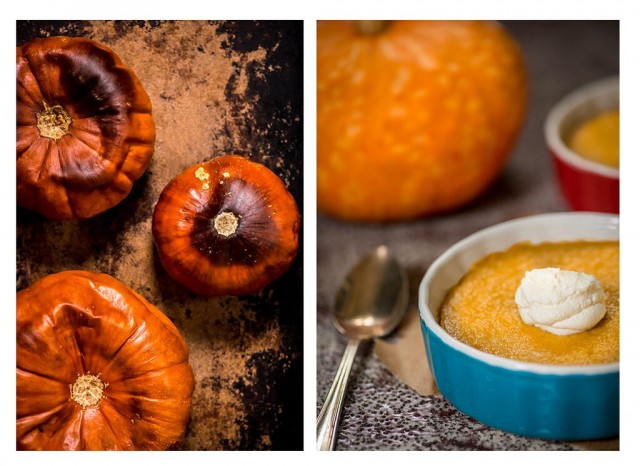 Ginger Tea Pumpkin Custard
2016-06-10 21:33:22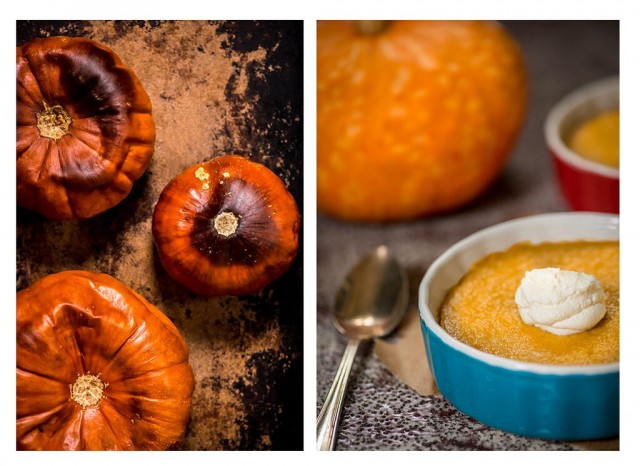 Ingredients
1 cup whole milk
1 ginger tea bag
1 cinnamon stick
1 star anise
1 1/2 cups pumpkin puree
2 eggs, lightly beaten
2/3 cup raw sugar
pinch of salt
hot water
Instructions
Preheat oven to 350F. Heat milk with ginger tea, cinnamon and anise in a small sauce pan over medium heat. When bubbles form on the edges, turn off and let tea steep for 5 minutes. Strain, dispose of tea bag, cinnamon and anise.
In a large bowl mixing, combine pumpkin, eggs, sugar and salt. Slowly whisk in infused milk until homogeneous. Pour into 4, 10 ounce greased ramekins.
Place ramekins in a 13 x 9 inch pan and fill the pan with one inch of hot water (being very cautious not to let the water spill into any of the ramekins). Bake on center rack for 20 to 25 minutes or until solid and an inserted toothpick comes out clean. Remove from oven and let cool.
Serve with whipped cream or maple syrup.
The Kitchen Witch http://www.thekitchenwitchblog.com/