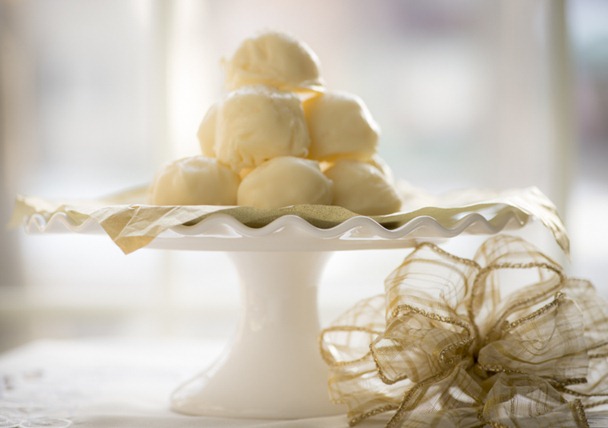 I have a self imposed rule in my house, no Christmas anything until after Thanksgiving. One holiday at a time please. There is good and bad in my rule, less stress before Thanksgiving and probable more stress afterwards since I don't do anything early…normally.
When I got my Secret Recipe Club assignment "Mom's Crazy Cooking", somehow Tina managed to lure me into the holidays early. I even broke my own rule of picking a heritage or family recipe from my assigned blog. What a rule breaker I am… Now there are plenty of other recipes to choose from at Mom's Crazy Cooking. Tina's site is chock full of amazing recipes to choose from. Honestly I don't know how she does it all, she must be crazy! Hehe, hardee har har, I couldn't resist.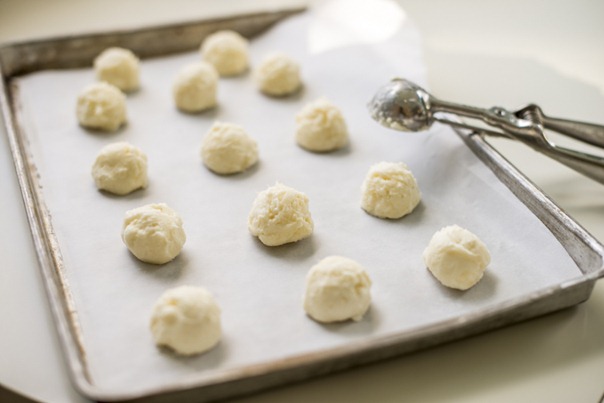 Enough silliness. Although I try to stick with heritage and family recipes, I also use SRC as an opportunity to make something that I've never attempted before like the Frittatine alla parmigiana from Manu's Menu to the Empanda's that I just did last month.
I so very nearly made Tina's crepes because she had me totally convinced that they were easier than they sounded. And her family's favorite Pan-fried Onion Dip, would surely have been a hit with my family. But Tina's description of these Egg Nog Truffles peaked my interest "They are so GOOD, this might be my favorite candy so far EVER".
Every year my neighborhood has a progressive dinner we call "Strollin' the Ave". I took it over last year because our head honcho Melanie moved (boo hoo). I love the event and didn't want it to die. I've cooked for it several times…but always savory. So this year I decided to be the last house which means the sweet finish.
I'm a savory cook, even my desserts tend to be semi-sweet, kind of like me. Since I'm not super well versed in the sweet department I took this as an opportunity to test out possible sweets to serve. Well hello darlings. These little gems were a snap to make (although I added a splash of cream to the final dipping sauce to get a creamier texture). And seriously…they do taste like egg nog (which I love with lots of rum of course).
I only got 18 instead of 24,,,but they may have been due to too much finger licking.
What a perfect treat, I have put them on my menu for "Strollin the Ave", and plan on adding a dark chocolate truffle and and maybe a green mint truffle for a pretty selection (inspiration from Tina's links). I am totally up for some ideas for easy individual sweet treat ideas…please send me links if you have any that you've done.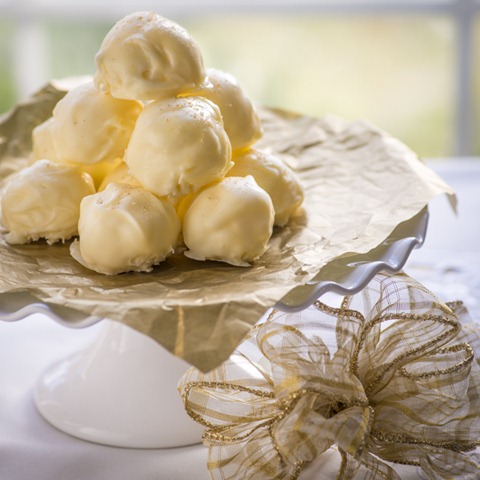 Here's a food blogger photography tip: To make your dish immediately elegant, go with a simple monochromatic palette and a pretty dish. Simple = elegance and the focus will be on the food not all the fancy frou frou.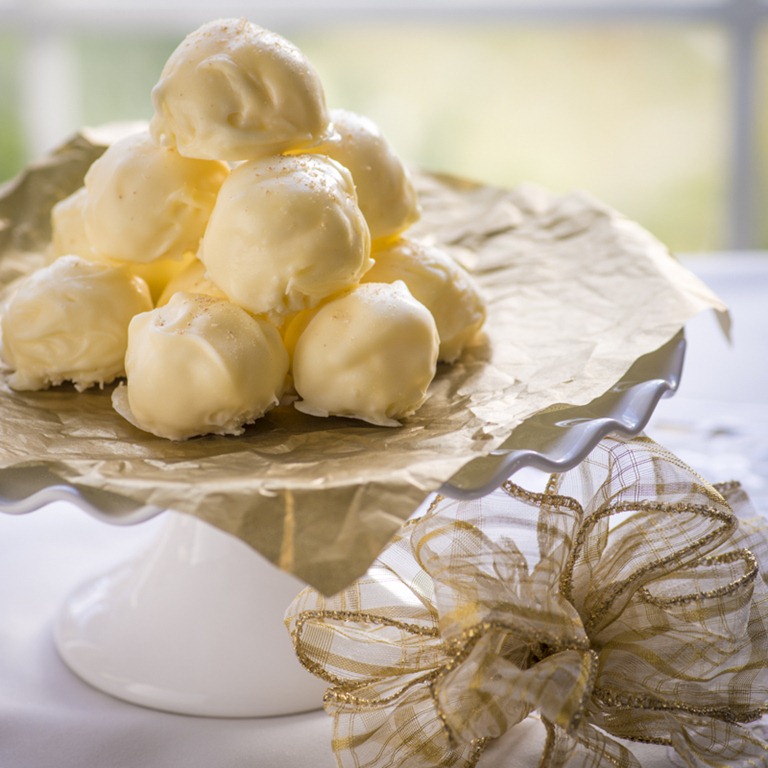 Egg Nog Truffles–Secret Recipe Club Reveal
2016-06-10 21:30:14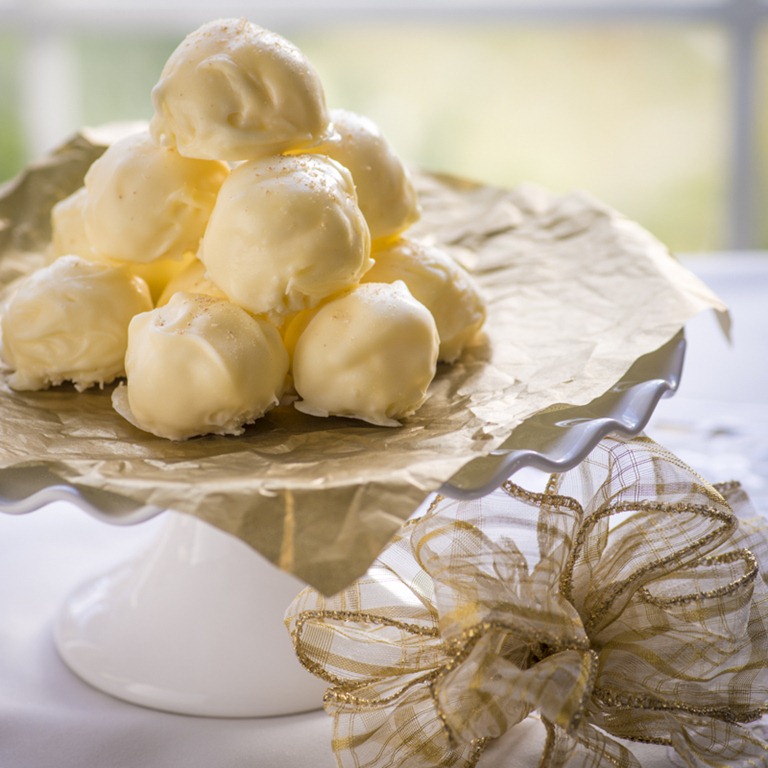 Ingredients
1 pound white melting chocolate, divided
4 ounces (1/2 package) cream cheese, softened
1/4 cup powdered sugar
1/4 teaspoon fresh grated nutmeg, plus extra for garnish
1/4 teaspoon rum extract
splash of whipping cream (optional)
Instructions
In a mixing bowl, whisk together cream cheese, sugar, nutmeg and rum.
Place 8 ounces white candy melts into a microwave safe bowl. Microwave for 1 minute then stir. Microwave an additional 30 seconds and stir well. If all the chocolate is not melted put it back in the microwave for 15 seconds and stir well (repeat if necessary until melted and smooth).
Add the melted chocolate to the cream cheese mix, beat until homogenous. Shape into small balls, about 3/4". Place on a lined tray and refrigerate for a minimum of 1 hour.
Melt 4 ounces of white chocolate with a splash (approximately 1 teaspoon) of cream following the above directions. Dip a truffle ball in, one at a time and coat completely with the melted white chocolate, Using a fork lift the truffle out of the melted chocolate and let the excess drip off (You may need to tap the fork on the edge of the bowl to help the chocolate drip off).
Place the coated ball onto a parchment or wax paper lined tray. Do this for the first 1/2 of the balls, then sprinkle with freshly grated nutmeg. Repeat with remaining 4 ounces of chocolate.
Refrigerate for a minimum of 1 hour or until the chocolate is set. Store truffles in between layers of parchment or wax paper in an air tight container in the refrigerator for up to 1 week.
If the dipping chocolate starts to harden before you are finished dipping put it back in the microwave for another 15 to 30 seconds. Be careful not to over do it.
Notes
Makes 18 to 24 balls
The Kitchen Witch http://www.thekitchenwitchblog.com/

Thanks Tina for inspiring me to get prepared a little bit early, I'm a rebel and I love breaking rules! For more great SRC recipes, follow the links below.