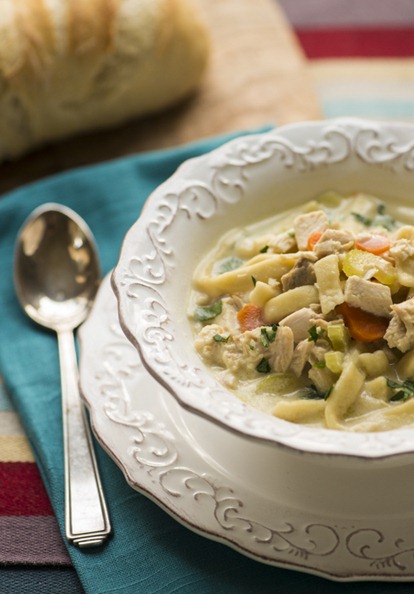 Ever wish you could get a do over? Where you could magically go back in time and right the wrong? Burnt biscuits…do over. Doing 80 mph in a 65 mph zone…sorry Mr. Policeman…do over. How about that conversation where you should have had a great comeback, but it only comes to you later. Wouldn't it be great to go back and say that clever and oh so witty comment…do over!
I haven't figured out the whole time space continuum, not that smart. Plus I know me, I'd be just like one of those dumb asses in the movie and change all of history by recooking my biscuits, or avoiding a speeding ticket or actually being super clever and witty at the perfect time. I'm also the goof who wouldn't be able to go back again and make it right and put history back like it should be. Time traveling would be a bad idea for me.
I may not have a time machine or a blue police box (Dr. Who reference for you non-geeks) to take me back in time (the world should thank me), but I can cook and do recipes over and over. After all that's how we perfect them.
I'm inviting you to climb in my imaginary time machine and go back nearly three years ago with me. We are going back to T KW's first ever post. Oh how proud I was of that! I put my little WordPress blog together, took step by step pictures (I just got my brand new Nikon D5000 and I was photo crazy) (I also need to point out here that I thought a better camera would take better pictures, I gave no credit to the person taking the photos) and with a push of a button…err more of a click of a mouse I was published!
Anyone who's ever blogged knows the feeling I'm talking about. My poor co-workers, I made every single person that I could drag into my office read my post. Oh and look at my pictures, don't they look soooo good! Don't you just want a bowl of that creamy chicken noodle soup NOW.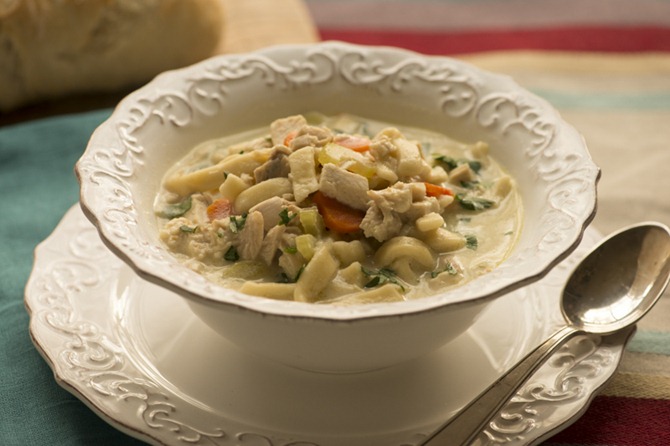 Let's not mention the torture I put my family through.
Years later, after many views of phenomenal blogs, reading books on food photography and finally going to the Rocky Mountain School of Photography, I look back at my photos and think to myself "what a bunch of crap". I think I managed to commit every food photography crime there is.
My food looks unappetizing

My hero shot has my baby boy in the background (in the bad sort of way)

My white balance is wrong

My composition…sucky and not just the photos but my whole blog layout.

My lighting, just, well, there wasn't even a thought to it at all

Food styling? What is that?
And I won't even discuss my writing, mainly because it's just as bad as it's ever been.
Sometimes I think my photography still sucks the big goose egg. It's so easy to forget how far we've come. So I thought why not go back in time and do a 'do over'. Why not start with the first ever post?
On my behalf, I didn't realize that the first recipe that I posted is actually one of the more difficult things to photograph. A flat bowl of soup. That's right up there with oatmeal, stew, gravy, and mashed taters. Things without shape and have minimal color.
I reanalyzed and thought how could I do this better?
I started with the lighting, the beauty of natural light. Then I selected a very pretty bowl and plate (new purchases, yay for Pier 1). I choose a complimentary placemat and napkin (birthday gifts from my daughter Leah a.k.a. Leftover's for Lunch…she sent me a bunch of them, woohoo).
And then I added a spoon so it looked like you were ready to dig in. I also made sure that all the bits and pieces that make up the soup showed, and then sprinkled a little fresh parsley around for color. Note: the original recipe calls for parsley stirred in just before serving, but it looks better to photograph it sprinkled on just before snapping the picture. And lastly a little homemade baguette to round out the comfy cozy soup atmosphere.
Then (this is almost embarrassing to put out there again):
It's the flying saucer of chicken noodle soup…see the baby boy running for his life!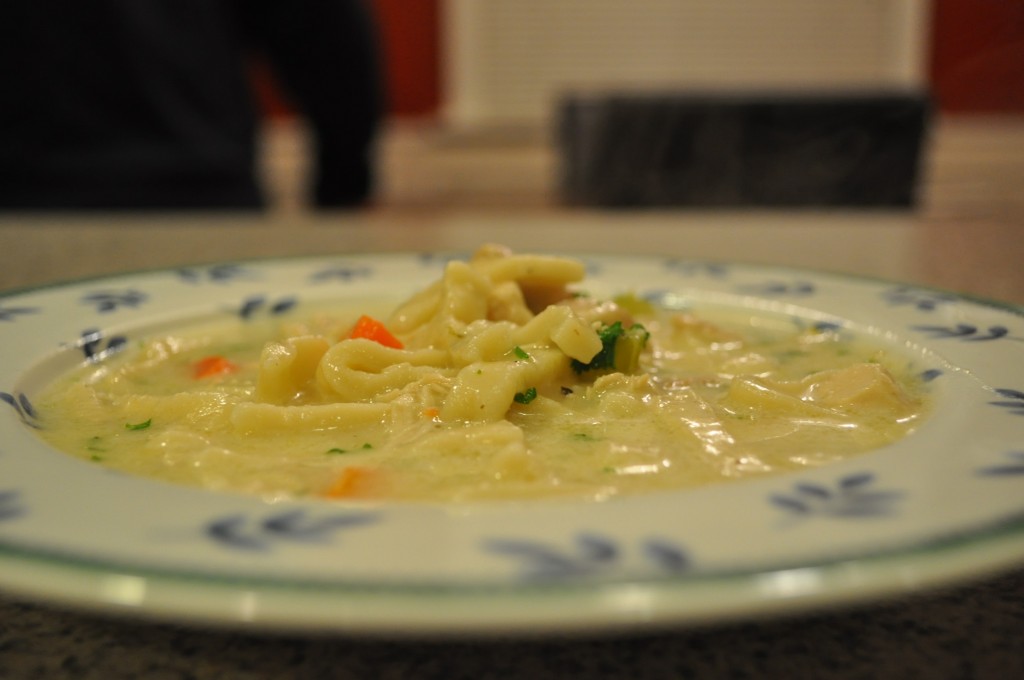 Do over: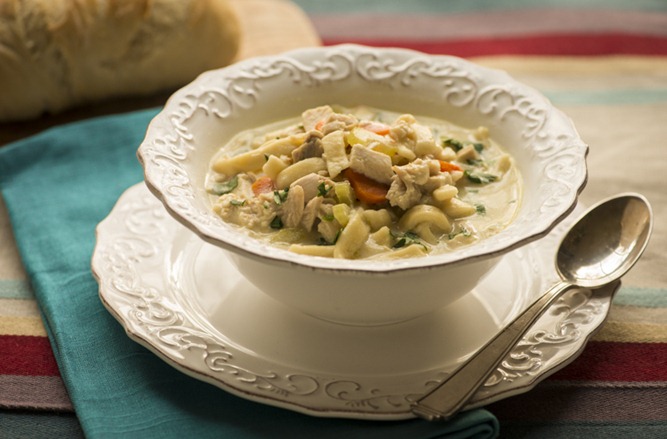 Man I love those new dishes. And my placemat and napkin. And I love that soup! Even more so now. Do over's are just as satisfying as I thought they'd be. I'm reposting the recipe with only a minor modification, I no longer use chicken bouillon cubes. I like to boost the flavor (if needed) with a natural soup base, plus it's lower sodium and better for McGyver. And if I post the recipe here you won't be tempted to check out my original version.
(recipe)
Here's a food blogger photography tip: when photographing something with a lot of broth like soup, invert a smaller bowl into a larger bowl to help lift the ingredients up and out of the broth. You'll need to ladle in extra broth because some will fill up under the inverted bowl. The bonus is that the small bowl is: washable, reusable and the soup is still edible versus using mashed potatoes or Styrofoam forms.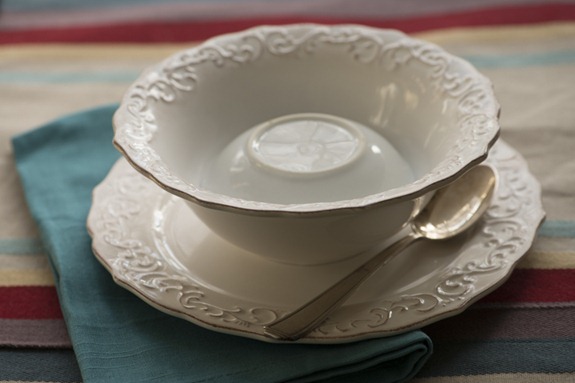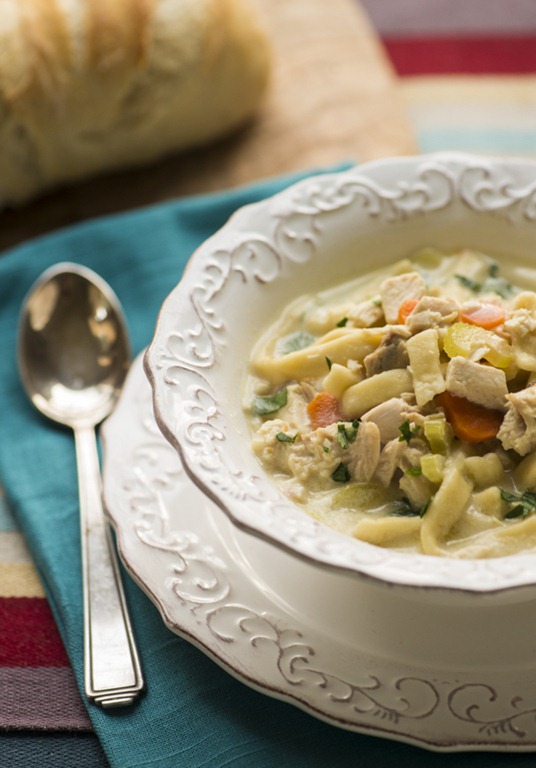 Creamy Chicken Noodle Soup–Do Over
2016-06-10 21:26:04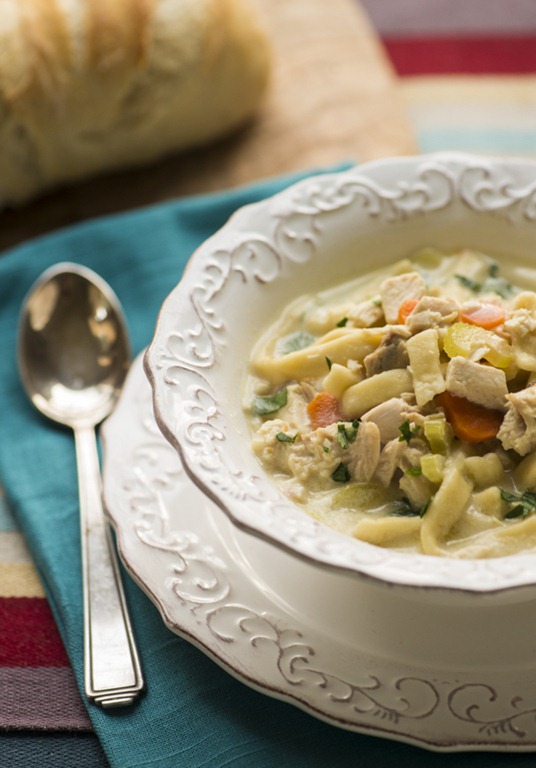 Stock
1 roasted chicken, picked clean, reserve meat, discard skins
1 onion, quartered
3 cloves garlic, halved
2 carrots
3 stalks celery
Sprigs of Parsley
10 Peppercorns
2 Bay leaves
Chicken soup base, if desired
The Soup
2 to 4 cups chopped chicken
3 carrots, peeled and sliced
2 stalks celery, sliced
3 heaping tablespoons flour
1 cup cream
16 ounces of frozen egg noodles (I recommend Reames brand)
1/4 c chopped fresh parsley
Salt and pepper to taste
optional: more chicken base
Instructions
Separate the meat from the bones. Discard the skin. Quarter the onions, halve the garlic (you can leave the skin on), halve the carrots, Cut up the celery so it will fit in the pot, leave parsley whole, place peppercorns in a tea strainer.
Fill the pot with water, 1-2" above the chicken parts. Bring to a boil and then simmer for at least 45 minutes. Then strain the broth through a colander or fine sieve. Taste for "chicky-ness", add some soup base if needed.
Put the broth back in the pot. Put it back on the burner too. And discard the remains. Add, chopped chicken, carrots, celery, stir well, bring to a low boil, and cook until the carrots are tender, about 7-10 minutes.
Mix flour and 1 c. cream in a jar and shake the bejeezes out of it. Or you can whisk it together in a small bowl. Add the noodles to the soup, cover and simmer for about 15 minutes. Add salt (or more bouillon) and pepper to taste, then finish off with fresh chopped parsley.
The Kitchen Witch http://www.thekitchenwitchblog.com/