It's one week after Thanksgiving, how are you doing on your leftovers? Have you gobbled them all up, did you stash some in the freezer for later? This year there was only three of us and the smallest organic fresh turkey I could buy was nearly 14 pounds. That's a lot of turkey for 3 people, even for my large appetite family. Needless to say, leftovers abounded.
The day after Thanksgiving I always boil up the bones and make turkey stock for turkey reinventions. Only this year, I didn't do much innovating. My baby boy was here and he had offered to help me paint his old room to convert it to an office/studio for me. That took up more time than I planned…mostly because college kids on vacation don't start functioning until after noon, sigh.
Anywho, I ended up a week later with some turkey and a lot of stock. It would have been easy to make a turkey noodle/vegetable soup, turkey chili, turkey pot pie, etc. You know the usual's. But I wanted to do something different(ahh, the bloggers bane).
Plus I've been missing some friends from school, one of my friends, Richard (a fun-guy) is a mushroom (fungi) freak, see what I did there…! At lunch one day he told me that when he was dating, if a girl didn't like mushrooms, it was a deal breaker for him. So I'm dedicating this recipe to my fungi/fun-guy friend Richard.
You won't find a cream of mushroom soup as mushroomy as this one which should make Richard a happy fun-guy (ok, I'll stop with the pun). It's a combination of multiple recipes that I cogged together, it gets it's wine and leek influences from Ina Garten, the dried mushroom and sage idea from Smitten Kitchen and I like how Elise at Simply Recipes chopped up her mushrooms first, making the soup a perfect cross between creamy and toothsome.
I finished mine with a crouton of stuffing. I simply cubed cold stuffing and browned it on each side in a little butter. The poultry seasoning in the crouton was a perfect match with the sage and thyme in the soup and it added that crunchy texture that a smooth soup just cries out for.
If you don't have any leftover turkey or stock, the turkey can be omitted and the stock replaced with chicken stock.
Of course now I have a new problem, a gigormous pot of soup and just the two us. Where's Richard when I need him? I'm thinking this would be great tossed with some pasta as a sauce, or made into a crepe and of course as a base for any casserole that calls for cream of mushroom soup. Of course I could freeze or give it away also. Any other ideas out there?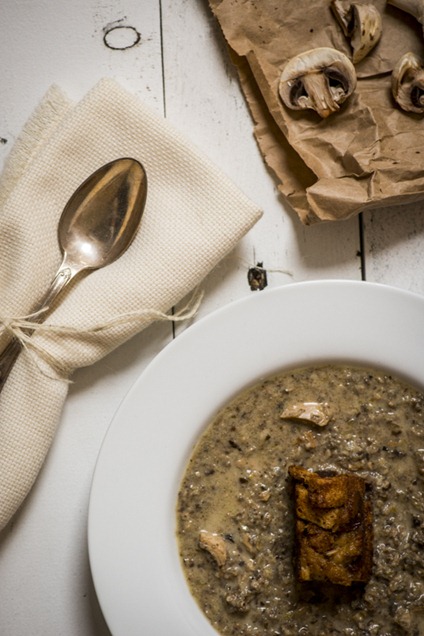 Here's a food blogger photography tip: When photographing something that is unappetizing looking, such as this cream of mushroom soup, shoot from an unusual angle or crop. Shooting from overhead adds visual interest and cropping part of the dish brings attention to the food with out it being the center of the photo.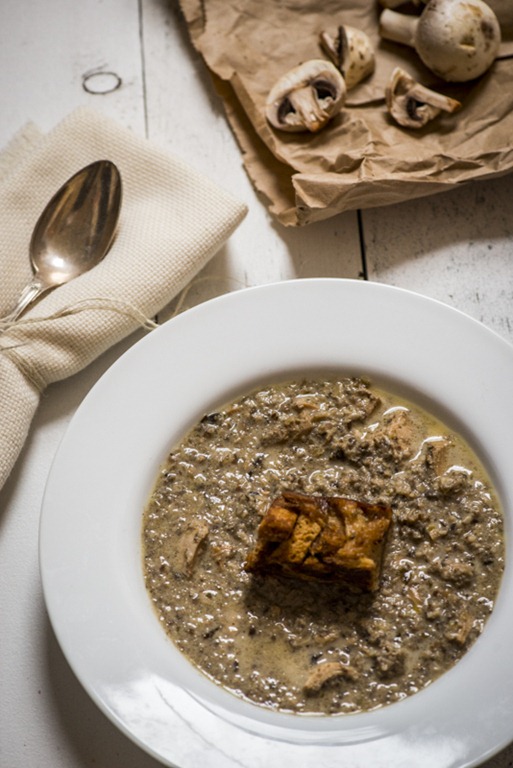 Cream of Mushroom and Turkey Soup
2016-06-10 21:23:15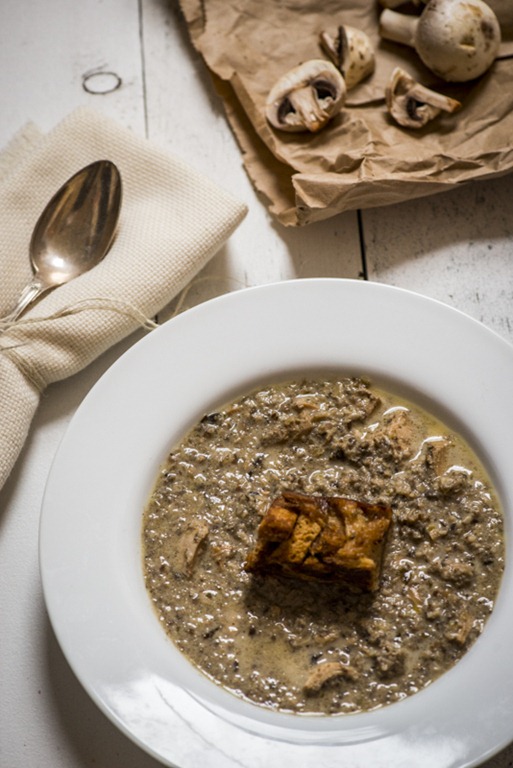 Ingredients
1 ounce dried mushrooms (porcini,morels,or shitakes)
1 cup hot water
1/4 cup olive oil
1 stick butter
2 sprigs of thyme, minced
4 sprigs of sage, minced
1 medium yellow onion, peeled and minced
2 leeks, white and light green parts only, washed and minced
3 garlic cloves, peeled and minced
11/2 teaspoons salt
1/4 teaspoon white pepper
1/2 pound white button mushrooms, cleaned and chop in food processor
1/2 pound baby bella mushrooms, cleaned and chop in food processor
1 pound shitake mushrooms stemmed, cleaned and chop in food processor
5 cups chicken or turkey stock or water
1 cup dry white wine
1 cup heavy cream
2 tablespoons unsalted butter
Instructions
Soak the dry mushrooms in 1 cup of warm water for 20 minutes, until plump. Strain the soaking liquid through a coffee filter to remove grit and reserve, along with the reconstituted mushrooms, until needed.
Heat the olive oil and butter in a large pot over a medium heat. Add the leeks, onion, garlic, salt and pepper and cook for 5 minutes, until the onion is soft and translucent. Turn heat up to high and add the minced mushrooms and herbs. Cook for 10 minutes, during which the mushrooms will give off their liquid. Stir occasionally.
Add the stock, wine and the minced reconstituted mushrooms along with the soaking water. Simmer for 30 minutes. Then add chopped turkey, the cream and butter. Gentle heat until turkey is warmed; keep at a very low simmer until ready to serve.
The Kitchen Witch http://www.thekitchenwitchblog.com/