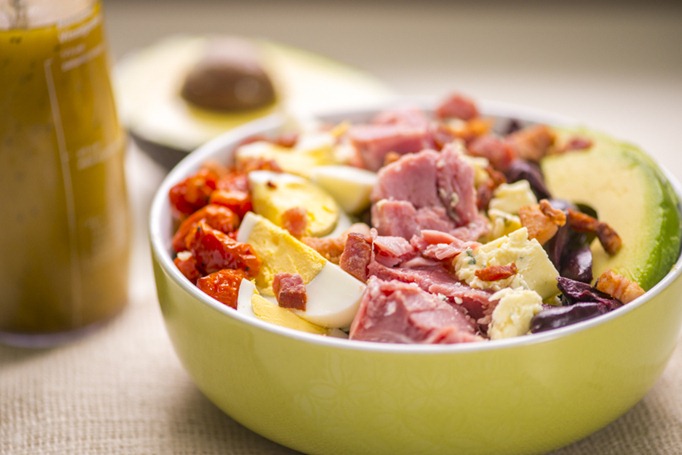 It seems like everyone has a dish that they judge a restaurant by. For some it's hamburgers, or steaks or seafood and in the case of my son-in-law Jodus daughter Leah, it's the Cobb Salad (evidently my memory is going faster than I thought, my daughter corrected me, she's the one that judges by it…see the comments). It is by this salad alone whether the restaurant gets a thumbs up, a meh or a thumbs down. I see why he she uses it as a measure. It's a fairly simple composed salad but if the freshest ingredients aren't used and the dressing isn't right the salad is a total bomb. Really what better way to measure a restaurant than my a simple salad composed of many ingredients.
I always thought that the name Cobb Salad was odd, since there wasn't any cob (as in corn) in the salad. I've had this very conversation with my family and friends. Can you picture a 'Seinfield' type moment at a restaurant with a conversation that may have gone something like this:
"What does it mean by Cobb salad?"
"If there is no cob, how can you call it a Cobb salad?"
"And who spells Cobb with two b's?"
"Is a spelling error, a menu misprint?"
"If it's just a menu error, then why isn't there any cob in the Cobb salad?"
"Excuse me miss (to the waitress), can you explain why there is no cob in a Cobb salad and why it's spelled with two b's?"
For some reason in my mind I thought Cobb salad had baby corn cob in it, hence the 'Cobb' part of the salad. I guess I just thought spelling it with two b's was to make it look unique, like exchanging s for z.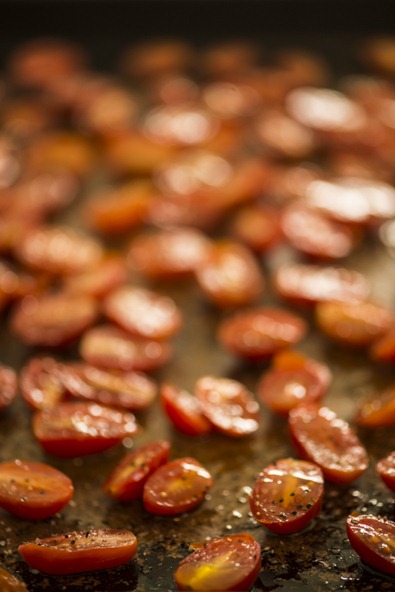 It turns out that the Cobb salad is actually named after Bob Cobb, the owner of the famous Brown Derby restaurant (an iconic Los Angeles chain of restaurants that was synonymous with Hollywood's Golden Age). The story goes that in 1937 after a long day, Bob was quite tired and his chef cobbled together a salad of leftover items and fresh bacon (hehe, cobbled together…I'm so punny).
A little definition from Wikipedia:
The Cobb salad is a main-dish American garden salad made from chopped salad greens (iceberg lettuce, watercress, endives, and Romaine lettuce), tomato, crisp bacon, boiled or roasted (not fried) chicken breast, hard-boiled egg, avocado, chives, Roquefort cheese, and red-wine vinaigrette. Black olives are also often included.
I took some liberties with my Cobb salad, I used a variety leaf lettuces, I roasted my tomatoes, and used ham versus chicken (because that's what I had on hand). And for the dressing I used a champagne vinegar (it's my fav) and used agave versus sugar to cut the acidity a bit.
Unfortunately Jodus Leah wasn't here to test my version of a Cobb salad so I'll never know if it measured up. But McGyver and both gave it a thumbs up, so that'll have to do.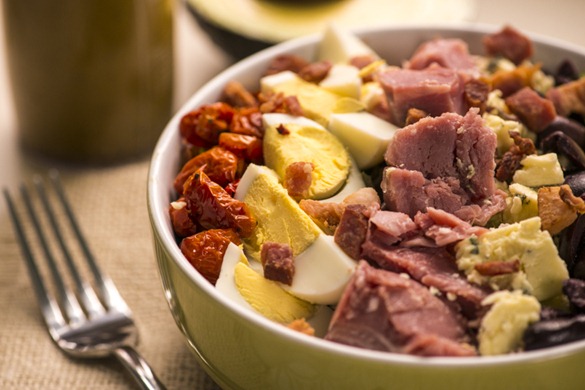 Here's a food bloggers photography tip: When photographing salads, unless it's vitally important to the salad, photograph it without the dressing. If the salad must be photographed with dressing, then dress it at the last possible moment and quickly fire away. Dressing a salad causes it to immediately start to wilt and can cause weird little highlights.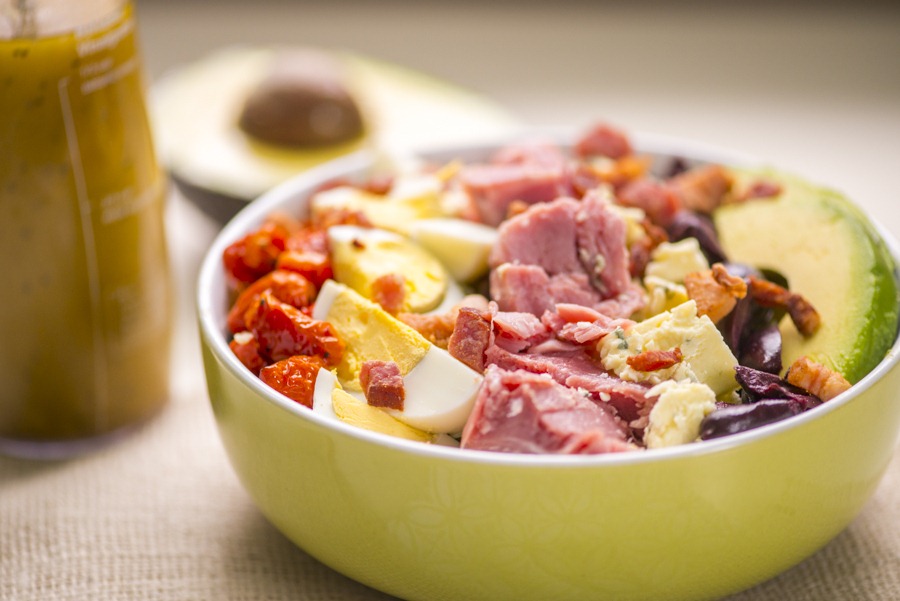 TKW's Cobb Salad
2016-06-10 21:20:38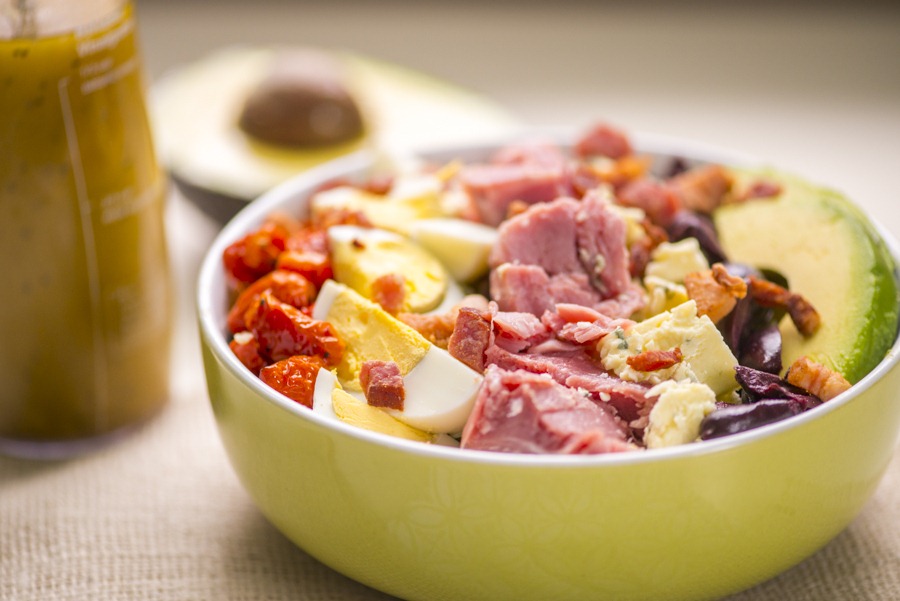 Ingredients
2 to 3 cups mixed salad greens
1 cup grape tomatoes, halved and roasted*
2 hard boiled eggs, peeled and quartered
1 avocado, sliced
1 cut ham, diced
2 green onions, white and green parts diced
2 slices thick cut bacon, cooked crisp and crumbled
1/4 cup Roquefort cheese, crumbled
1/4 cup kalamata or black olives, halved
Dressing
1/3 cup mild vinegar (red wine or champagne)
1 tablespoon lemon juice
1/2 teaspoon Worcestershire sauce
1/2 teaspoon dry mustard (like Coleman's)
14 teaspoon agave
2 cloves garlic, minced
2/3 cup olive oil
Salt and pepper to taste
Instructions
Assemble the salad: Place the mixed greens on the bottom. Arrange the tomatoes, egg, ham, olives, avocado and cheese on top. Sprinkle with green onions and bacon. Serve the dressing on the side.
Dressing: In a medium bowl or dressing mixer, whisk together, vinegar, lemon juice, mustard, Worcestershire sauce, agave and garlic. Then slowly whisk in oil. Add salt and pepper to taste.
*To roast tomatoes, preheat oven to 400F. Spread halved tomatoes on a baking sheet drizzle with olive oil and salt and pepper. Roast for 10 minutes then stir, and roast for another 10 minutes.
The Kitchen Witch http://www.thekitchenwitchblog.com/