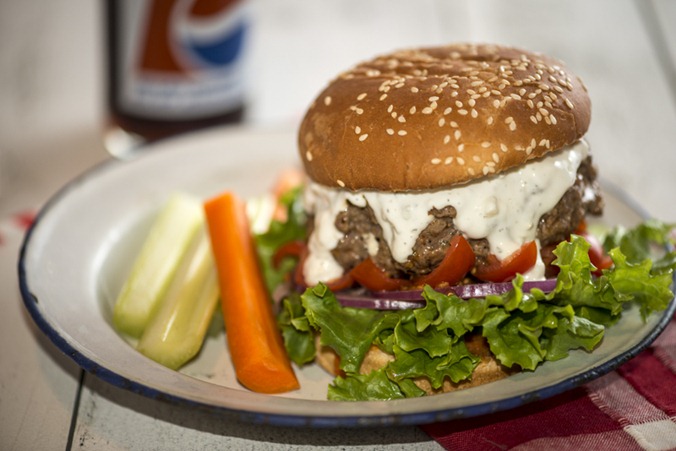 Look at that, don't you just want to take a bite out of that big juicy burger? Although I think that the burger looks appetizing I made some errors in photographing it. That's what happens when you are a starvin marvin and want to snap the shot and get on with eating.
It's a fabulous tasting burger, but I wasn't happy with the photos. I decided to turn my negative into a positive. So this post I thought I'd go over some tips rather than entertain you with my bad puns and food inspiration stories. And now I have the perfect excuse to share the recipe even though I think the photo is less than stellar.
To start off I'm going to point out what I did right, because it makes me feel better to point out the good stuff.
1. The depth of field is good, that is to say the burger is in focus and the background is out of focus, exactly what I wanted since I wasn't trying to sell Pepsi.
2. I got a nice strong diagonal line by using red as the anchor, see how your eye follows the red napkin, to the red tomatoes, to the Pepsi bottle (which is ironically filled with Coca-Cola…snicker, snicker). A diagonal line tells your eye where to focus and since the burger is bigger than life, you automatically are attracted to it over and over. The carrot also helps replicate the same line.
3. The angle of the shot is effective. You see the burger, bottom bun to top of bun, nothing mysterious about how this burger is composed.
4. Think your condiments go on top? Nope, not in a well styled foodie photo. A little food styling tip is to start with the lettuce on the bottom, then onions and then tomatoes, meat and finally sauce. Sometimes even a second lettuce layer is added. Good job Rhonda, and I even wisely used purple onions which stood out more than white. Plus they go nicely with the blues in the photo.
5. I cooked the burger just right, you can totally tell that this is a juicy burger.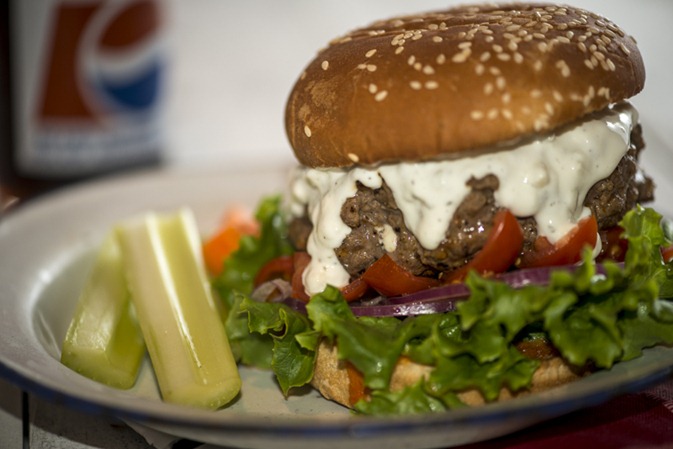 1, 2, 3, 4, 5 I was on a roll (seriously no pun intended)….but there was a lot that could have been done better. Let's start with the picture above.
1. I am way too close to the subject. Yes you can still tell it's a burger, but I'm cropped in so close to the top of the photo that it causes 'tension'. This is the kind of shot you look at and know you don't like as well as another but you aren't sure why. Even with close up shots you need a little negative space to keep the eye in the photo (unless you are shooting macro and that's an entirely different story).
2. In this photo I have the carrot behind the celery, so you see something orange in the background but what is it? And the celery just doesn't have enough pop, so the photo is too heavily weighted on the right.
3. I layered my condiments correctly but good heavens, the tomatoes look like teeth ferociously trying to gobble the burger. This is what happens when you don't have a large juicy tomato and you think, I'll use my cherry tomatoes. The cherry tomatoes could have worked, if I chopped them instead of quartered them then arranged them so that they just peek out.
4. Talk about larger than life, look at that lettuce. I was very careful to make sure that all the pretty curly bits were ruffled around the burger, but I was a little over zealous with the amount. A nice hint of lettuce all around would have been better. I mean, is this a lettuce burger or an elk burger?
5. Holy Niagara of blue cheese Batman! When I first spread on the blue cheese dressing, I made sure to push some to the edges so that it would show. What I didn't factor in, is that a hot burger would 'melt' my blue cheese dressing causing it to cascade over the entire burger. While melting drippage looks appetizing, when you no longer can see the product underneath, well it may have been just a wee bit too much. (It was messy-licious though).
6. But my red onions look perfect…oops, this is critique time…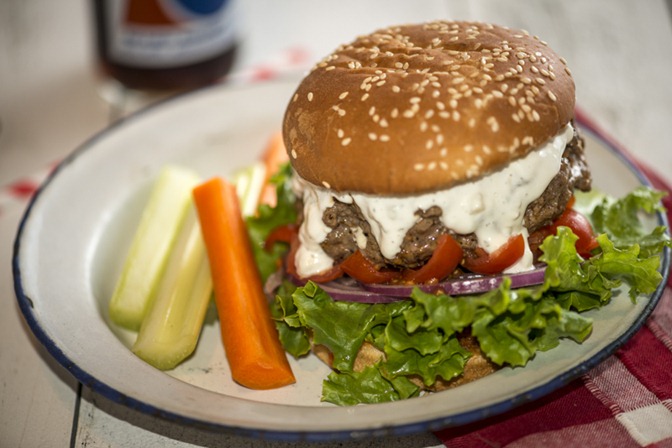 7. On this shot above, I had corrected the carrot issue, but the photo looks like it's all about the sesame bun. Compare it to photo #1 and you'll see what I mean.
8. My lighting is HORRIBLE, which I thought I had grown out of. To my credit I got a new softbox for my Speedlight (late birthday present from McGyver, ahem that's a whole 'nother story) and I was experimenting with using it. Unfortunately I can't fire it off my camera without firing my on camera flash (I would need a remote). The lighting is way too harsh! Plus the flash has given my photos a blueish tone.
Right, enough self flagellation, a poor girl can only take so much! To summarize my points:
1. Leave negative space, even in close up shots.
2. Look at your lines, are they leading your eye to the main subject.
3. Don't get over zealous with the supporting characters.
4. Don't EVER use on camera flash.
5. How are your colors playing a roll in your photo, helping or distracting?
6. Look at the angle you are shooting, is it focusing on the main subject or something else?
7. Revel in your mistakes and learn. Share your mistakes and teach.
Photography is a fluid process, the more you do the more mistakes you make but the better you get.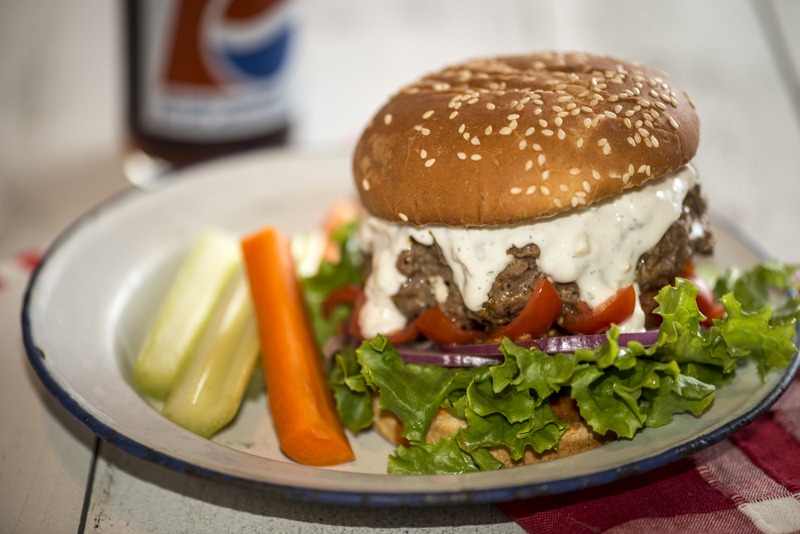 Buffalo Blue Elk Burger
2016-06-10 21:17:52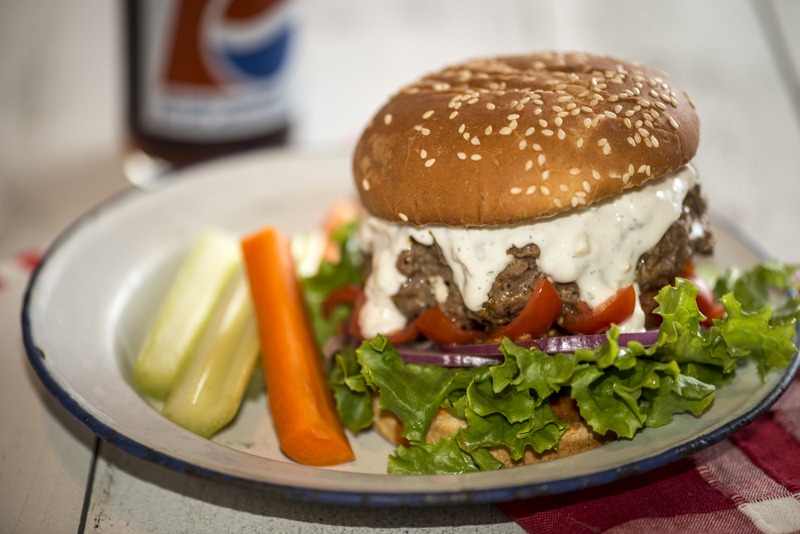 Serves 4
Ingredients
1 pound ground meat (I used Elk)
2 tablespoon steak seasoning (such as Montreal Steak Seasoning)
1/3 cup Buffalo wing sauce (divided)
1/2 cup crumbled blue cheese (divided)
1/4 cup sour cream
1/4 cup mayonnaise
1 teaspoon red wine vinegar
Kosher salt and fresh ground black pepper
Lettuce, Onions, Tomatoes (sliced) or other favorite burger topping
4 hamburger buns
Instructions
In a larger bowl gently mix ground meat, steak seasoning and 2 tablespoons of Buffalo wing sauce until well combined. Divide the meat mixture into 8 equal portions and shape into patties. Place some blue cheese crumbles in the center of a patty and cover with another patty, pinch the sides together to seal. Repeat with remaining patties, you should end up with 4 stuffed burgers.
Grill or pan fry over high heat until a nice crust is formed on the outside and the burger is cooked to your likeness.
Blue Cheese sauce: in a small bowl mix remaining blue cheese, sour cream, mayonnaise, red wine vinegar and salt and pepper.
Toast buns if desired.
To assemble, spread some Buffalo wing sauce on bottom bun, add favorite toppings and burger, smother in blue cheese dressing and top with a bun.
Notes
To make your own Buffalo wing sauce melt 1/4 cup butter and whisk in 1/2 cup of Franks Red Hot sauce (no substitutions).
The Kitchen Witch http://www.thekitchenwitchblog.com/