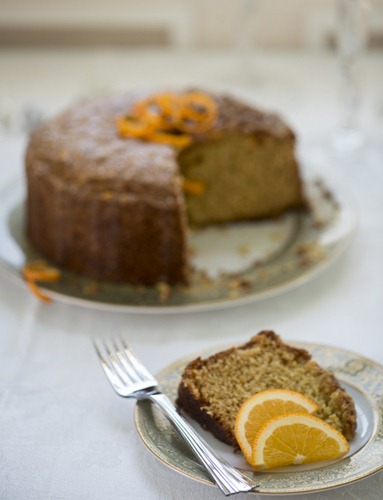 Today is the close of 2012 and with the New Year all the hopes and wishes of doing things a wee bit better than the previous year.
Today, no reflective post, no top 10 of 2012 anything. Just wishing you all the bestest and sharing a crazy sweet lil' post for you.
Crazy good, crazy, I tell ya!
I'm not much of a sweet eater person, actually no one in the family really is. Give us appetizers/nibbles all day long, or sit us down and stuff us with the main course, that's what we like. We could totally skip the sweets. We would even rather have vegetables over fruit. But if we are doing the fruit thing, we like the citrus, especially the Baby boy and I.
Which led to the delightful wonderfully orangy but not too sweet cake. Every year our neighborhood has what we call Strollin' the Ave. A kind of progressive dinner…but not strictly so. Three houses host, and we spend 40-45 minutes at each house.
This year was my turn to be a host house and I chose *gasp* to be the last house. Hmmm, that means mostly sweets. Entertaining can be intimidating enough, then take on the challenge of cooking something a wee bit out of your comfort zone? A gluten for punishment, but I find choosing a theme helps narrow things down. So I looked to my Italian friends across the water for inspiration, those Italians and I have something in common. They typically don't go for over the top sweets, especially after a meal.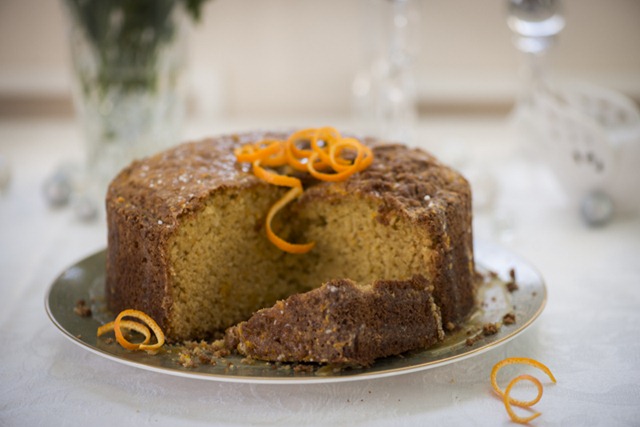 My tiramisu was a no-brainer, but after that I had to look up recipes, thinking desserts just doesn't come naturally. When I ran across the orange scented cake from Saveur I knew that it was a must. This is a moist dense cake with a nice crunch on the outside, subtle pops of orange and wait for it……..a finish of salt, oh yes, a little sweet and salty.
When you bring the fork up to your mouth, your nose is hit with this heady orange scent, fresh and crisp. Your mouth delights in the moist but somehow crumbly texture. Its at once soft but toothsome with bits of crunch from the crust. And then just every now and then your tongue laps around the sweet glaze with a little pop of fleur de sel.
This is a treat that would satisfy everyone, no matter what camp, sweet, savory, salty, moist, crunchy and beautiful. You'd be crazy not to make it! Crazy, I tell ya.
Food Photography tip: Use garnish to hide imperfections. For example this cake was moist but very crumbly so the wedges weren't perfect. I used orange slices to hide the edge and the curl of the orange zest to disguise the not so pretty middle of the cake (top and inside).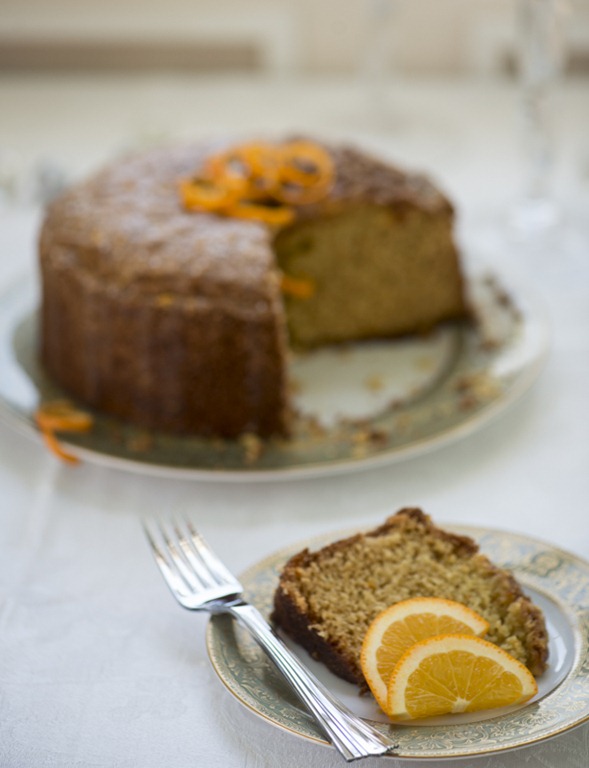 Candied Orange Olive Oil Cake
2016-06-10 21:08:49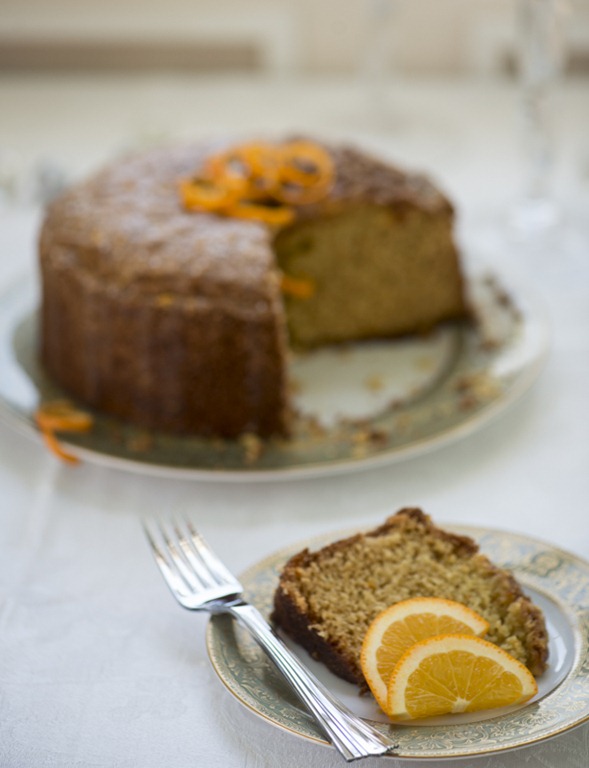 Ingredients
3 oranges, divided
2 1/3 cups sugar
Unsalted butter, for greasing the pan
2 1/2 cups flour, plus more for pan
2 tsp. baking powder
1 tsp. baking soda
1 tsp. vanilla extract
3 egg yolks, plus two eggs or 4 eggs
6 tbsp. extra-virgin olive oil
1/4 cup confectioners' sugar
Fleur de sel or Sea salt, for garnish
Instructions
Trim about 1/2" from the tops and bottoms of oranges; quarter oranges lengthwise. Place oranges in a 4-qt. saucepan and cover with water, bring to a boil; drain. Repeat boiling process twice more with fresh water. Put oranges, 1 cup sugar, and 4 cups water back into a 4-qt. saucepan over medium-high heat. Cook, stirring often, until sugar dissolves and orange rind can be easily pierced with a fork, about 30 minutes. Remove pan from heat and let cool to room temperature.
Heat oven to 350°. Grease an 8" round cake pan with butter and dust with flour; line pan bottom with parchment paper cut to fit, grease and flour top of parchment paper. Set pan aside. Whisk together flour, baking powder, and baking soda in a medium bowl and set aside. Remove orange quarters from syrup, remove and discard any seeds, and put oranges into the bowl of a food processor. Pulse until oranges form a chunky purée, 10–12 pulses. Add remaining sugar, reserved flour mixture, vanilla, and eggs and process until incorporated, about 2 minutes. Add olive oil; process until combined. Pour batter into prepared pan; bake until a toothpick inserted in center comes out clean, 45 to 60 minutes. Let cool for 30 minutes.
Zest and juice third orange. In a small bowl, whisk orange juice (should be about 1/4 cup), zest and confectioners' sugar to make a thin glaze. Remove cake from pan and transfer to a cake stand or plate. Using a pastry brush, brush Pour orange glaze fleur de sel or sea salt.
Notes
Makes 8 to 10 slices
Adapted from Saveur.com
Adapted from Saveur.com
The Kitchen Witch http://www.thekitchenwitchblog.com/