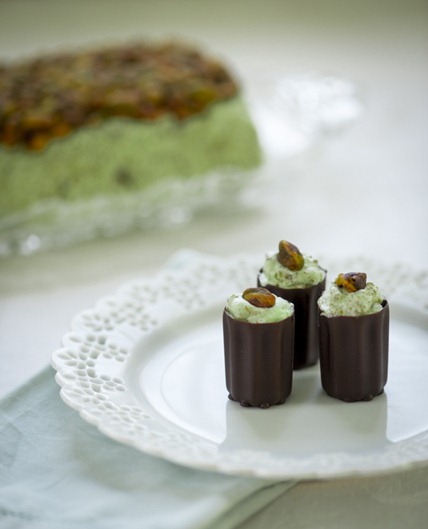 Here I go again, non-main line posting. This time of year food blogs and sites, newspapers and magazines are filling their pages with healthier recipes. Who doesn't want to lose weight? And the New Year is the perfect opportunity to reset, especially with all the holiday treats consumed, given away or ditched.
And I'm posting non other than a dessert. And me not much of a dessert maker to boot. In my last post I mentioned our neighborhood does a progressive type dinner called 'Strollin the Ave', my house was the last which meant sweetie time.
So I found myself with a couple of sweets to share. Did you know that out of the hundred's of recipes I've posted that less than 10% are dessert/sweets related? And 10% of those I've posted in the last month. If you were any kind of math freak you'd be able to guest how many recipes I've posted….but ick, who wants to do math.
This will be my last sweetie post for awhile I can assure you, me being not much of a sweets person. Even though this one may be untimely, I wanted to share it because it's a great do ahead dessert recipe, no baking required.
I mentioned in my last post that I chose an Italian theme for my desserts because Italian sweets aren't overly sweet. Nice and light, just up my alley. Tiramisu is my all time favorite dessert, probably due to the coffee, dark cocoa and copious amounts of booze I put in mine.
I'm pretty sure I just discovered my second favorite dessert. Semifreddo, pistachio semifreddo.
Semifreddo (semi: fred'o) is a…..wait for it….semi-frozen dessert. It is similar to gelato or ice cream but has a mousse like texture. It gets it's lightness from whipping egg whites into a meringue then folding them into a cream mixture. It is then placed in a lined mold or scooped like ice cream after freezing.
I adapted this recipe from Epicurious.com. I didn't change the base recipe much, I added a drop of green food coloring, added the pistachio layer to the molded version and filled these adorable chocolate cups with the semifreddo, but other wise left untouched.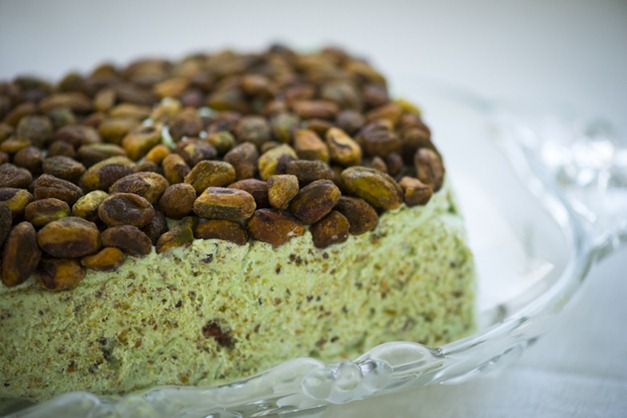 What a brilliant little dessert. I was delighted by the lightness of it; it felt like a chilly little cloud in my mouth that was ready to drop snow at anytime. As it melts in your mouth you get to enjoy the creaminess, it virtually metamorphosis's from a mousse to an ice cream. Your tongue gets coated with all this creamy goodness, then it gets to finish off with a nice salty crunch.
I adore the sweet/salty and creamy/crunchy combination. And the fact that it seems so light, well I kid myself that I also don't need to feel that guilty about it either. Be prepared, this makes a hefty amount! I molded to bread loaves worth and filled 24 of these little chocolate cups (they are quite little).
Here's a little kitchen helper tip: If you have one of those meatloaf pans, they are brilliant for molded items. Simply line it with plastic wrap, fill and let food set then lift out with the meatloaf lifter portion.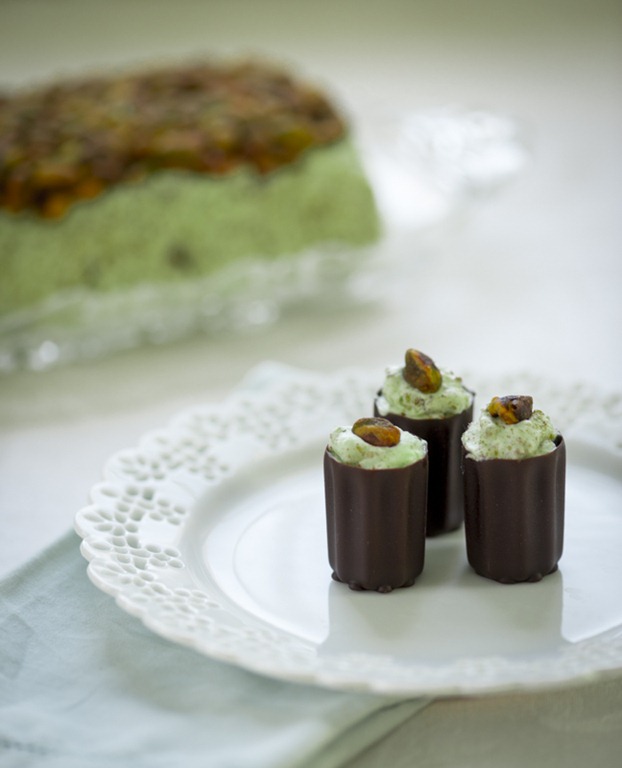 Pistachio Semifreddo – two ways
2016-06-10 21:04:18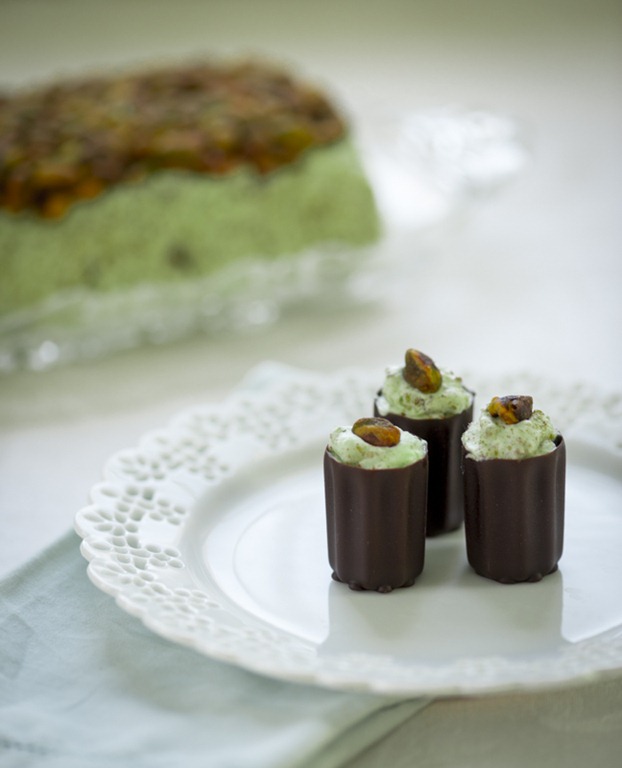 Ingredients
1 1/2 cups shelled salted pistachios (6 1/2 ounces) plus extra for garnishing (up to two extra cups)
1 cup sugar
6 large egg whites
2 cups chilled heavy cream
1/4 teaspoon almond extract
Green food coloring (optional)
Instructions
In a food processor fitted with a steel blade, pulse 1 cup pistachios with 1/2 cup plus 2 tablespoons sugar in a food processor until very finely ground. Add remaining 1/2 cup pistachios and pulse until just coarsely ground.
Beat egg whites in a chilled bowl with an electric mixer at medium speed until they just hold soft peaks. Beat in remaining 1/4 cup plus 2 tablespoons sugar, a little at a time, then increase speed to high and beat until meringue just holds stiff, glossy peaks. Set aside.
Beat cream with almond extract and 1 to 2 drops food coloring in a wide bowl with mixer at high speed until it just holds soft peaks.
Fold meringue into cream gently but thoroughly, then fold in nut mixture in same manner. Line two bread pans or one 2 quart dish with plastic wrap, cover bottom with one layer of whole pistachios. Spoon mixture into the dish and freeze, covered, until firm enough to slice, about 4 hours. Depending on your freezer you may need to let it soften slightly before serving.
Alternatively you can fill chocolate cups or molds, garnish with whole pistachios and freeze for 4 hours or longer prior to serving.
Notes
Please note that raw egg whites are used in this dessert. If you have concerns with consuming raw egg products be sure to purchase pasteurized eggs such as Eggland's Best.
The Kitchen Witch http://www.thekitchenwitchblog.com/