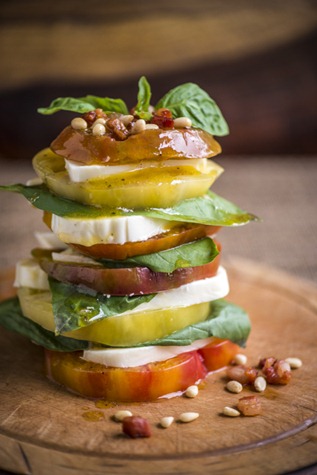 Say what? Are my eyes really seeing what they see? Does that sign say 'Heirloom Tomatoes'? It's the middle of winter…must be a mistake. But they look like heirloom tomatoes. They have variegated colors and bumpy exteriors, they must be heirlooms.
Imported from Mexico….ahhh, that's right, not every place in the world right now has two feet of snow. I just couldn't resist taking home a little bit of someone else's better weather conditions into my own home. Everyone deserves a reprise, and since a vaca to Hawaii is not in my near future, these tomatoes will have to do.
Plus they give me the perfect opportunity to discuss a little food photography. Sometimes it's hard to decide how to photograph food. Picking out all the accessories is fun, but shooting food in a unique and different way, well…it's difficult.
I knew that I wanted to keep my recipe very simple to highlight my wonderful tomatoes. I also thought they might look beautiful just shot by themselves. I put them in a gorgeous bamboo bowl and set them down on my hardwood floors, a nice tone on tone look so you only notice the tomatoes….that is until you get photo bombed by Summer (the dog).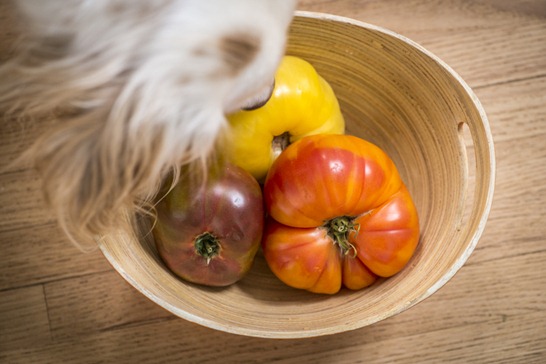 The tomatoes crusty stems didn't look all that beautiful from that angle, time to change the plan. My tomatoes were of three different sizes, so I stacked them, remember my pumpkin custard post? I liked how stacking them showed off their different looks.
Here's a little food photo tip: to make fresh vegetables and fruits look super fresh, like just picked out of the garden kind of fresh, spray them with a little water.
Compare the photo above to the one below, what a change in their freshness look.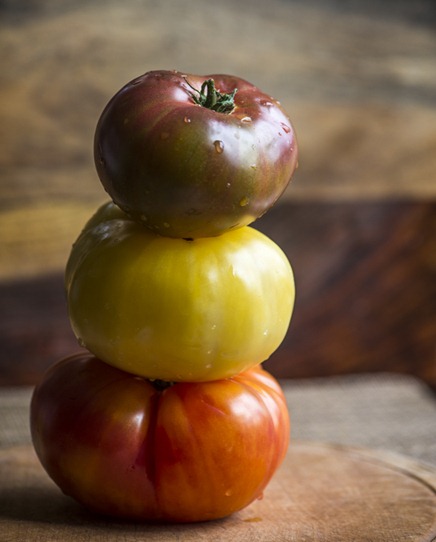 Stacking the tomatoes inspired me to stack my insalata caprese. Most photos of insalata caprese have the tomatoes and cheese laid out flat and fanned out, the traditional way to serve it. By layering and stacking my salad, it looks a little different and more interesting.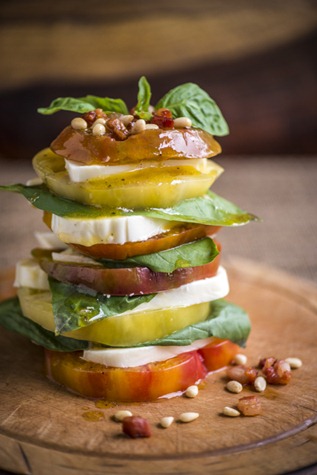 If you have nice stable food, experiment with your shooting angles. Above I shot almost straight on to emphasize the height and all the layered ingredients. Below I shot from top down at a slight angle. This angle shows off the 'deconstructed' ingredients and still shows off the layers, but it doesn't highlight the tomatoes.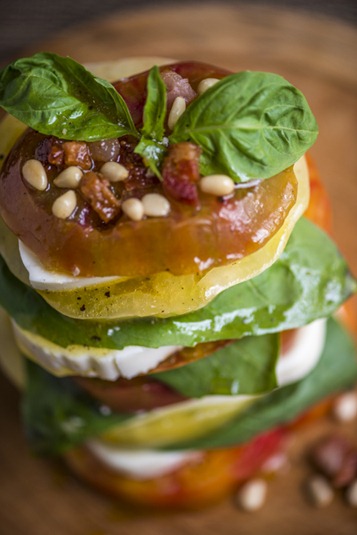 Besides shooting at different angles, shoot some from a few steps back then move in closer. I came straight in and up close for the below shot. It gives it a larger than life look, especially with the background out of focus.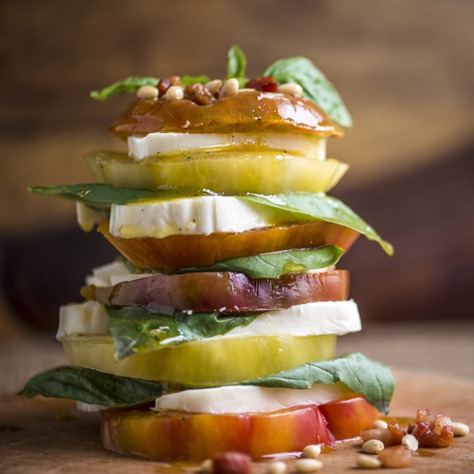 If you have nice details, move in even closer. With the below shot, the dressing hanging on the tip of the basil, looks like it's just about to drop. Makes you want to stick your tongue out and try to catch it (makes me want to do that..but I have no manners).
Close up shots are great as additional shots to tell your food story. Just be careful, if your shots are too close, your readers may not even be able to tell what the subject is. If you just saw this shot on its own, you might think that it's spinach, tomato and tofu.
The only thing I would change retrospectively speaking is the background. There isn't enough contrast to make the salad really pop. A white or black or even blue/lavender background would have been better.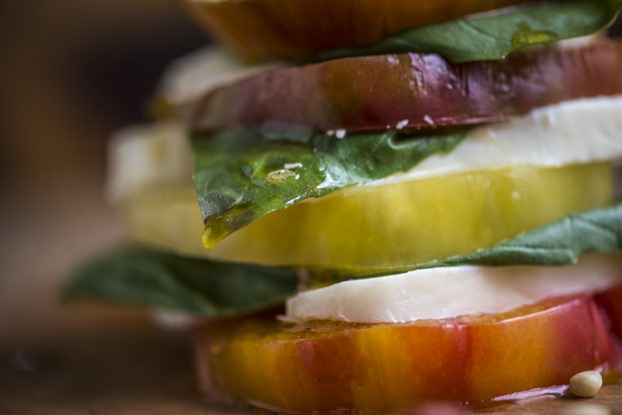 What about this salad? After seeing all those photos isn't your interest peaked? My mouth is watering just remembering how good this salad was. What I did was combine all the elements of pesto with all the elements of insalata caprese. They already shared a few ingredients: basil, olive oil, salt and pepper, it seemed a natch.
Instead of blenderizing the basil into a pesto I left it whole (more like insalata caprese), then I made a little dressing with olive oil, garlic, salt and pepper (no vinegar necessary because the tomatoes add plenty of acid). Top that with toasted pine nuts and crispy pancetta and you have yourself a tower of goodness.
Bonus is that it ends up being a little healthier than using pesto, especially considering a standard recipe has up to 1/2 cup of oil in it. Here I only used a couple of tablespoons, but then there's all the cheese and the fried pancetta….
But it's still a wee little bit healthier.
And I got a little taste of warm sunny days.
Food Bloggers Photo Tip: When photographing food, experiment with different angles and different distances to see which one shows your food off the best. Try mixing it up when posting to help tell your food story.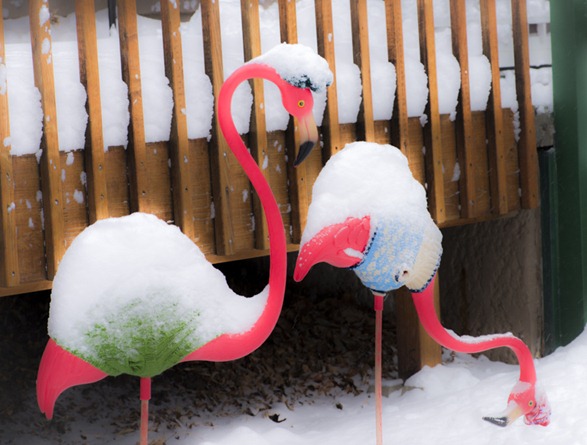 Yes my flamingos are wearing sweaters and knit caps, baby it's cold outside!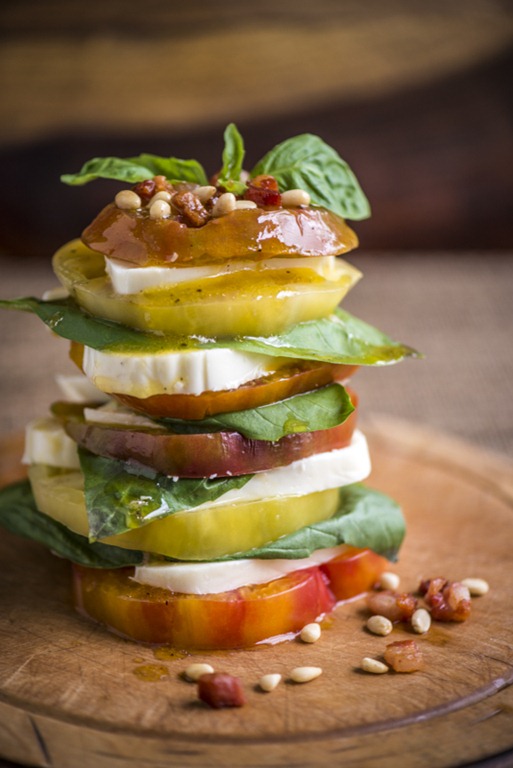 Deconstructed Pesto Insalata Caprese
2016-06-10 21:01:25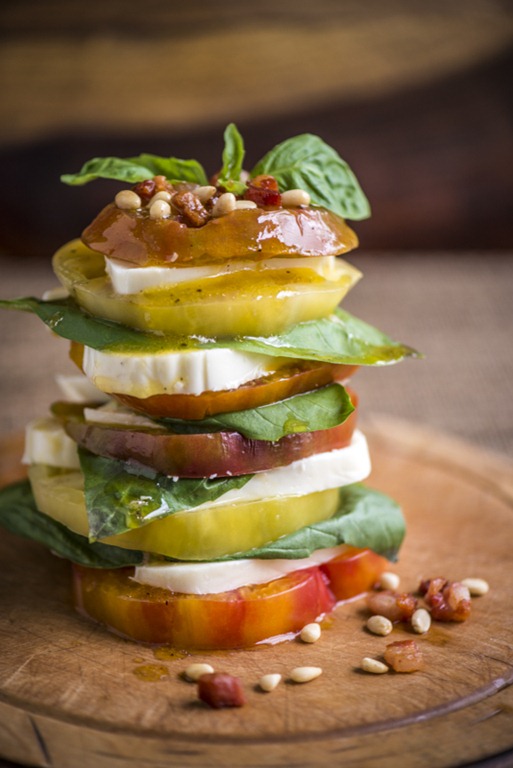 Serves 4
Ingredients
3 ripe tomatoes sliced
8 ounces fresh mozzarella sliced
2 ounces, pancetta diced small and cooked crisp
1/8 cup pinenuts, toasted
1 bunch fresh basil leaves
2 tablespoons extra virgin olive oil
1 garlic clove, minced
Kosher salt and pepper to taste
Instructions
Arrange tomato slices, mozzarella slices and basil on a plate or platter, alternating each one. Sprinkle pinenuts and pancetta over the top.
Sprinkle minced garlic with some Kosher salt; using the edge of a blade, mash the garlic and the salt until a paste is formed. Add pepper and garlic/salt paste to oil in a small bowl, whisk together and drizzle over salad. Add additional salt and pepper to taste.
The Kitchen Witch http://www.thekitchenwitchblog.com/