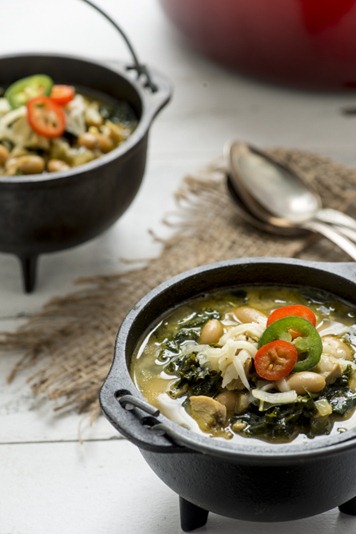 I am so excited for this month's Secret Recipe Club reveal, the first one of 2013! If you haven't heard of this great 'secret santa' type group, you should check out their site. Gurl, you wouldn't believe who's blog I got this month. That's right it was steaknpotatoeskindagurl.
Not surprisingly, the first recipes I sought out were steak recipes. Okay, would you believe that Desiree, Desi, Des didn't actually have any steak recipes on her site? She even joked about it, her only steak reference was a guest post that she did!
I about died laughing when I realized that! So I sought out her tag cloud and next to menu planning and restaurant reviews she had plenty of chicken recipes. Desi's White Chicken Chili really stood out to me. It's January, it's cold, and chili is the perfect recipe to chase away cold snowy days in Montana.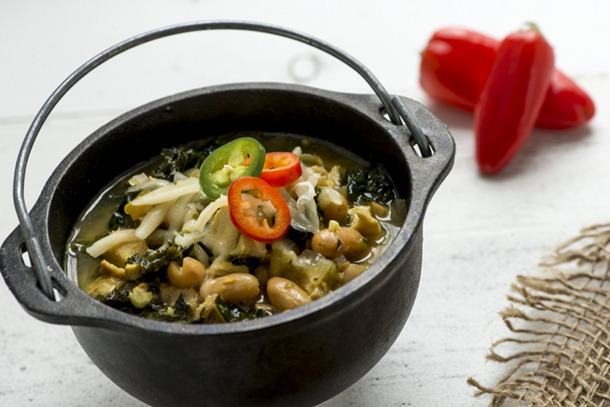 It's a new year and most of us are full of healthful intentions, so I took her recipe and healthified it. With my changes I reduced the calories from 455 calories to 304, upped the fiber from 7.1 grams to 9 grams, and reduced the fat from 12 grams to 9.5 grams (nutrition info calculated by SparkPeople).
It didn't take much to convert it, I replaced the butter with olive oil, reduced the amount of chicken, added kale and substituted the 3 cups Monterey Jack cheese with fat free evaporated milk, fresh jalapeno and used the Monterey Jack cheese as a garnish/topping.
Yep, it was healthified and if you didn't eat 3 bowlfuls like McGyver did (cause it was THAT good), the calorie count was better than a Lean Cuisine meal. There was only one problem with the meal…that magical fruit had it's affect, especially on McGyver after 3 big bowlfuls.
Desi has a ton of great recipes and her fun personality definitely shows on her blog. I hope you all take the time to visit her. And while you are checking out blogs make sure you check out all the other great recipes from Group C.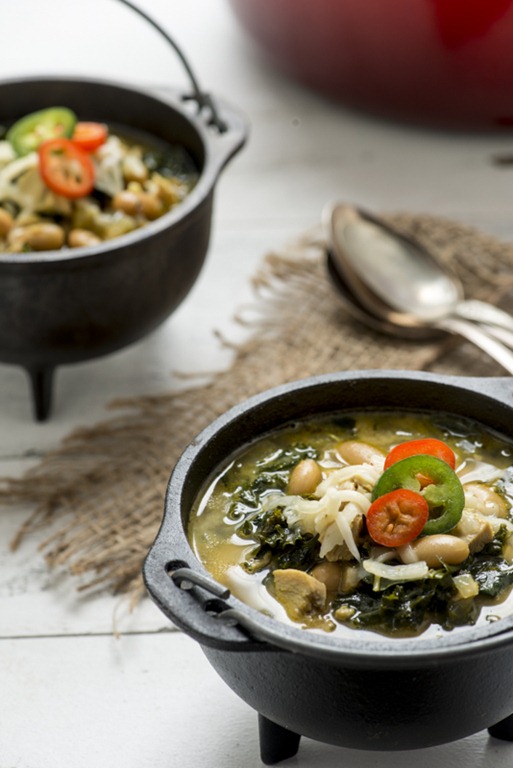 Chicken and Kale Chili
2016-06-10 20:57:14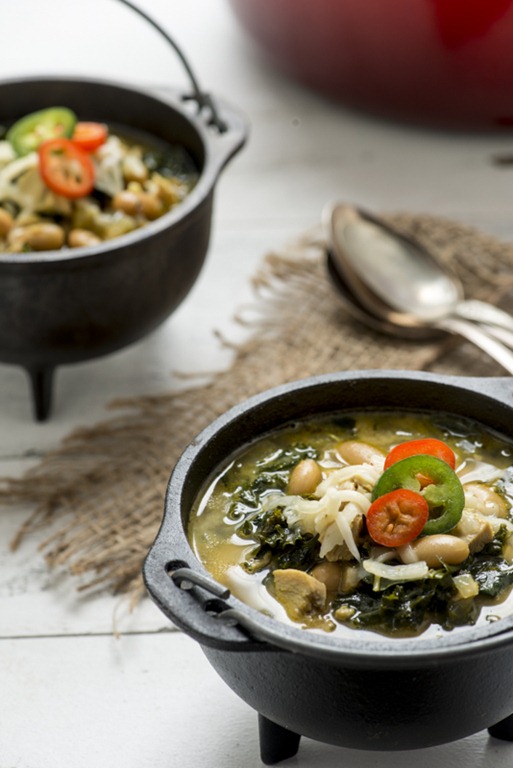 Serves 8
Ingredients
2 tablespoons olive oil
1 cup diced onions
4 cloves garlic,minced
1 tablespoon cumin
1 tablespoon oregano
2 teaspoons freshly ground black pepper
pinch of cayenne pepper
1/2 jalapeno, minced
4 cups chicken stock
1 can fat free evaporated milk
1/2 pound cooked chicken, diced
2 (15 ounce) cans Cannellini beans or Great Northern beans
1 (7 ounce) can chopped green chiles
1 bunch kale, chopped
1/2 cup Monterey Jack cheese, shredded
Instructions
Heat olive oil over medium heat in a large Dutch oven or heavy bottomed pot. Add onions and saute until tender and translucent about 5 minutes. Add garlic and cook another 30 seconds. Add cumin, oregano, cayenne, minced jalapeno, salt and pepper, cook another 30 seconds to bloom flavors.
Turn heat up to medium high. Add chicken stock, evaporated milk, green chiles, kale, chicken and beans. Bring to a boil and reduced heat to low. Simmer for 15 to 20 minutes to allow flavors to develop. Taste for additional salt and pepper. Garnish with grated Monterey Jack cheese.
The Kitchen Witch http://www.thekitchenwitchblog.com/
Just a side note, I'm pretty new to the whole cooking with kale thing. I had some extra kale and thought that I would toss it in some hot oil and cook it to go into some seafood pasta dish I was doing. Much to my shock and surprise, when you add kale to hot oil it explodes….like popping corn without a lid. Yep, made a big mess but McGyver and I got big laugh out of it. I've been cooking for decades and still find myself learning in the most interesting and messy ways.