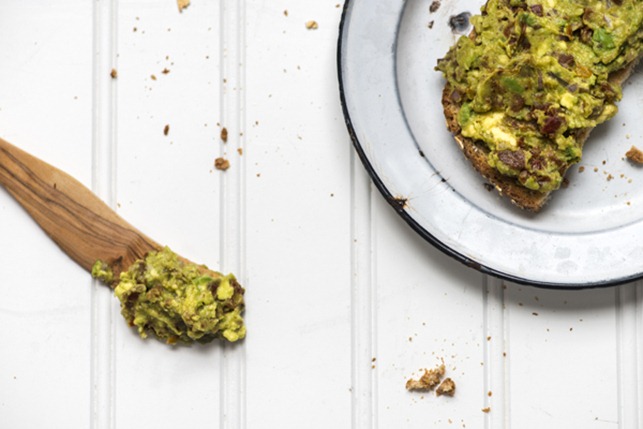 I really didn't know what to call this concoction. It was born out of a craving for a BLT, only there wasn't any 'L' in my house for a BLT. Okay, so I'll have a BAT, no not a blood alcohol test (I'd probably fail that one). I mean Bacon, Avocado, Tomato.
Are you serious? I didn't have the 'T' either. Dang, guess I'll have guacamole.
But I really, really want BACON!
Think, Rhonda Think!
Light bulb ON! Did you see it? It looked like I stuck a flashlight in my mouth.
Okay, it didn't look like that, I was just funning you. But you knew that already.
I had some sundried tomatoes (a winter staple in my house), there's the "T" but it's not quite the same a nice juicy thick slab of a tomato on a BLT. Slurp, drool, smack my lips, bacon, avocado, and sundried tomatoes, mashed up together….oooh and add garlic and a little red wine vinegar and there I had it, an avocado mash something. This was so incredibly tasty that I wanted to share it, but I felt it needed a name. Who posts a recipe without a name?
It seems like this is a common conundrum, I create, I write, but the name game…hmmm, much more difficult.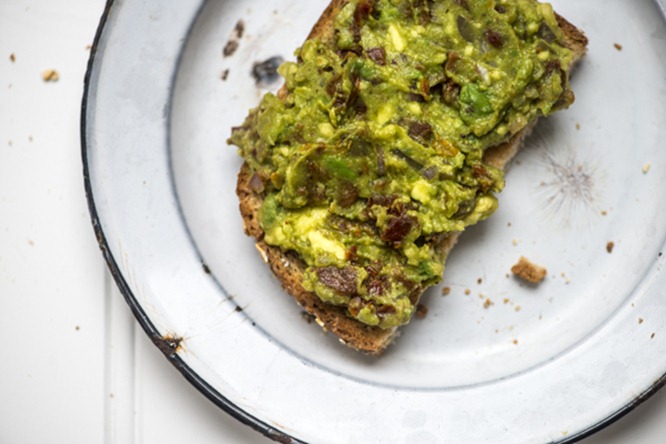 Here's how my poor brain works:
Avocado mash with bacon and sundried tomatoes….yuk, sounds like babyfood.
BAT…wait, that was already a fail.
BAST, who would eat a BAST?
Napa Valley Guacamole? (My sundried tomatoes are from Napa Valley), not bad but I'm not trying to promote Napa Valley…never even been there.
Tomatoes and garlic are Italian, can I call it Italian Guacamole? Can you put Italian in front of guacamole? Would that be the start of some international food disaster?
But there's Mexican lasagna, if you can put Mexican in front of lasagna why can't you put Italian in front of guacamole?
That's it, named! Ugh, whatever, I'm tired of trying to think up of anything clever anyways.
It tastes way better than it looks. The wonderful concentrated sundried tomatoes give the guacamole a little brownish tinge, like it's been exposed to air for awhile. Don't let the looks make you think anything other than the wondrous wonderfulness of this unique guacamole.
It's creamy, garlicky, the sundried tomatoes give it a little chew and the bacon adds the crunch. It's a dangerous bowl of food that will be gone in zero seconds, as a matter fact my next bowl is gone and I haven't even made it yet.
It's going to be an appetizer on some crostini at my next get together (Superbowl party?), topped with a little parmesan and sprinkled with toasted pine nuts. I'm sure nobody will care what's it called, what do you think?
¡Hurra por Guacamole italiano!
Evviva per l'italiano Guacamole!
Hurray for Italian Guacamole!
Food Blogger's Photography Tip: Crumbs can add texture and pattern to your photo. They can give a photo the sense of someone being there…a personal connection. Be careful not to over do it though, or they become a distraction. Arrange (yes I said arrange) the crumbs so that they help keep your eye on the prize.
On the photo below all the crumbs are around the plate and create a separation from the knife and the plate. Even though there is only a partial piece of toast showing your eye is constantly drawn to it.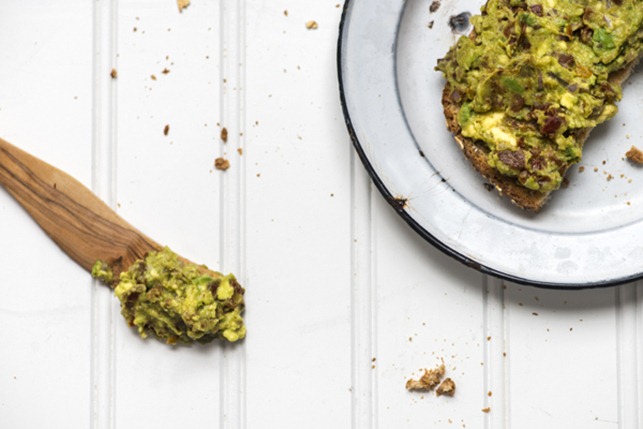 After writing this post, I was spending some time trying to catch up on my Google Reader I ran across this article by Your Kitchen Camera, on using Crumbs as Effective Food Styling tool. It goes more in depth and is worth the trip over to read.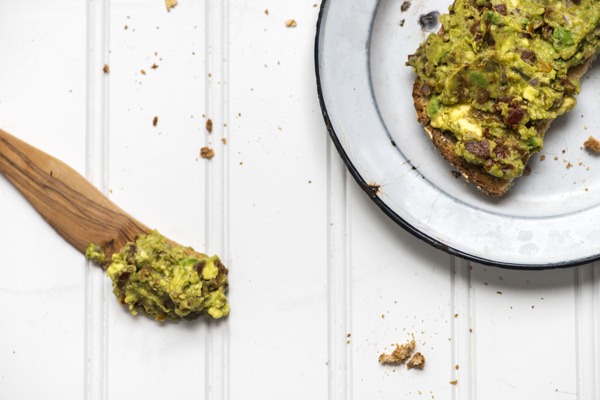 Italian Guacamole
2016-06-10 20:53:51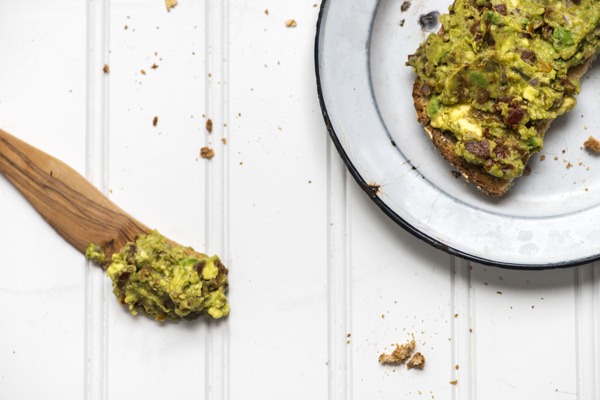 Ingredients
1 ripe avocado
2 slices bacon, cooked crisps and crumbled
1 shallot, minced
1 garlic clove, minced
1/2 teaspoon Kosher Salt
2 tablespoons chopped sundried tomatoes
Splash of red wine vinegar
Fresh ground pepper to taste
Toasted pinenuts & grated Parmesan cheese (optional garnish)
Instructions
In a small bowl, mash avocado with the back of a fork. On a cutting board, sprinkle salt over garlic, mash with the edge of the knife to create a paste, add to the mashed avocado. To the avocado and garlic mix in the shallot, sundried tomato, red wine vinegar and pepper.
Serve immediately, garnish with toasted pinenuts and grated Parmesan if desired.
The Kitchen Witch http://www.thekitchenwitchblog.com/