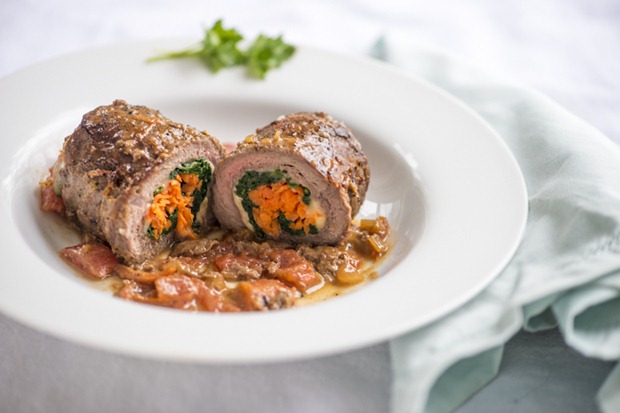 For Christmas this last year my Baby boy bought me a cookbook. Actually I'd call it an encyclopedia. It's a behemoth, with over 2000 recipes and more than 1500 pages thick. The bible of Italian cooking"The Silver Spoon".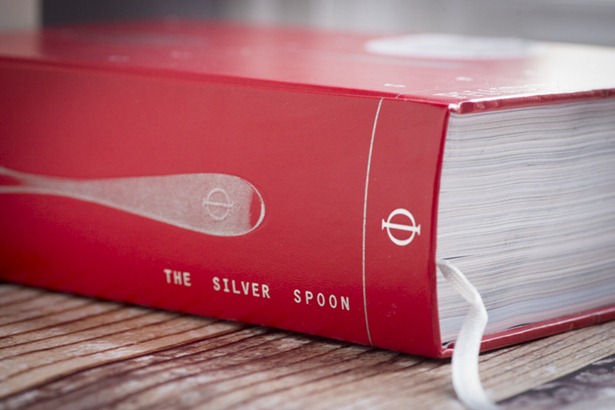 I have perused and perused this book. My mind swills with Tuscan dreams or the Amalfi coast, Sicily, Rome it's all there. I picture myself (thinner of course), going to the market and picking out red ripe roma tomatoes, stopping by the butcher, who selects the perfect cut for me. I then leisurely stroll back to my little Villa and prepare our dinner for the evening. Perfecto!
I know it's only a cookbook, but I don't have to read a novel to stimulate a far fetched fantasy. The cookbook itself has more recipes than I'll ever be able to make. Although I would dearly love to try them all, there are limiting factors like the availability of certain ingredients; such as fresh octopus or its the cost of ingredients like black truffles.
This is a cookbook, in my opinion, for the more advanced cook. Not because the recipes are complex, on the contrary they are simple to moderate to prepare. However the directions make some assumptions, like you already know how to cook.
For example in this recipe it calls for 1 peeled and diced tomato. If you don't know how to peel a tomato there isn't anywhere in the book to tell you. And if you weren't familiar with the basics of tomato sauce making you may not deseed the tomato, which it doesn't call for, but it is typical and more desirable.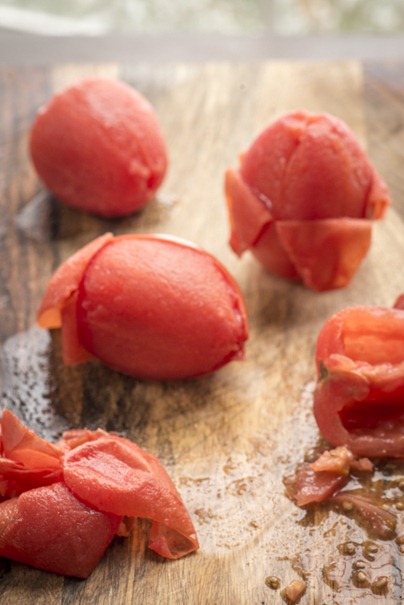 While we're on the subject of peeling tomatoes: Peeling a tomato is as simple as scoring an X across the bottom and then dropping it in boiling water for 1 minute, fishing it out and letting it cool enough to handle. The skin peels away super easy. You can then cut it and deseed it and prep it for your recipe. If you are planning on NOT cooking the tomatoes, drop them in an ice bath to cool before peeling, to stop the cooking process.
I made a few adaptations to the original recipe, the most obvious was using venison in place of the beef. I cut out the butter completely and only used a little olive oil. As a time saver, I opted to grate my carrots rather than mincing them. Which actually made them easy to roll and they cooked up quite nicely.
I served this with a potato and tomato recipe from the book (which I'll share later), a nice salad and a good bottle of chianti. I may not be in a dream villa in Tuscany but it was still perfecto for my little bungalow in Montana.
Here's my food blogger photography tip for the week: when photographing stuffed items, help tell the story of your food by photographing a cross section which will show off the hidden inside ingredients. Alternatively you could take a shot of the ingredients that go into it before they are hidden. Remember the objective of food photography is to tell the story of the food.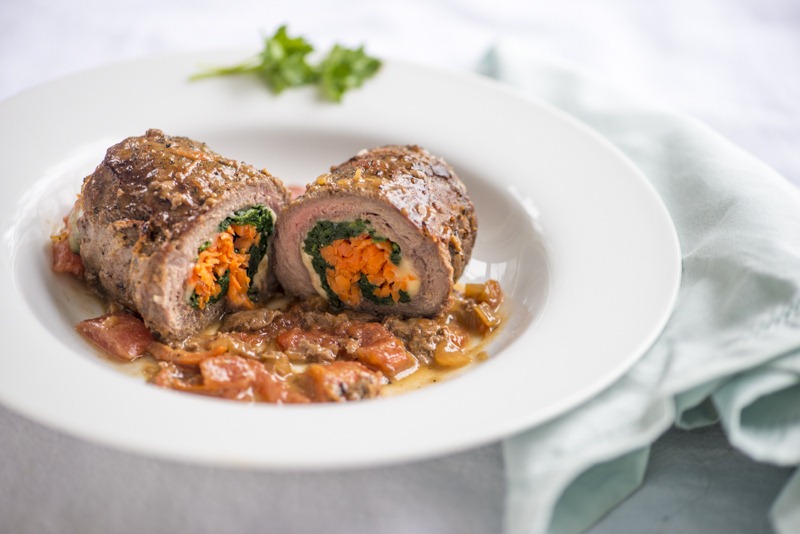 Involtini Agli Spiniaci–Venison (or Beef) Spinach Roulades
2016-06-10 20:51:27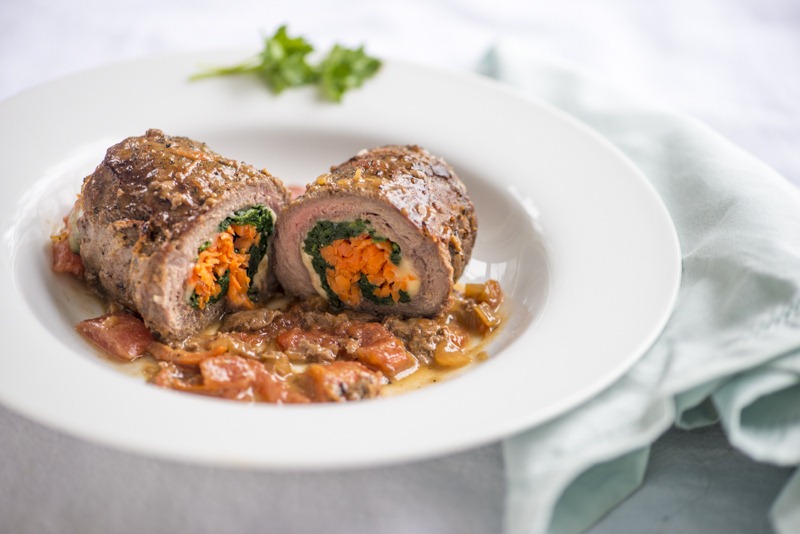 Serves 4
Ingredients
10 ounces spinach
8 thin slices of venison or beef
8 slices of Swiss cheese
2 medium carrots, shredded
2 tablespoons olive oil
5 tablespoons dry white wine
2 shallots, finely chopped
1 tomato, peeled, seeded and diced
Salt and Pepper to taste
Instructions
Heat a large frying pan over medium high heat. Rinse the spinach, shake off excess moisture but do don't dry. Add moist spinach to the frying pan and cook until spinach is just wilted, about 5 minutes. Drain into a colander and press out excess water.
Lay the pieces of meat out flat and pound thin and evenly. Lightly salt and pepper each slice. Lay a slice of cheese on each pieces of meat then divide the spinach, then the carrots evenly among the slices. Roll up and secure with kitchen twine.
Heat the olive oil over medium high heat in the same pan that was used for the spinach. Brown the roulades on all sides. Add the wine and cook until reduced by half. Add the shallots and tomatoes. Season with salt and pepper and reduce heat to low. Cover and cook for 20 minutes, turning the roulades occasionally.
Remove the string from the roulades and serve with their sauce.
Adapted from The Silver Spoon Italian cookbook

Adapted from The Silver Spoon Italian cookbook

The Kitchen Witch http://www.thekitchenwitchblog.com/

Spinach is so good for you, it has many health benefits. A lot of power is packed into those little green leaves. If you are interested in learning more about the health benefits of spinach please check out this article: 34 Science backed health benefits of spinach.